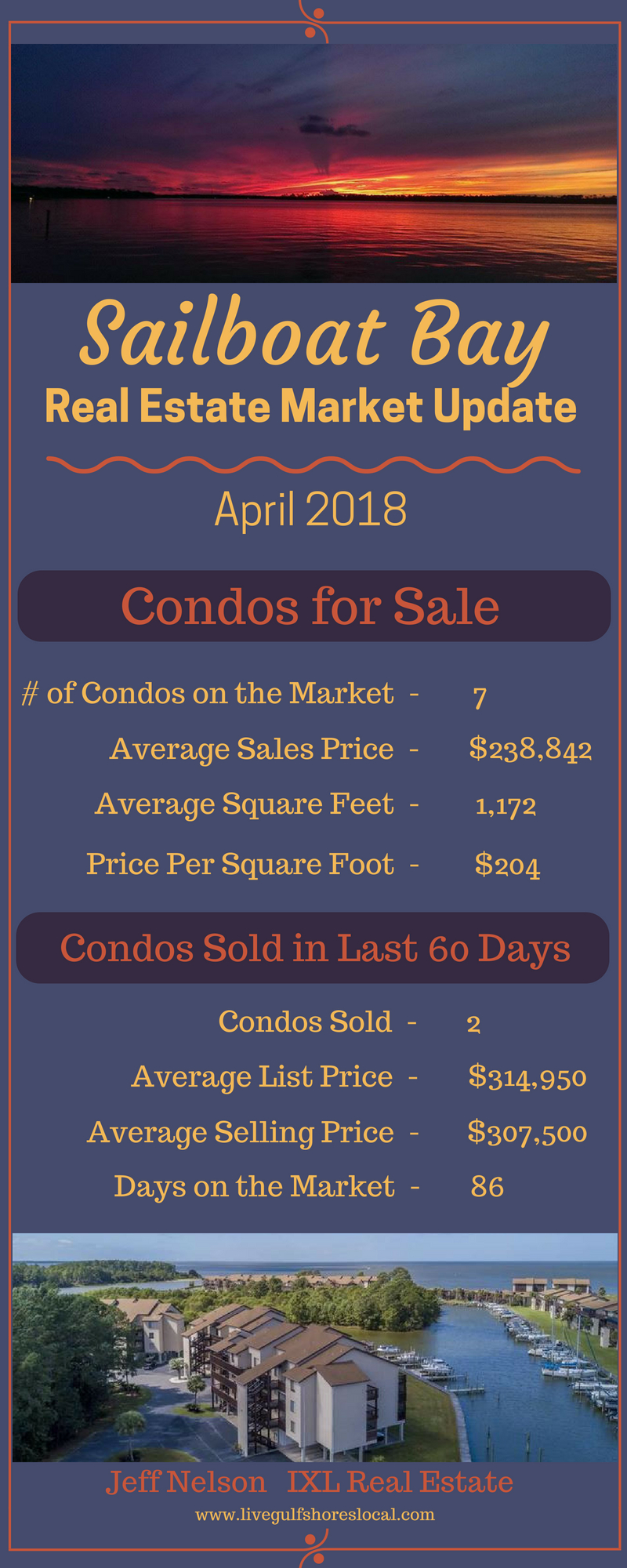 Welcome to the real estate update for Sailboat Bay, one of the best condo communities in Gulf Shores. Here's why it's one of the best:
Very quiet
Gated
Away from traffic
Sits on a large marina
Every condo has a boat slip
2 outdoor pools (1 at the clubhouse and 1 on the bay)
Tennis courts
Boat storage
Lots of green space
If you considering living in a Gulf Shores condo but want to stay away from the crowds, you should definitely consider Sailboat Bay (especially if you're a boater).
For Sale
The real estate stats you see here for the properties that are currently on the market are from today.
The 7 condos that are for sale range from 1,450 to 1,050 square feet. As of today, the highest priced condo is for sale at $320,000 and the lowest is 214,500.
For more information about this awesome community and to see the condos that are for sale, please visit, Condos for Sale in Sailboat Bay.
Condos That Sold
As shown in the infographic above, there were 2 condos that sold in the last 60 days. The highest priced condo was $335,000 and the lowest price was $280,000. The largest condo was 1,600 square feet and the smallest condo was 1,230. There are many different floor plans in Sailboat Bay.
The average price per square foot was $219 and the listing to selling price ratio was 97%. This ratio means that on average, buyers were able to realize 3% off of the listing price. Sailboat Bay is still in a buyer's market.
Please contact me if you're considering buying or selling your condo in Sailboat Bay.
Jeff Nelson
IXL Real Estate – Eastern Shore
251-654-2523
jeff@livegulfshoreslocal.com