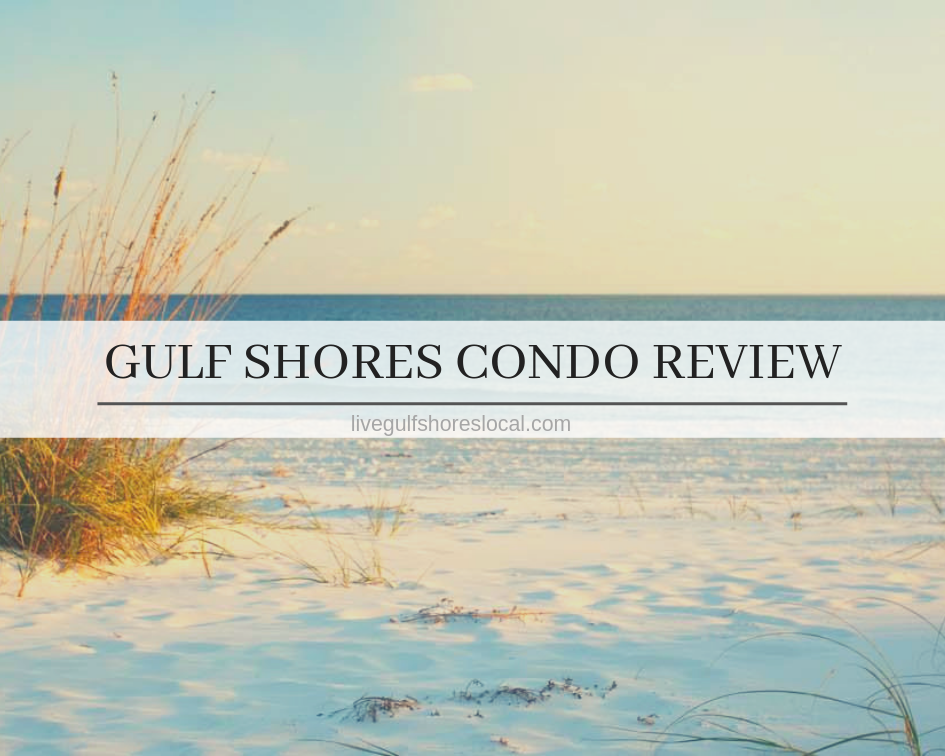 We are well into the busy tourist season and once again, the Gulf Shores condo market is strong with both renters and buyers. This site has reported on the real estate market in Gulf Shores for some time now but I thought about creating a page that solely highlights the condo communities of "pleasure island".
My goal is to provide you with the most comprehensive condo review for Gulf Shores each month so please come back to see how the market has moved.
If you do have an interest in purchasing at the beach, reach out to me. I will assist you in finding the right property, as well as advise you regarding pricing and market conditions. So let's get into it….
Gulf Shores Condo Review for May 2019
There were 57 condos that sold in Gulf Shores from May 1st through the 31st. How's that for a strong real estate market? Plus, that doesn't include of course single family homes, land, and commercial properties. Another way to look at it…..that's nearly 2 condo closings everyday of the month in a relatively small town.
Condos Sold Last Month

All condo sales above are listed in alphabetical order and include:
List Price
Final Selling Price
Condo Community
Unit #
Square Feet
Number of Bedrooms
Number of Baths
The Price Per Square Foot
Year Built
The Closing Date
This is great information to have if you're in the market of buying an investment property, second home, or full time residence. For instance, by looking at the difference between the list price and selling price, you can tell if you're in a buyer's market or seller's market.
If you're liking the numbers that you're seeing above for any particular complex click on this link, Gulf Shores Condo Communities, to see what is available right now in that building.
Gulf Shores Condo Real Estate Stats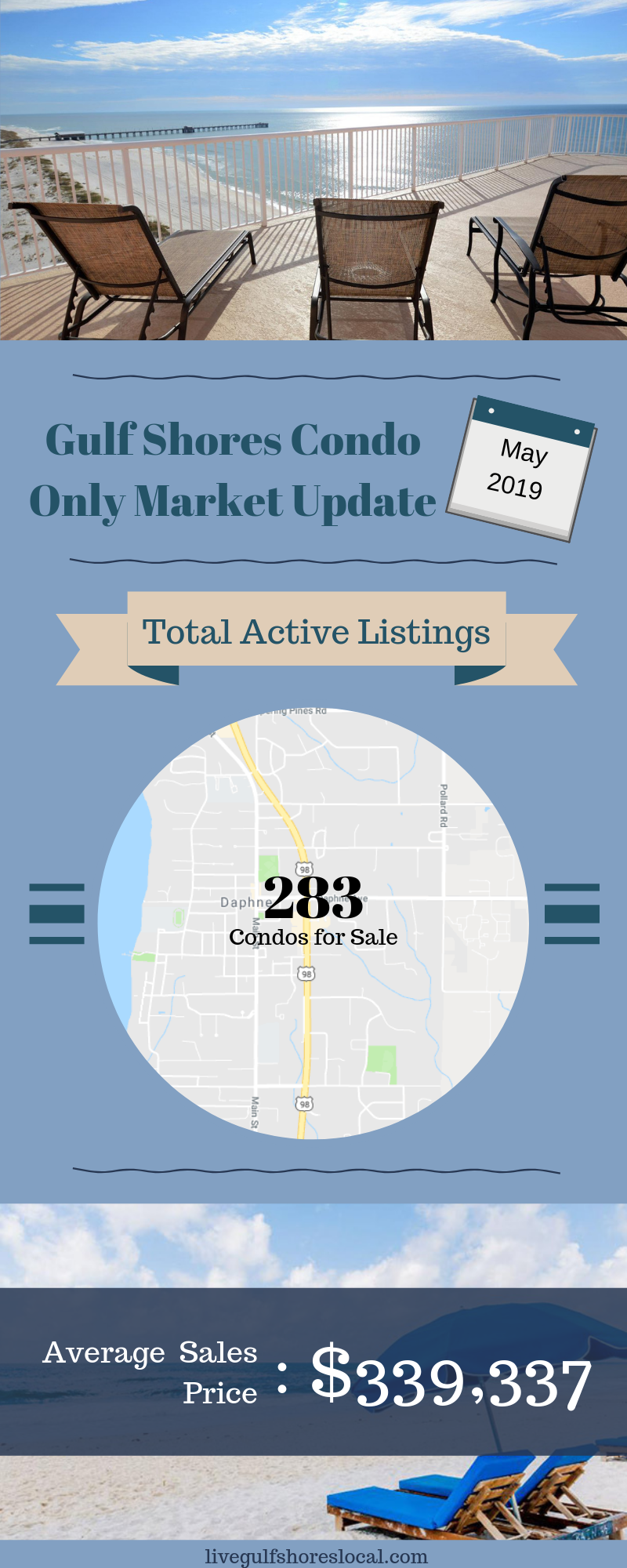 Here's the breakdown for condos that are currently on the market in Gulf Shores:
283 condos for sale
Most expensive – $1,799,000
Least expensive – $137,500
Average sales price – $339,337
Average price per square foot – $306
Most square feet – 5,221
Lease square feet – 420
Average 1,142
Average days on the market – 122
As you can see, our market has something for everyone in a variety of price ranges. It really just depends on what you want. The diversity is there.
You may want to live away from the beach. Well, there are a number of communities that would fit the bill. These options are much cheaper and even provide unique features that the beach condos don't. For instance, Regency Club is just a few miles from the beach, yet you can buy a town home style condo with a garage. Another unique community is Emerald Greens (also known as One Club). Owning here means you get to play its 9 hole executive golf course as much as you'd like at no extra charge.
Condos away from the beach tend to run between $135,000 and $175,000.
If you're looking at the other end of the spectrum, Gulf Shores offers plenty of luxurious options with water views that just don't quit!
Look below to "Search By Price" and you'll see what I'm talking about.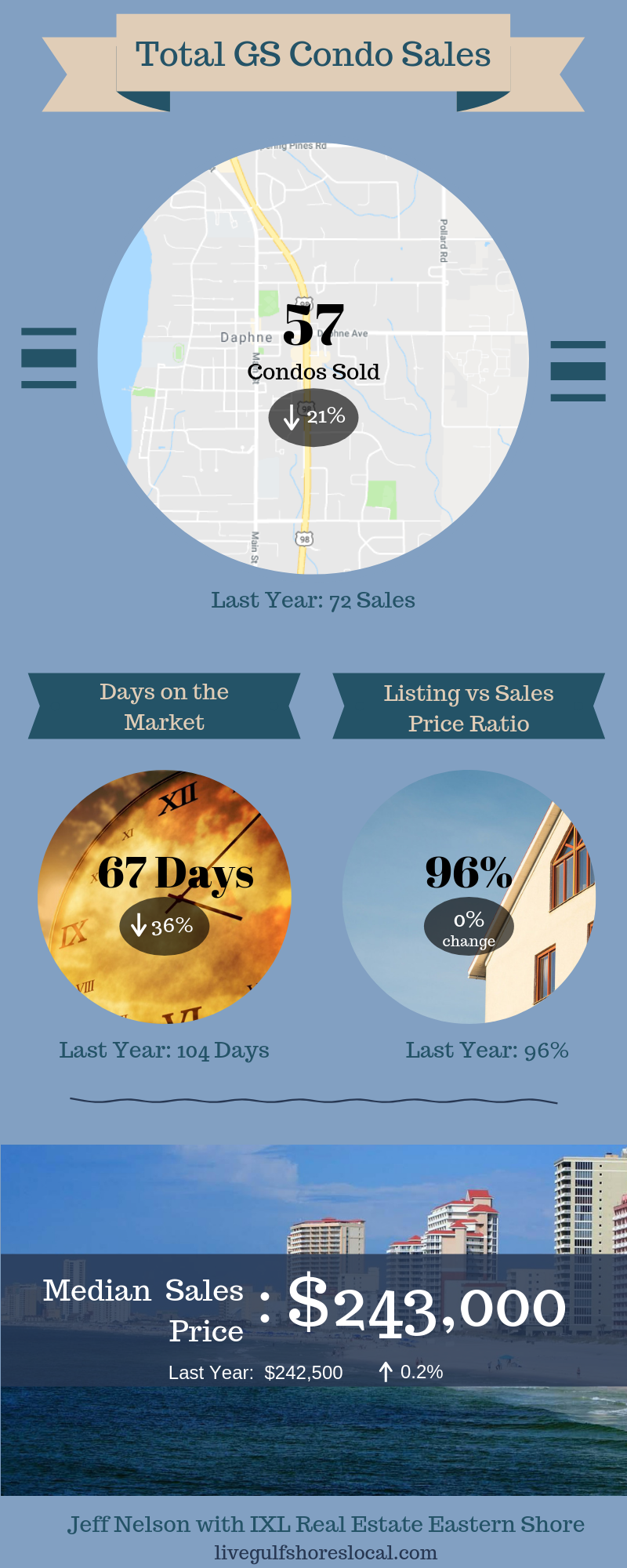 Although we saw 15 less sales compared to last year in May, this market is still doing great with 57 closings in 31 days. The real estate market in Gulf Shores is experiencing normal growth and a nearly balanced market.
Here's are the numbers for condos that sold last month:
57 condos sold
Most expensive – $949,000
Least expensive – $127,500
Average sales price – $297,147
Average price per square foot – $269
Highest square feet – 2,636
Lowest square feet – 420
Average square feet – 1,135
Average days on the market – 67
Listing to selling price ratio – 96%
The listing to selling price ratio is the average difference between the seller's asking price and the ultimate sales price that the buyer realized. So, at 96%, buyers on average were able to get 4% off the listing price across the board.
This is a sign that Gulf Shores is still in a slight buyer's market. If we were in a seller's market the percentage would be over 100% and buyers would be paying over list price.
Every once in a while I have a new buyer tell me that they are looking for a deal. Sorry folks, but that's not the kind of market that we're in right now. Depending on the seller's motivation, buyers may see a little better price than what's typical but the "deals" aren't here.
Also, foreclosures at the beach are rare to find.
If you are buying a condo in Gulf Shores, you should expect to realize a sales price of 2%-5% lower than the original list price.

Here's a map that was created just for you! You'll find almost every Gulf Shores condo community above (58 of them) with it's location. There are so many complexes at the beach that I thought it would be helpful to see exactly where they sit in relation to the rest of the area.
Click the icon on the left side of the menu bar to choose a name of a complex to see it's location.
You can also share this map and expand it to a full page view.
Searching for Gulf Shores Condos
Condo Communities – This link will provide you with nearly every condo complex in Gulf Shores. Once there, you can click a link to view more information about that community and see all condos that are for sale.
ALL GULF SHORES CONDOS FOR SALE BY PRICE

$100,000 to $200,000 – $200,000 to $300,000 – $300,000 to $400,000
$400,000 to $500,000 – $500,000 to $600,000 – $600,000 to $1,000,000
Miscellaneous Searches
Condo Communities with Boat Slips
Gulf Shores and Orange Beach Condos with Indoor Pools
Most Expensive Condos – All condos in Gulf Shores that are over $1,000,000.
Cheap Condos in Gulf Shores – You'll find all of the condos that are for sale in Gulf Shores under $200,000.
1 Bedroom Condos for Sale in Gulf Shores
3+ Bedroom Condos for Sale in Gulf Shores
Steps to Buying a Gulf Shores Condo
Contact me
I want to learn about you and what you're trying to accomplish with your purchase. Is this going to be a full time residence, second home, or investment property?
Identify the Specifics
We'll determine (based on your needs and wants) a comfortable price range, how many bedrooms and baths, square footage, amenities, and view.
We'll talk about what kind of condo you should own if you're trying to attract the most rental income from tourists. If you're going to live here full time, I'll have other suggestions for you.
Establish a Search
I utilize a tool that automatically sends you properties that matches your specific criteria. It's extremely helpful and interactive plus you won't have to type in what you're looking for every time you want to look at listings. Here's a screenshot of an example……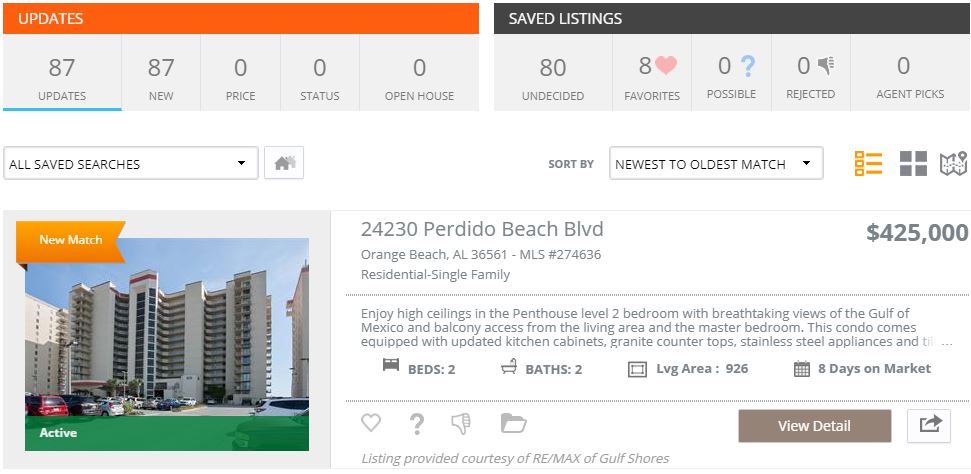 Tour Properties
From the condos that best meet your needs, I'll schedule for us to visit the properties in person. I'll give you my take on the specific units, the area, and how it will effect you, good or bad.
Many of my clients live in other parts of the country and can't be present for the tour. I often go without them and take a video walk through of the property as if they were walking through themselves.
Write the Offer
I'll give you advice on what your offer should look like in order for you to save the most amount of money with terms that benefit you.
You'll have a partner through the whole buying process from working with your lender and title company to dealing with inspections and negotiations.
If you're wanting to buy a condo in Gulf Shores, please reach out to me. I can assist you with any property at the beach, provide rental income history, advise you on pricing, and explain our current market conditions.
Contact me today!