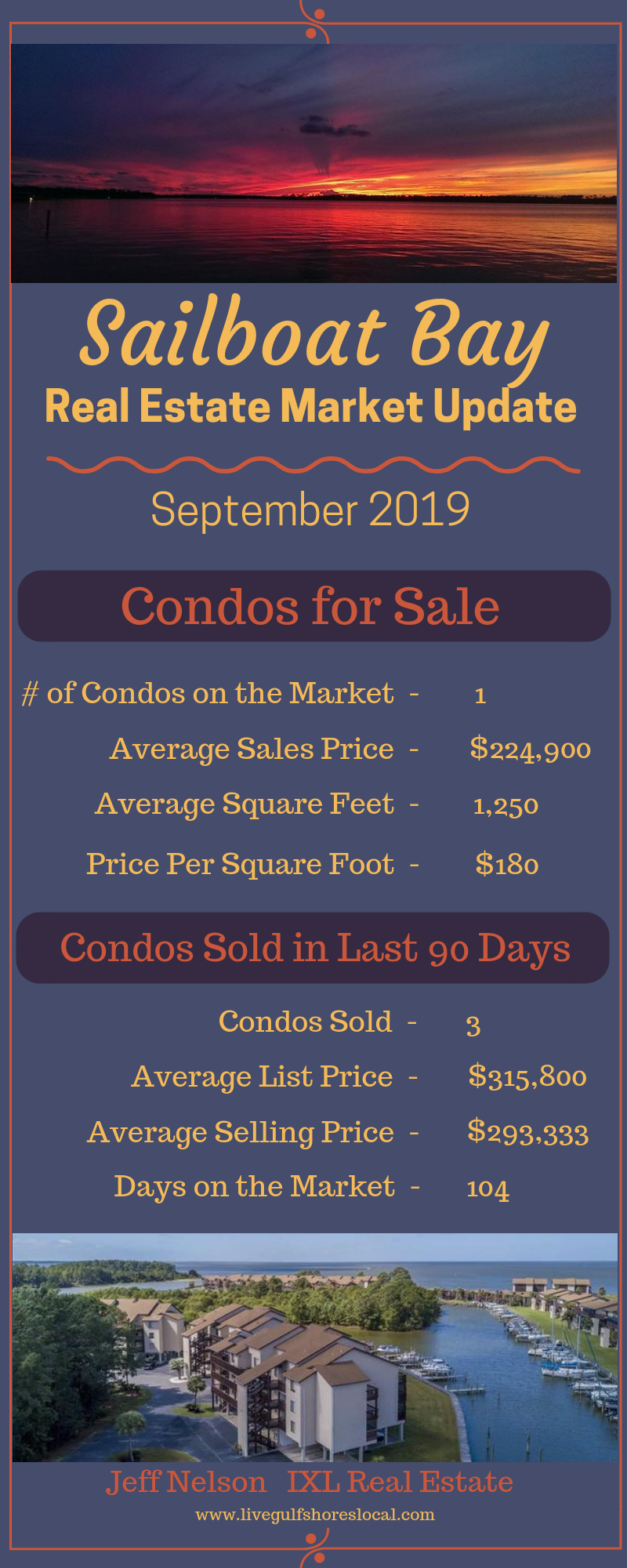 Welcome to the real estate market report for the beautiful and quiet community of Sailboat Bay. Here you will find peaceful, waterfront living while being away from the hustle and bustle of the beach – yet you still have a Gulf Shores address.
Sailboat Bay Condos Real Estate Market Update – Sept 2019
Periodically, I produce the figures for the real estate market here in Sailboat Bay. You'll find information for condos that are on the market and condos that have recently sold. You'll also see how condo sales stack up against those in years past.
Sailboat Bay Condos Currently for Sale
Well this is quite unusual but there is only 1 condo for sale in this community for the time being. There are 184 total units here so typically there are several that are for sale. There has been a lot of sales in the last few months so that's probably why.
As you can see from the graphic above, you can buy a condo in Sailboat Bay for a very reasonable price while having access to your own boat slip and great community amenities.
There are a number of floor plans here but every unit will either have a view of the marina, the intra-coastal waterway, and/or Bon Secour Bay.
Please visit the main real estate page to see more information about this complex and all Condos for Sale in Sailboat Bay.
Condos That Have Sold in the Last 90 Days
Here you'll find 2, 3, and 4 bedroom condos and there is a wide assortment of square feet options among all the different floor plans. Of the 3 condos that sold the most expensive was $350,000 and the least expensive was $215,000. The largest condo had 1,675 square feet and the smallest offered 1,159.
The average price per square foot was $213 and these units were on the market for an average of 104 days. The average listing to selling price ratio was 95%, which means Sailboat Bay is still in a slight buyer's market.


Looking at historical data for real estate sales in a community can give you great insight on the market. The infographic above gives you a great snapshot of just that. This is great information whether you are buying or selling a condo.
If you need more information about any of these units to buy or sell, please reach out to me.