Here is your real estate update for just the sale of condos on the Alabama Gulf Coast – Gulf Shores and Orange Beach. The figures that you'll find here are taken from the real estate activity of September 2019.
HERE'S WHAT YOU'LL FIND COVERED BELOW:
Total Sales for the Month
Annual Sales Trends
Median Sales Price
Total Condos Listed
Average Sales Price
Average Days on the Market
Gulf Shores and Orange Beach Condo Report for September 2019
Total Condo Sales in September
Yes, there was a total of 136 condos that sold last month, which isn't too bad considering that September is the official end of summer. As you can see, this figure represents the highest number of condos sold in September compared to the previous 4 years.
The increase in sales compared to those from a year ago represent an increase of 15.3%. Also, the 5 year average of condos sold in September is 118, so there is also a 15.3% increase over the 5 year average.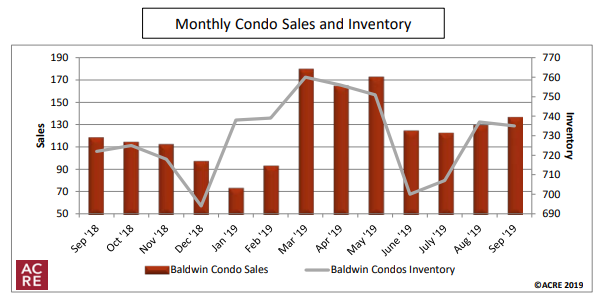 Annual Sales: Trends
This graph is just an interesting fun fact that shows how many condos have sold each year over the last 13 years. Our area continues to remain a strong real estate market with condo sales on the Alabama Coast.
Median Sales Price
The median price is found by taking the exact middle value between the highest and lowest price. The median sales price of $369,450 for condos in September represents a whopping 12.8% increase of the median price of $327,500 from a year ago. What's even more astounding is the increase of nearly $100,000 compared to September 2016.

Total Condos Listed
The total amount of condos listed has remained fairly consistent for September over the last few years. The higher number of properties listed gives buyers more choices. This creates a buyer's market. For the past 3 years, we have been in a slight buyer's market with steady inventory available.
Average Sales Price
The average sales price for last month of $421,244 is 7.1% higher than that of a year ago, which was $371,049. Sales prices have been on the rise for the last several years, giving owners who bought several years ago really good appreciation. What do you think sales prices will look like 5 years from now?
Days on the Market
A lower "Days on the Market" figure indicates a stronger market for sellers. This shows demand among buyers. There was a 8.8% decrease in the average number of days from last year.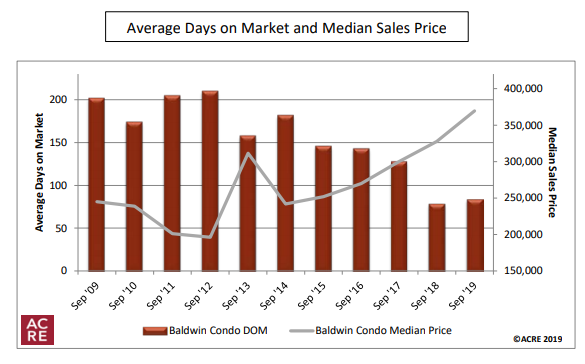 Check out the links below for area information, pricing, and active condos for sale.
Condo Complexes in Gulf Shores
Condo Complexes in Orange Beach
All Gulf Shores Condos for Sale by Price

$100,000 to $200,000 – $200,000 to $300,000 – $300,000 to $400,000
$400,000 to $500,000 – $500,000 to $600,000 – $600,000 to $1,000,000

All Orange Beach Condos for Sale by Price

$100,000 to $200,000 – $200,000 to $300,000 – $300,000 to $400,000
$400,000 to $500,000 – $500,000 to $600,000 – $600,000 to $1,000,000

Are you thinking about buying a condo in Gulf Shores or Orange Beach? Give me a ring for all of your real estate needs at the beach!

Jeff Nelson
IXL Real Estate – Eastern Shore
251-654-2523
jeff@livegulfshoreslocal.com