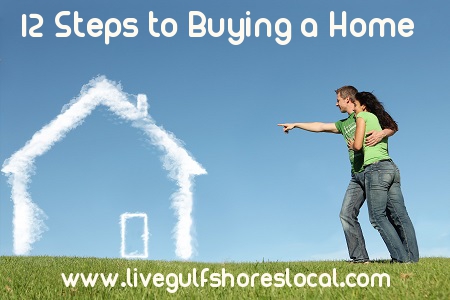 1. Determine how much you can afford
Have you ever hear the phrase, "house rich and cash poor"? Those who have great credit and income oftentimes can actually buy more home than they need. Don't do it, it's a trap! "House rich and cash poor" simply means that someone has obtained a house payment that is so large that they struggle to pay other basic needs that are in their budget, like food. The key to living a stress-free life concerning your new home is to first determine what would be a comfortable payment, then hold your ground. Do this before looking at any homes! You don't want to start falling in love with properties online and then later find out that they are way out of your price range.
Once you've determined a comfortable monthly payment, do a simple Google search for "mortgage calculator". You'll be able to input the cost of a house then get back the monthly principal and interest payment. The only factors that won't be included in a mortgage calculator will be taxes and insurance, so add a few hundred to that and you'll have a rough estimate of what you'll pay per month.
2. Talk with a lender and get pre-approved
If you are like most people, you will probably need to obtain a mortgage for your new home. I think the best way to go about this is to get a referral from a friend, relative, your real estate agent, or acquaintance. As with working with a Realtor, there are a lot details, paperwork, and procedures that need to be covered. So, you will want someone who knows what they're doing and pays attention to detail.
There are two steps to the pre-approval process. First, after giving your lender your basic information like income, debt, social security number, etc., you will be given a pre-qualification letter. This letter is usually "good enough" to present to the seller along with your offer. The next step is to get pre-approved. This happens when all of the information that you gave your lender is verified.
3. Let the research begin
After you determine what you have to have in a new home, you can begin to start looking at properties, school systems, cities, and neighborhoods. Of course, with technology today, you can do a lot of this research on your own. You can find out tax information, look at homes for sale, how well schools are graded for a particular area, crime rates, etc.
4. Find the right Realtor
It is vital that you have your own Realtor to represent only you in a transaction. Most people don't realize that in a real estate transaction there are two sides of representation: the seller side and the buyer side. If you are driving through a neighborhood, find a great looking house that interests you, and call the agent from the yard sign, you will be talking to the person who only represents the seller's best interest. That agent will definitely sell you the home but will not represent your best interest in the purchase of the home.
There are many factors that go into finding the right agent to work with. You want someone who knows real estate and the community. That may sound funny but some agents may be brand new or have just moved to the area. I think that personality plays a big role between the buyer and agent. You'll more than likely be spending a lot of time together during the process, so you may as well like each other.
5. Go shopping
This is the fun part. Based on your criteria, your agent will come up with a saved search for you in their website. All of the homes that match what you want in a home will be sent to you automatically. You then just tell your agent what homes that you want to see. It's important to really narrow down your search as much as possible because looking at 100 properties can be tiring.
6. Get funding
As you get close to making the big move on a property by writing an offer, stay in communication with your lender. Get them everything that they need and talk with them about lending options. There are several types of mortgages that may work better for you, and it's best to have this in concrete before your offer is made.
7. Make an offer
Once you have found "the one", you and your Realtor will sit down to draw up the paperwork for your offer. There are many different forms that will have to be covered, so you will need your real estate professional there to answer questions, advise you on your offer, and to make sure all of the details are taken care of. Your agent's biggest role is to help you find the best property at the best possible price. This doesn't mean that to get the best price you have to "low ball" the seller until they give. Your agent will know the market and will be able to advise you on price and contingencies.
8. Negotiate your offer
Unless the seller accepts your offer as-is, you and your agent will then need to analyze the seller's counter offer to see if it's acceptable to you as the buyer. One of the biggest mistakes that buyers and sellers make is that they sometimes want to feel that they have won. This isn't about winning or losing. This is about two parties coming together for the sale of a property. To argue back and forth over $500 on a $300,000 home is, well, ridiculous.
9. Get an inspection
Once you have a ratified contract, meaning all parties have agreed to the terms in writing, you will have to get a home inspection. It is important to know that you are not required to get a home inspection; however, you must get one! There can't be more emphasis put on this. Even if you're buying a brand new home, get a home inspection. Also, your mortgage company will require that you get a termite inspection with a clean report. Other inspections that "may" apply are septic and, if the home was built prior to 1978, you may want to test the paint for lead.
10. Get an Appriasal
This is required by your lender if you need to obtain a mortgage. The appraisal will be ordered by your lender, and the cost is either paid upfront or is part of your closing costs. If you happen to be paying cash for your home, it is still a good idea to get an appraisal of the property, but I would do this before making the offer.
11. Get insurance
Homeowner's insurance is also required by your lender. This is something that you and your Realtor work on. You can choose who you would like to use to compare prices. Homeowner's insurance covers wind and hail but, if your new home requires flood insurance, this will need to be purchased as well. Some properties are labeled as being in a flood zone but do not require flood insurance.
12. Final Walk-through
The final walk-through is done after all inspections have been completed and repairs (if needed) have been performed. The walk- through usually takes place a day or two before closing. If any agreed-upon repairs were not completed by the seller at this time, your Realtor should contact the title company.
To purchase a home or condo in Baldwin County AL, please contact:
Jeff Nelson
IXL Real Estate – Eastern Shore
251-654-2523
jeff@livegulfshoreslocal.com