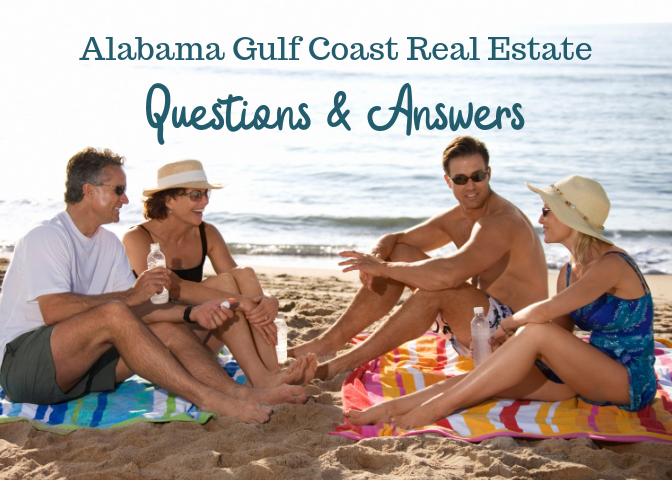 You may already own a home or condo on our beach or thinking about purchasing one. Whatever the case may be, here's a place where you can get answers to your questions about real estate. If I don't already know the answer, I'll make sure to find it out for you.
You can always call/text/email me your question, but there's another way too. At the bottom of the page, you'll find a form to submit your question to me. Your contact info will not be shown on this page (or anywhere except to me).
Questions and Answers for Real Estate on the Alabama Gulf Coast
This page will continue to grow so please come back often.
What Does It Cost to Hire a Buyer's Agent?
The quick answer is a resounding "nothing"! Sellers pay all commissions and most of the time, the commission to sell a home or condo is divided between the listing agent and the buyer's agent. In essence, the seller is paying for you to have your own representation as the buyer. A buyer's agent has a duty to their client to work solely for their best interests in all aspects of the transaction.
So, the listing agent works for the seller and the buyer's agent works for the buyer. That's how it works and you don't have to pay for this service.
How much are the condo fees at Summer House in Orange Beach?
In many complexes you'll see a range in price for their condo fees and this usually has to do with the size of the unit. The bigger the unit, the higher the fees. In Summer HouseWikipedia, all of the condos have the same square feet (1,263) and the monthly condo fees are $625.
How many condos are there in The Beach Club?
Yes, this is a big one but very nice. The Beach Club is comprised of 600 condos within 4 towers: Avalon, Bristol, Catalina, and Doral. There are many different floor plans offering 1 to 5 bedroom options.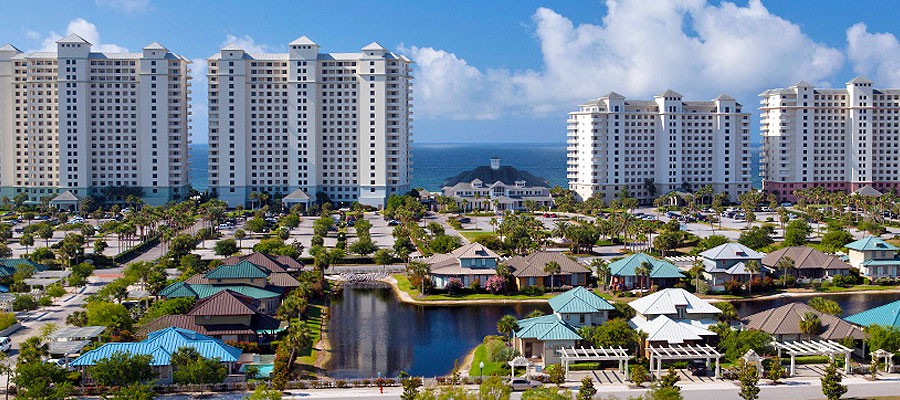 How long is the beach in Gulf Shores and Orange Beach?
Our beautiful beach is 32 miles long. It's also wide offering visitors plenty of space to sun bathe on our sugar white sand. (The picture at the top of the page is not our beach obviously. Our sand is so much nicer.)
What's the best restaurant in Orange Beach?
We have a ton a great places to eat but according to Yelp, Anchor Bar & Grill (with 354 reviews) holds the top spot. The Gulf Comes in second.
Click their links to find out more and to see their menus.
I want to buy a condo. How much would I have to put down?
There are basically 2 options for the down payment when buying a condo here at the beach: 10% or 25%. If you can qualify for the condo without having to rely on the rental income, you just need at least 10%.
How much rental income is being generated from condos in Seawind?
As you know, there are many different property management companies out there but Meyer Property Management is getting a high amount of $41,439/year and an average amount of $33,432/year for Seawind condos. This is for a 2 bedroom unit (2018 figures).
What is the best time to look at condos for sale in the summer?
Saturdays are the best days by far, especially during the peak season. Saturday is usually the turnaround day when current tenants are leaving and new tenants are coming in for the week. It's during this time when you'll have the best chance of seeing the property. Other days are possible, but we have to rely on the tenant being reached and giving us permission to go in.
What does an average 2 bedroom condo with a Gulf view go for in Gulf Shores?
As of 8/24/19, the high is $509,900, the low is $219,900, and the average is $376,567. I'll update these numbers periodically or you can contact me anytime for an update.
You can go here to see all beachfront condos in Gulf Shores that are for sale.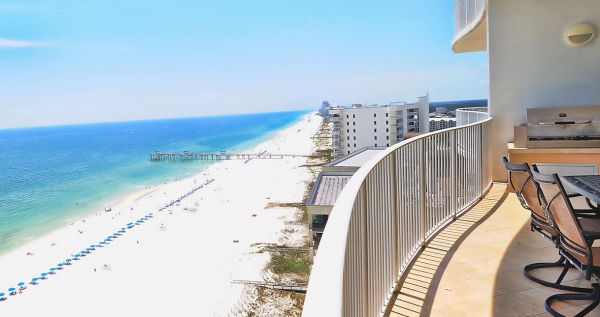 Are dogs allowed on the beach?
Both Gulf Shores and Orange Beach prohibit dogs on the public beach. However, owners including for single family beach homes and beach condos own a portion of the beach to the mean high tide line. This is private property. For condos, this would be up to each individual condo association whether or not dogs are allowed on their private beach. You would have to check with each individual association.
What condos in Gulf Shores and Orange Beach have indoor pools?
With about 6.5 million visitors annually, our beach attracts people all year long, so having an indoor pool is a great amenity to have during the cooler months. It may surprise you that there are nearly 60 condo communities in Gulf Shores and Orange Beach that have indoor pools. Here's the list for indoor pools.
What closing costs have to be paid by the seller in Alabama, other than real estate commissions?
In addition to the commissions to the listing and selling agents, sellers pay:
HOA fees (if applicable) for the month of the closing
Property taxes are paid in arrears so you would pay taxes from the previous Oct 1st through the day of your closing.
Title Examination
Document Preparation
Title Insurance (Owner's coverage)
Are pets allowed in Island Tower?
As far as pets go, Island Tower is like most other condo complexes here at the beach. They allow pets for owners but not for renters. This is fairly typical. However, you will usually find additional restrictions when it comes to pets, like the number of pets that are allowed or the pets have to be under a certain weight.
What are the best golf course in Baldwin County?
Through my experience and talking with others the best courses in the county are Timbercreek Golf Club, Rock Creek Golf Club, The Peninsula Golf Club, and Kiva Dunes.
These beautiful courses can be found in the aptly named neighborhoods of Timbercreek, Rock Creek, The Peninsula, and Kiva Dunes. These links will give you more information about the neighborhoods and homes for sale.