Spanish Fort Real Estate and Community Guide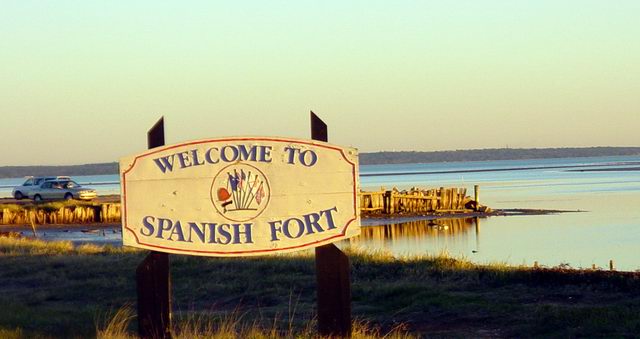 Are you looking to make a move or relocate? Spanish Fort is the perfect place to begin your search with its convenient location to Interstate 10, great schools, and easy access to shopping and restaurants. Spanish Fort is located 9.7 miles from Mobile AL, 50.8 miles from Pensacola FL, and 152 miles from New Orleans LA.

Spanish Fort Public Schools are top ranked in the county and 2 major shopping centers are located in the city: Eastern Shore Centre and Spanish Fort Town Center.

The Spanish Fort Real Estate Market

Below you'll find all of the condos, homes, commercial properties, and land that is for sale for Spanish Fort AL real estate. You can also narrow your search at any time by clicking here.

135 Homes for Sale

| | | | |
| --- | --- | --- | --- |
| 135 Listings | List Price | Price Per Foot | DOM |
| High | $1,595,000 | $512 | 640 |
| Low | $55,000 | $61 | 0 |
| Ave | $340,556 | $130 | 123 |
| Med | $304,900 | $124 | 86 |
These figures will be periodically updated.

Spanish Fort is one of the fastest growing cities in Baldwin County and the real estate market is strong. One of the highlights is its location. Spanish Fort is situated near the intersection of Hwy 98 and Interstate 10, making for an easy commute for those who work or play in both Mobile and Pensacola.

Along with having the highest ranked school in the area, home buyers will have many options when purchasing their next property with brand new and established neighborhoods, offering homes in all price ranges.

Spanish Fort Neighborhoods
At the bottom of this page is a general list of "all" property that is for sale in Spanish Fort, including residential, commercial, and land. However, you can always personalize your search at any time using the search features located on every page of this site.

To make things even easier I've included some search links below.




Popular Neighborhoods in Spanish Fort

ALL Spanish fort SINGLE FAMILY HOMES FOR SALE BY PRICE
$100,000 to $200,000 - $200,000 to $300,000 - $300,000 to $400,000
$400,000 to $500,000 - $500,000 to $600,000 - $600,000 to $1,000,000

Luxury Homes in Spanish Fort
Luxury could mean different things to different people, but there is usually a higher price tag on it regardless. As the growth of Spanish Fort continues to explode, there are buyers in all price ranges and the available real estate in Spanish Fort accommodates both ends of the spectrum. Timbercreek is a good example of a beautiful neighborhood with luxury homes.

You can search by price above and you can also go here, the "Most Expensive Homes in Spanish Fort - over $1 million".


New Construction in Spanish Fort
Because Spanish Fort is in such demand, new construction is exploding in the area. Spanish Fort has become a hotbed for newly constructed homes and has quickly become one of the most desirable places to live in Baldwin County.

As you can imagine, there are a number of brand new neighborhoods being developed, as well as empty lots in existing neighborhoods in Spanish Fort where builders are taking advantage of the demand. Please contact me for a full list of all new construction homes for sale in Spanish Fort.

Education in Spanish Fort
Spanish Fort places a high importance on schools and it shows. The city is served by Rockwell Elementary, Spanish Fort Middle School, and Spanish Fort High School. These schools are said to be the best in the county, which is one of the reasons why home buyers are drawn to purchase here.

GreatSchools.org gives Spanish Fort High School a rating of 10 out of 10.

There are 3 private schools that serve the city:

Old Spanish Fort Christian School
United Methodist Pre-School
Jubilee Early Child Development Center

Population and Housing for Spanish Fort
Total Population - 7,736
Population growth rate - 1.96%
Total Households - 3,222
Owner occupied homes - 65.1%
Renter occupied homes - 24%
Vacant homes - 10.9%
Median home value - $243.264
Average home value - $268,007
Fun Things to Do in Spanish Fort
Wild Native Delta Safaris
Boat tours, water sports, hiking tours, camping, outdoor activities
5 Rivers - Alabama's Delta Resource Center
250,000 acres of scenic wetlands, woods, and waterways
Canoe and kayak tours
Ecotours
Delta safaris
Fishing Tours
Airboat Express - Tours
Nature and Wildlife Tours, boat tours, water sports, night tours
Historic Blakeley State Park
Huge State Park with heavily wooded trails and camping
Bass Pro Shops
Meaher State Park
1,327 acre park for picnics, scenery, boating, and fishing
Camping hook-ups for overnight guests
Spanish Fort Town Center Park
Large shopping center with anchor stores
Town Center Park has a splash pad, pavilion, playground, horseshoe pits, bike racks, restrooms, fitness area, and walking path.
Eastern Shores Lanes
Bowling alley along with laser tag, part rooms, restaurant, and bar
Fairways Indoor Golf Club
High definition golf simulators
Spanish Fort Realtor
If you're looking into the real estate market and thinking about buying a home in Spanish Fort, you will want to work with a Realtor who has plenty of knowledge and experience. As a buyer, I can help you through the process from start to finish and help you avoid some of the common mistakes that buyers make.

If you're selling a home in Spanish Fort, I can help you list your property while advising you on how to correctly price it and improve the conditions in order to sell as soon as possible.

Please let me know if you would like to see any of the homes for sale in Spanish Fort or if you have other real estate questions.

Jeff Nelson
251-654-2523
jeff@livegulfshoreslocal.com
Check out the big list of Real Estate Article for Buyers. A great resource for those buying in Baldwin.