Orange Beach real estate is strong and the condo market is very busy.
With so many great condo communities in Orange Beach, it's easy to get lost when you're considering buying one of these units for yourself. Below you will find a nice visual of Orange Beach condos, their location, and their proximity to other condo complexes in the area.
The first set of aerial condo maps will start on the east end of Orange Beach at the Florida State Line and Flora-Bama then follow along the beach to the far west side close to the Gulf State Park Pier. The last aerial map shows condos that around the bay areas and Perdido Pass.
East End of Orange Beach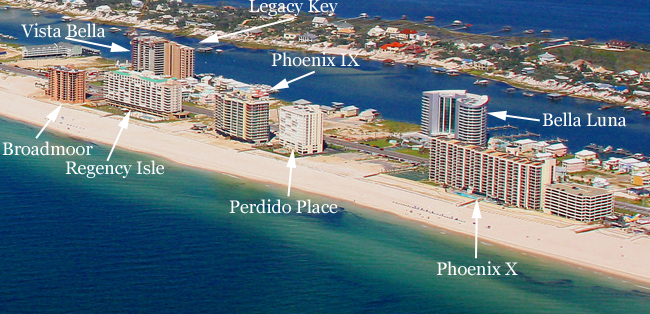 The aerial shot showing this section of beachfront condos is the closest to the Florida state line and Flora-Bama (as a reference). Phoenix X is the easternmost condo on the Alabama coast and is just 0.1 mile from Flora-Bama and 10.4 miles to The Hangout. As you can see, Bella Luna is not directly on the Gulf but still has great views to the north and the south. Other condos in the image include Perdido Place, Phoenix IX, Legacy Key, Regency Isle, Broadmoor, and Vista Bella.
Just west of Perdido Pass

Grand Pointe lies next to The Gulf restaurant, the jetties of Perdido Pass, and across the street from SanRoc Cay shopping center and marina. Going west you will find Summer Breeze and Perdido Beach Resort (this is a hotel with a great restaurant inside) then Phoenix East, Phoenix East II, Perdido Dunes, and Phoenix VIII (the label above is not correct for Phoenix VIII).
Central Orange Beach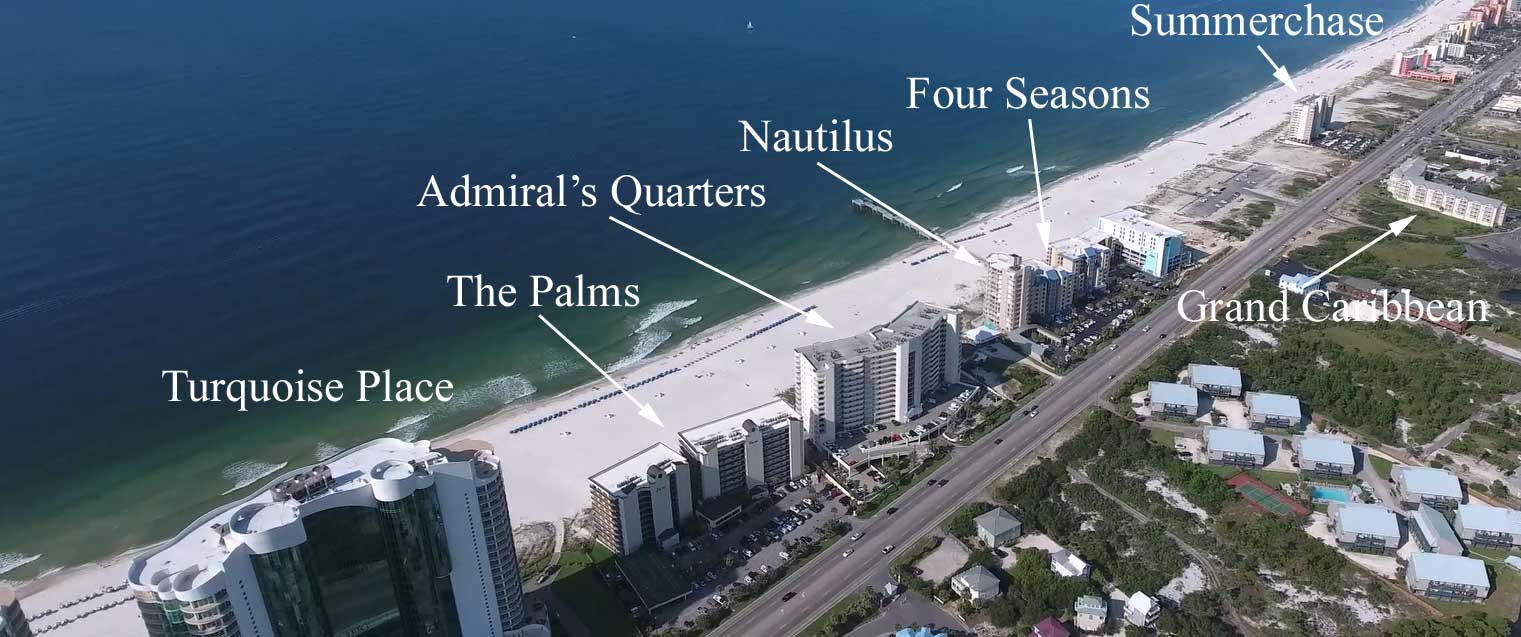 This stretch of condos is close to everything in Orange Beach. The opulent Turquoise Place is not only one of the premier condo communities at the beach but it also is one of the most popular. Next door you'll find The Palms and then Admiral's Quarters, another higher end tower. Nautilus, Four Seasons, and Summerchase are also popular for tourism and residents alike. Grand Caribbean sits just across the street from the beach and offers smaller, modest priced condos for sale. Turquoise is 7.2 miles from The Hangout and 3.4 miles from Flora-Bama.

East Romar Beach

Sea Chase is beautiful complex comprised of 3 salmon colored towers and is one of my favorites in Orange Beach. Opal is special. This high-end, contemporary building offers only one condo per floor so the elevator opens up right into your unit. Other nice beachfront buildings include Summer House, Bluewater, White Caps, and The Sands.
West Romar Beach

This stretch of condos including Pelican Pointe, Windward Pointe, Shoalwater, Seascape, Tradewinds, Seaside Beach & Racquet Club, and Phoenix V is across the street from great restaurants and entertainment for the kids. A Holiday Inn is next door to Shoalwater.
Romar Beach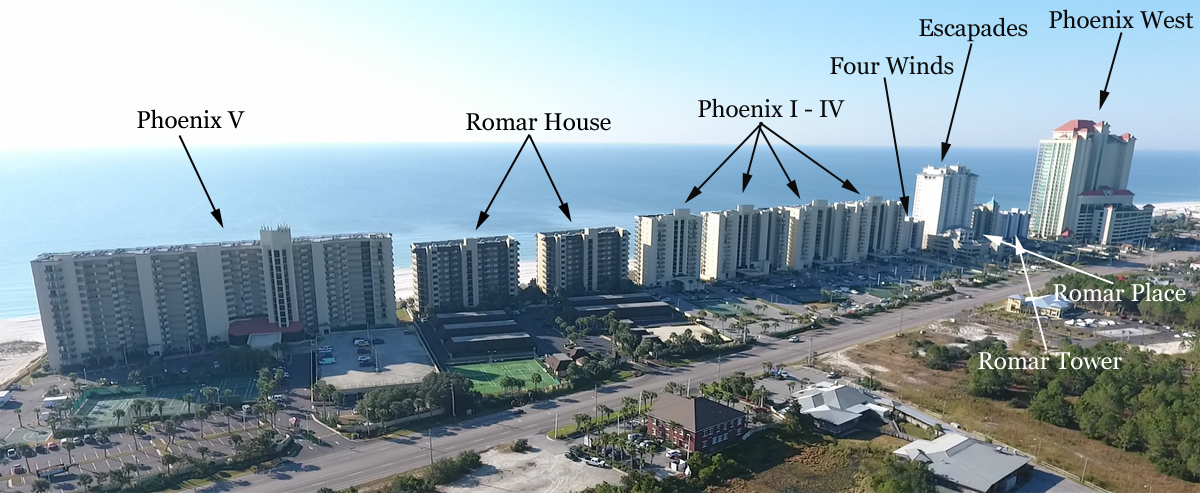 As we near the western section of Orange Beach condos on the beach, this aerial shot covers Romar House, Four Winds, Escapades, and Phoenix West. You also see the grouping for 5 of the 19 Phoenix properties including Phoenix I, II, III, IV, and V.
West End of Orange Beach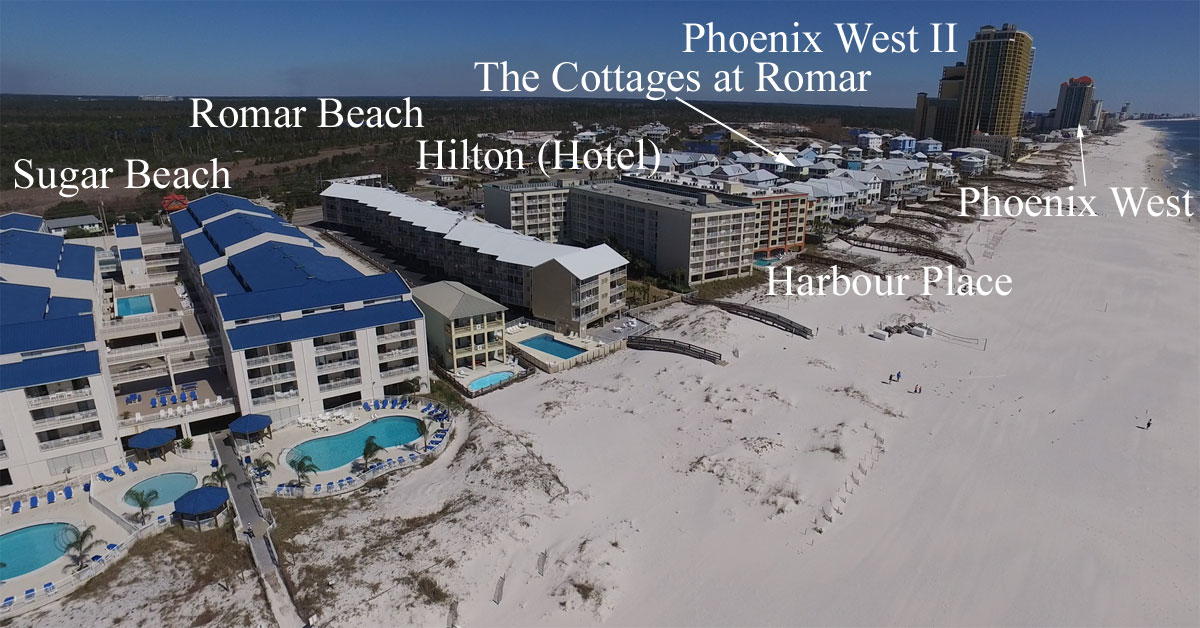 This aerial shows the section of beach as you first enter Orange Beach from Gulf Shores. Sugar Beach I believe was the very first condo complex that was built on our beaches. Romar Beach and Harbour Place offer are very popular among tourists. The Cottages at Romar is a community that consists of single family homes with nice amenities and great views. Lastly, we find the sought-after Phoenix West and Phoenix West II complexes towering over its neighbors. Not pictured above is Palm Beach Resort which is actually the first condo community that you see when entering Orange Beach and is next door to Sugar Beach. Phoenix West II is 4 miles from The Hangout and 6.6 miles from Flora-Bama.
Orange Beach Condos at the Bay and Perdido Pass

Most of the condos around Terry Cove with views of Robinson Island and Walker Island are accessed by Canal Rd. and include The Yacht Club, Phoenix on the Bay, Phoenix on the Bay II, Perdido Grande, Back Bay, The Moorings, and Bayshore Towers. On the west side of Perdido Pass you'll find Porto Del Sol, Mariner Pass, and The Pass. Last but not least is the iconic Caribe Resort which is located on the east side of Perdido Pass.
ALL ORANGE BEACH CONDOS FOR SALE BY PRICE

$100,000 to $200,000 – $200,000 to $300,000 – $300,000 to $400,000
$400,000 to $500,000 – $500,000 to $600,000 – $600,000 to $1,000,000
Please let me know if you have any questions about the Orange Beach condo real estate market.
Jeff Nelson
eXp Realty Southern Branch
251-654-2523
jeff@livegulfshoreslocal.com