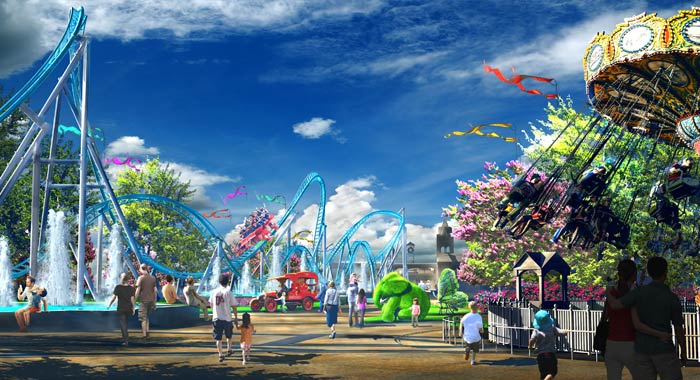 For those who haven't heard, construction is well underway for the New OWA Theme Park in Foley, AL. Excitement has been brewing for both residents and visitors to lower Alabama, as we've seen a lot of activity over the past few months at the corner of the Foley Beach Express and Route 20.
OWA, which means "Big Water," will occupy more than 520 acres of prime Foley real estate offering a family-friendly destination for entertainment, dining, retail, and shopping.
Here are some of the highlights you'll experience at OWA:
14-acre theme park with over 20 rides, including what is touted as one of the longest roller coasters in the country. There will be 2 other "thrill" rides and other rides that will be good for all ages.
154,000 square feet of retail, dining, and entertainment space
14-acre lake with a 1.5-acre island
The island will contain a 300-seat amphitheater and boathouse
150-room national brand hotel (that will be attached to Foley's Indoor Event Center)
Sports Complex with 16 state-of-the-art multi-use fields and a 90,000-square foot indoor events center
Waterpark
There is no doubt that the positive economic impact will be great, adding hundreds of jobs and tax revenue to the area. There are approximately 6.2 million people who visit the Alabama Coast each year. Even more are sure to visit from hundreds of miles away with the attraction of this new and fun destination. The sports complex alone is said to attract more than a million people.
For more information and a virtual video of what OWA will look like please click here.
Phase 1 is underway and is projected to be completed by May 2017.
Recent updates on what's happening at OWA:
-- Construction of the 150-room Marriott Towneplace Suites began in October. Also, progress is coming along at a fast pace with the starting construction of the indoor events center, roller coaster pads, streets, and sidewalks.
-- Leasing negotiations begin for tenant spaces. The first 44,000 square feet of retail and shopping space (approx. 50 businesses) is on track for opening Summer 2017.
-- Construction is moving quickly. Buildings have already been erected and theme park rides have started to arrive.

-- More theme park rides arrive at OWA. Check out WKRG's report.
-- OWA donates materials to build an artificial reef.