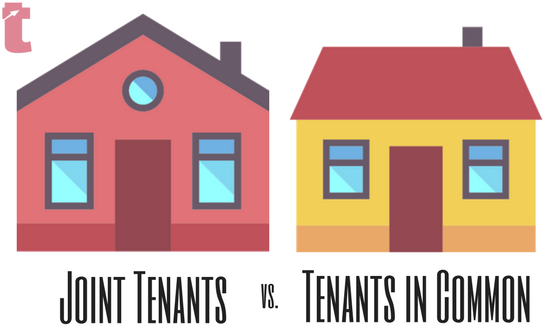 While buying a home can be one of the most exciting events in one's life, there is an aspect of the purchase agreement that is so important yet not so clear with most buyers. Most people aren't familiar with the terms in the picture above; however, these terms spell out your rights of ownership to the property you're about to purchase.
When property is owned by two or more people, they take ownership as either Joint Tenants or Tenants in Common. Since most real estate is purchased by more than one person, these classifications are the most common forms of ownership in the country.
Joint Tenants
When two or more people own real estate as Joint Tenants, there has to be four unities in common:
Co-owners must receive title at the same time.
The names of all co-owners must be on the title.
Co-owners must have the same % of interest or ownership.
In regard to possession, co-owners must own undivided interest.
Business relationships and married couples frequently use Joint Tenancy. For instance, if a husband and wife have ownership to title of a home as joint tenants, they both own undivided and equal shares of the home.

One of the biggest differences between owning title as joint tenants or tenants in common is what happens to the property when a death occurs. With joint tenancy. there is "right of survivorship" which means that shares cannot be inherited. When someone dies, the shares of the deceased will go to the remaining co-owners.
Joint tenancy can be dissolved if one or more of the owners sells or transfers their shares, resulting in a different type of concurrent ownership – tenants in common.
Tenants in Common
Tenants in common own distinct and separate shares of the property. While these owners cannot own a specific area of the property, they do own a specific percentage. For example, Tenant A and Tenant B might each own 25% of the property while Tenant C owns 50%. So, tenants in common may sell, give away, or mortgage their shares in the home.
Also, with tenancy in common. owners can take title at different times and on different documents. So, an individual may take an interest in the property years after the others have entered into a tenants in common form of ownership.
If death occurs during this type of ownership, there is no "right of survivorship". The shares of the deceased can be inherited.
About the author: The above Real Estate information on What is the Difference Between Joint Tenants and Tenants in Common was provided by Jeff Nelson of IXL Real Estate – Eastern Shore. Jeff can be reached via email at jeff@livegulfshoreslocal.com or by phone at 251-654-2523. Jeff has helped people move in and out of properties for nearly 12 years.
Thinking of selling your home? I have a passion for Real Estate and love to share my marketing expertise!
I service Real Estate sales in Baldwin County including the cities of Spanish Fort, Daphne, Fairhope, Foley, Gulf Shores, and Orange Beach.