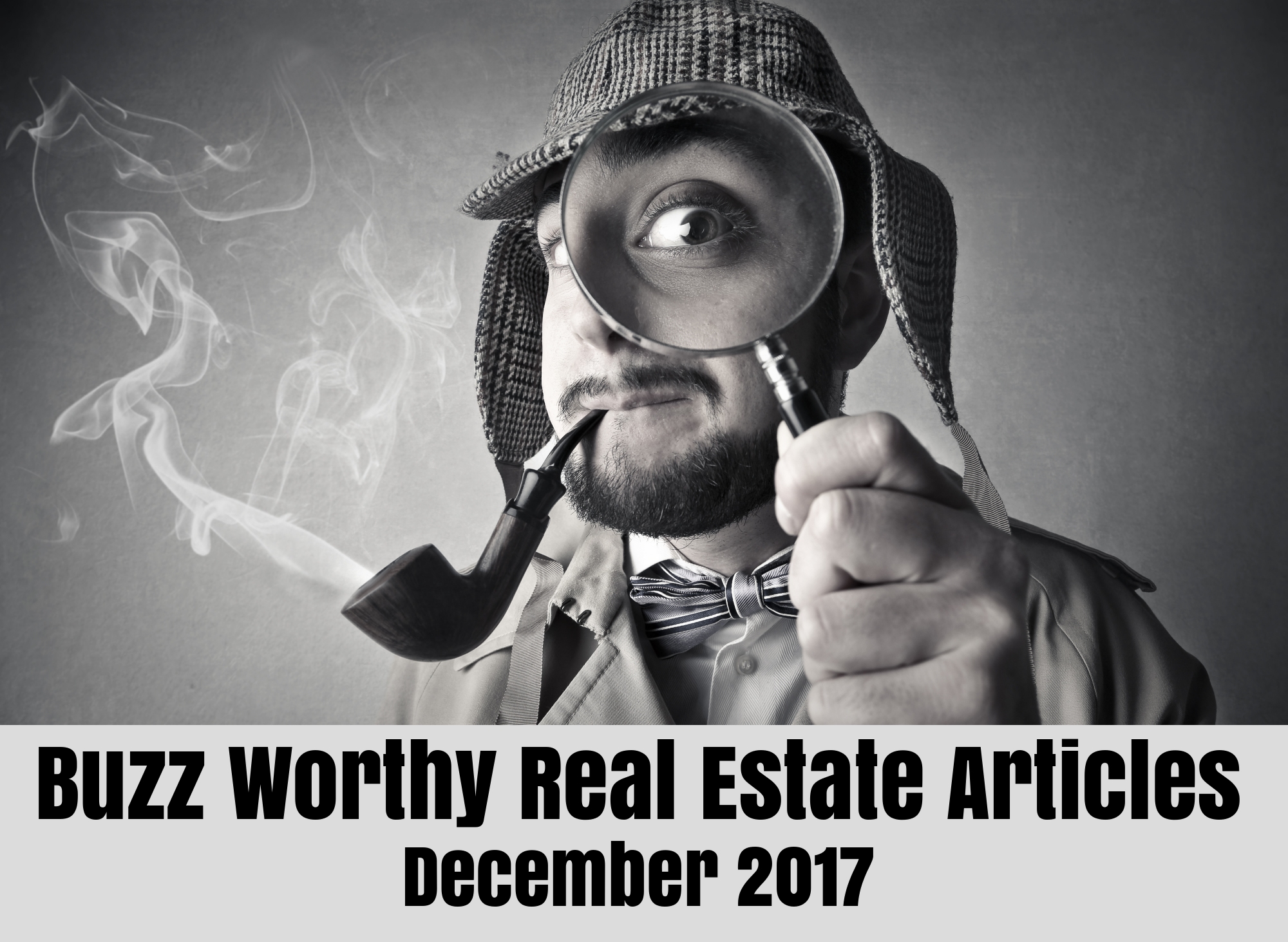 The holidays have passed and, yes, I took a few days off. Now, it's time to go back to work! I am fortunate enough to be in the mix of some of the best Realtors in the country who put out great real estate content on a regular basis.
Here are my picks for the best real estate articles in December 2017…….
Igniting Your Senses with Real Estate and Food
I might be a little biased here but this is one of my all time favorites for not only December. Years ago I used to own a website called homesandfood.com so I get exactly where Lynn Pineda is coming from with her take on how our senses play into our everyday lives (including real estate).
Check out Lynn's article on What Is It About Food and Real Estate That Makes Our Senses Ignite? This one's a keeper!
Home Buying 101: First Time Buyer Guide
Yes, I know this isn't an article but I thought this video would be a great addition to the post. Luke Skar from Inlanta Mortgage has put together a nicely done video for first time home buyers. The information, quality, and editing are spot on!
Decorating Trend Forecast for Today's Homeowner
I love everything about this post. I was actually in the construction business before I became a Realtor so this article hits home with me. Karen Highland is a great writer and Realtor who gives us a very nice article for decorating trends for today's homeowner. Did you know that "Greige" is the new trend?
Check this one out! The content and pictures are superb.
4 Things You Didn't Know About Zillow and Trulia
The typical buyer who goes on the net to look at properties is wanting to do just that – look at properties. However, they also are under the impression that the information they're seeking will be correct.
Ellen Pitts, a Realtor in the Raleigh area, goes into depth of what's wrong with using online companies like Zillow and Trulia. As a Realtor for 13 years and an online geek, I'm echoing Ellen's statements. Buyers and sellers should use a local Realtor who's tied directly into their local MLS. Period.
Why You Should Invest in Solar Panels
Many people are looking for ways to be more energy efficient these days and Debbie Drummond from Las Vegas has highlighted here how you can do that with solar panels.
What does it cost you? What about leasing? Selling a home with solar panels. All of this is covered in Debbie's article. Take a look!

Relocating to Cincinnati, Ohio? 14 Reasons You'll Love It!
Although I serve buyers and sellers of Baldwin County in lower Alabama, I know that we live in a very transient world so I wanted to give my friend, Paul Sian, a plug. Paul gives a nice layout of the benefits in his article if you happen to be relocating to Cincinnati.
5 Things Sellers Should Expect from Their Listing Agent
Unfortunately there are listing agents who do not do a good job at representing their clients to the fullest. I can't tell you how many times that I look at listings and just cringe because of the photos. Michelle Gibson of Wellington, Florida writes a great article explaining what a seller should expect from their agent.
Michelle goes over communication, photography, market updates, and much more. This a worthwhile read for anyone selling their home.
202 Must Follow Real Estate Professionals on Twitter
I have to admit that I'm not on this list because I've focused more on Facebook and Google+ but Xavier De Buck has done an incredible job at compiling a massive list of the most followed real estate pros on Twitter. This is a great resource as you will get instant access to the knowledge of over 200 experts around the country on real estate. I'll work hard to make the cut for next year. 🙂
15 Steps: What First Time Home Buyers Need to Know
Eileen Anderson from Simsbury, Ct is a great writer and has a very attractive real estate website. She lays out 15 factors (and some great photos) that first time home buyers need to work on when making the big move.
This article will work for anyone actually. Even if you've sat at 5 closing tables, this post would be a nice refresher course. Take a look!
Top 5 Upgrades That Give Your Home the Most Value
I think all of us at some point wonder if changing the flooring or putting in a pool can effect our home value. Maria Mastrolonardo, who is a successful Realtor near Chicago, has put together a great article on this topic. Maria does a great job at explaining what upgrades will give you the best "bang for your buck" when you decide to sell your home later. This is some great advise no matter where you live.
The Best Home Improvement Blogs of 2017
Kyle Hiscock of Rochester, NY gives us an extensive read about the best home improvement blog posts for the last year. So, in essence, you're getting the "best of the best" with this article. He does a fantastic job of highlighting successful pros who talk about home maintenance, renovations, decorating, and even ways to remove a popcorn ceiling. This article is one to bookmark…..
Buying a House Before Marriage: What You Need to Know
Bill Gassett is a mentor of mine and I think a Godfather to real estate, social media, and content marketing. He's created yet another fantastic article that relates to so many people nowadays. About 25% of couples between 18 and 34 are buying a home together outside of marriage. I'm not judging but there are some great points in this article if this fits you. Dang, I fit into this category (I'm going to re-read it). Check it out – Good advice for everyone!
Where is the Property Line to My Property?
Last but certainly not least is Kevin Vitali from Massachusetts. Kevin gives us a some thoughtful insight about how to figure out where your property actually ends and begins. This is really important information if you're putting up a shed or even planting a row of trees. Kevin's a great writer and spells it out for you.
About the author: The above Real Estate information on Buzz Worthy Real Estate Articles for December 2017 was provided by Jeff Nelson of IXL Real Estate – Eastern Shore. Jeff can be reached via email at jeff@livegulfshoreslocal.com or by phone at 251-654-2523. Jeff has helped people move in and out of properties for nearly 13 years.
Thinking about selling your home? I have a passion for Real Estate and would love to share my marketing expertise!
I service Real Estate sales in Baldwin County including the cities of Spanish Fort, Daphne, Fairhope, Foley, Gulf Shores, and Orange Beach.