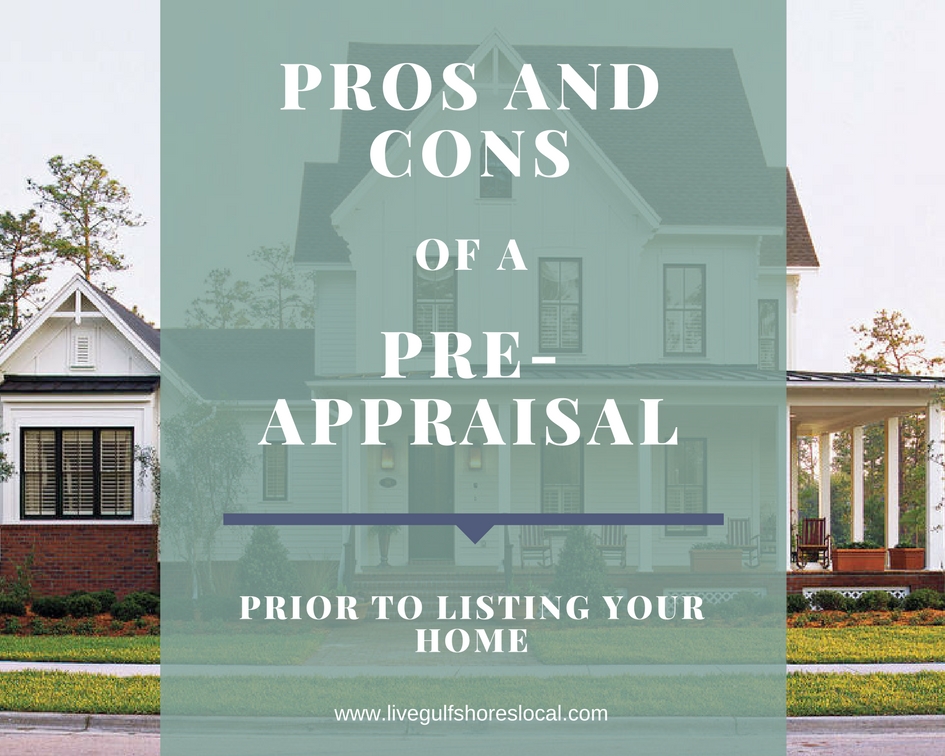 I periodically write short real estate tips of the week on things that will help buyers and sellers of real estate. After last weeks short tip on getting a pre-appraisal, I thought this topic should go into more depth.
There are 1000's of articles written about pricing your home correctly. Shoot, I've referenced it dozens of times myself. If you price too low, you run the risk of leaving money on the table for the buyer at closing. If you price too high, you risk your home not being shown at all.
There are absolutely cases where it makes total sense for a seller to pay for a pre-appraisal and there are also cases for the opposite to happen (it would be a waste of money). Here's my opinion . . .

Pros
Reality Check
Most sellers (including me in the past) think their home is worth more than it really is. Having a neutral and objective opinion of value may be just what a seller needs to come to grips with the facts.
Reassurance
Just like Realtors, licensed real estate appraisers are held to high standards in the industry. Because home value can easily slide over into mortgage loan fraud, appraisers have to be very careful on the figure that they put on a property so they are 100% compliant with both real estate and mortgage laws.
Professional and seasoned Realtors know how to analyze real estate data in the area, but sometimes there isn't much data to analyze depending on the location of the property. I think this a great opportunity to pay for a professional real estate appraisal. In this case, sellers will have an objective "opinion of value" that can actually help them with negotiations in the future.
As a buyer, it's kind of hard to argue against a value given by a pro whose work is accepted by a buyer's mortgage company. In a case where the seller and Realtor cannot agree on a price, a professional appraisal should give the seller total confidence and reassurance that their home is priced right. Tip: Hire an appraiser who is not a personal friend or family member. The whole idea of this article is to develop an objective and correct "opinion of value".
You Have Back Up
Like everyone else, an appraiser can make a mistake too. It would be nice to have something to compare to if the buyer's appraisal came in low. This could happen if Appraiser B missed a sale that could affect the overall value (good or bad).
True Size
A pre-appraisal from a licensed pro will provide the actual amount of square feet of the home. A lot of us are sometimes guilty by not only thinking that our property is worth more than it is but also that it's bigger than it really is. An appraiser will physically measure the house giving an accurate figure for the purposes of establishing a proper price per square foot.
A Selling Tool
Having a condensed version of the findings from your pre-appraisal laid out for buyers to see during showings will give the buyers confidence in the purchase price and could prevent low-ball offers.
Improvement Ideas
Along with a pre-home inspection, an appraisal can be very helpful in pinpointing areas around your home that need to be repaired, bringing potentially more value to your property. Paying a few hundred dollars now could bring you a bigger profit down the road.
Plus, in order for a property to hit a certain target price, the appraiser may require a repair to be made to the house. Having an appraisal completed before you list will give you more time to compare repair costs and to get the job done versus having this demand come from the buyer's appraisal.

Cons
Changing Market
The actual data in an appraisal is taken from "recent" sales. So, if you purchase an appraisal today and your home doesn't sell for a couple of months, there may be other sales that occur in the meantime that could effect the property's value. Here's an example . . .
You decide to sell your home and purchase an appraisal on March 1st. The appraiser uses sales data from the last few months and comes up with a home value of $300,000 for your property. 3 weeks after you're appraisal was completed, a home sold that is similar to yours in square footage and amenities but it sold for $315,000.
While none of us have a crystal ball, we can only use the current data that's available, so this scenario can be one negative to purchasing an appraisal before you list your home.
Buyers Dictate Home Value
Just because your pre-appraisal comes in at $300,000 doesn't mean that you will get an offer for that amount. A seller may get so hung up on the appraised value that they are unwilling to negotiate a lower offer.
This is why it's so important to use multiple home sales that are similar in style, age, condition, and location. The home buying market is the only factor that determines value. By the time you are ready to sell, buyers may not be willing to pay your $300,000 target price.
It's Going to Cost You
A professional appraisal will run you around $400-$500 depending on the size of your property. However, the price can go up from there if there is a lot of land and amenities to take into account.
Science and Art
Yes, an appraisal is based on well-supported real estate data from recent sales, but there is a lot of "art" that goes into to establishing a value as well. Some might call it a gut feeling. In other words, if you had 3 different appraisers come out, you would probably get 3 different values.
Buyers Will Get an Appraisal Anyway
If the buyer of your home is getting a mortgage, having an appraisal completed will be a requirement of the loan. We actually have a lot of buyers who pay cash in lower Alabama, and most of those buyers still want to pay for an appraisal. The bottom line is that no one wants to pay more than what a property is worth.
So, because of this fact, paying for an appraisal before you list your home could be a waste of money, especially if there are plenty of comparable homes that have recently sold around the subject property.
Some Buyers Won't Trust Your Appraisal
With a pre-appraisal, the seller is obviously the customer of the appraiser, so a buyer may think that the value is "leaning" toward the favor of what the seller wants to see. You can also imagine that the seller will probably be following the appraiser around the house, puffing up all of the highlights of the property with hopes of getting a higher value.
I don't think this is mean-spirited, but buyers are out of their element. Most are already uncomfortable about making a bad decision in purchasing a home, so they are naturally suspicious.
You Can Get It For Free
While most Realtors are not licensed appraisers, they can usually do a great job of giving you a solid estimation of value. They do this by not only looking at the home facts but also by evaluating the pulse of the real estate market in your area. They'll usually provide a Comparative Market Analysis showing you exactly what homes have recently sold that are similar to yours, what are the typical days on the market, and whether you're in a buyer's or seller's market.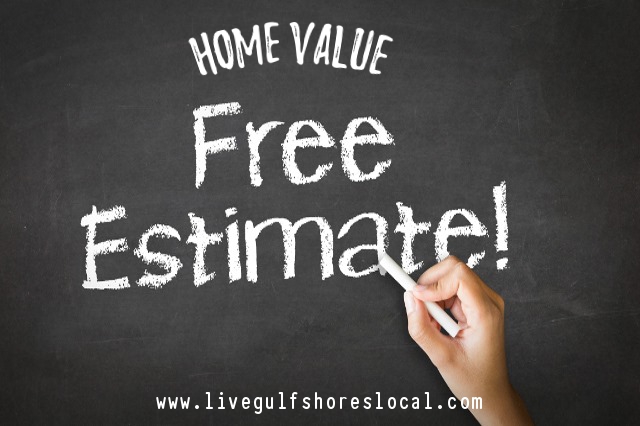 Just today I had a client ask me about a condo that was for sale in Phoenix West II in Orange Beach. Once she told me the price, I was immediately skeptical, so I dove into the past sales of the building and my feelings were justified. This community is one of the finest in the area. The condo was priced at $895,000. I found 8 condos that were sold in the building that were the same size at an average of $750,000. Yes, folks, this "condo" was priced nearly $150,000 more than others that recently sold.
I'm not sure if the seller demanded this price and the listing agent just "went with it", but this is a great example of how mis-pricing your property can be detrimental to the sale. Now, for this property, I don't think a pre-appraisal would be necessary, but pinpointing a correct price is crucial.
So, as mentioned earlier, sometimes it would be appropriate to get a pre-listing appraisal, and other times it wouldn't. This decision is made on a case-by-case basis.
Unless the seller and Realtor can't agree on a price or there aren't enough comparable home sales for the Realtor to use, I think most real estate pros would tell the seller to save their money on a pre-appraisal.
Other Top Resources on Appraisals
Common Issues with a Bank Appraisal in Real Estate - Kyle Hiscock
A Guide to Home Appraisals - Anita Clark
An Interview with a Home Appraiser - Lynn Pineda
Appraisal Myths Too Many Sellers Believe - Bill Gassett
What Can Happen When You Get the Price Wrong on Your Luxury Home - Paul Sian

About the author: The above Real Estate information on Pros and Cons of a Pre-Appraisal was provided by Jeff Nelson of IXL Real Estate – Eastern Shore. Jeff can be reached via email at jeff@livegulfshoreslocal.com or by phone at 251-654-2523. Jeff has helped people move in and out of properties for nearly 13 years.
Thinking about selling your home? I have a passion for Real Estate and would love to share my marketing expertise!
I service Real Estate sales in Baldwin County including the cities of Spanish Fort, Daphne, Fairhope, Foley, Gulf Shores, and Orange Beach.