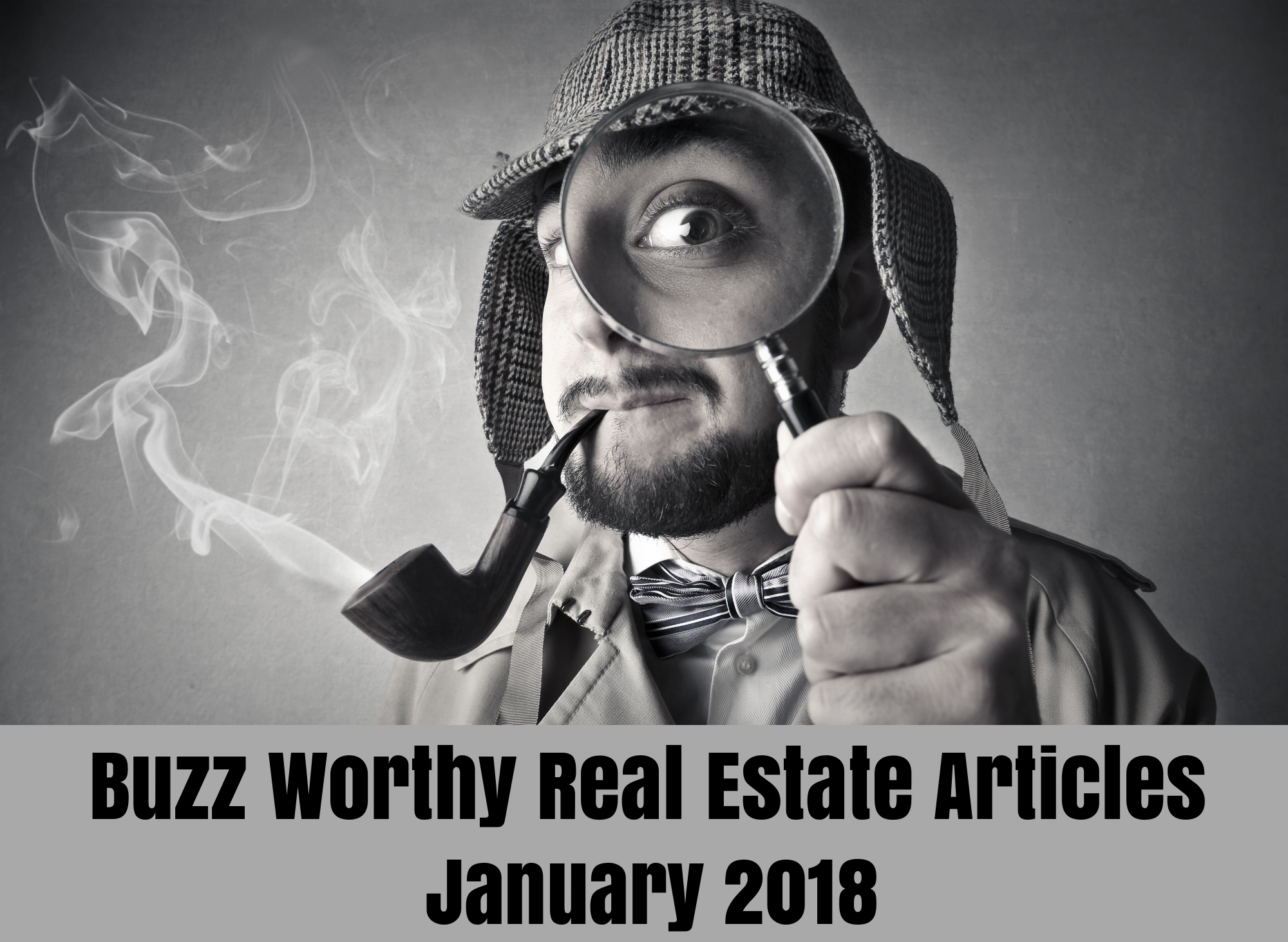 Well, the new year has come in with a bang in real estate. I do a ton of research on a daily basis for my industry and have come up with a few real estate articles that are superb and on point. Check out what some of the industry pros are talking about in real estate today!
Please click on each link to go directly to the original article.
Hold an Open House to Increase Your Odds of Getting Burglarized
I call Bill Gassett the Godfather of real estate and social media. He has put together yet another great article concerning open houses. There is a lot of debate on this subject, and I happen to agree with Bill that holding an open house does very little to actually sell your home but increases your chances of wrongdoing. Professional photography, videos, and virtual tours will go way farther in your efforts to sell, and you won't have to worry about strangers meandering through your home.
How to Work With Millennial Home Buyers
Because millennials are now the largest home-buying purchasing group in the country, this article is very timely. Eileen Anderson gives her take on how to cater to millennials when buying a home. You'll find out about millennial trends, where they want to live, what kind of home they're looking for, technology, and so much more. Check this one out!
How Much of a Price Reduction Should I Have on My Home?
Kevin Vitali, a successful Realtor in Essex and Middlesex Counties, Mass., has written a pertinent article that affects sellers all over the country. If your home has been on the market for awhile and not being shown, you may want to consider making a price reduction. His article covers great strategies, including when to do a price change and how much of a change should you make.
How to Get a Mortgage
Honestly, this is one of my favorite articles for the month of January. Luke Skar has put together an easy-to-read, informative post on how to get a mortgage from pre-approval to closing. He goes over important issues like what's expected of the buyer to get approved, documentation that a buyer will need to provide, processing, and underwriting.
How Buyer Feedback Can Help Home Sellers
Have you ever tried to sell a home, had buyers come through to visit, and never heard a word of what they thought? There's so much anticipation about what buyers are thinking concerning your property! Do they love it? Do they hate it? What?? Paul Sian, a successful Realtor in Cinncinnati OH, gives us a clue about how feedback from a potential buyer can actually help the seller. Getting the thoughts from the group of people who are actually in the market to buy is probably the best advise you can get regarding your price and condition. Paul goes into great depth on this topic.
5 Tips for Tenant Screening
Much like most of the country, in lower Alabama we have a thriving long-term rental market for single-family homes and an insane short-term rental market for condos at the beach. Kyle Hiscock from Rochester NY has laid out a great post on screening for tenants, which is perfect for anyone who is a real estate investor seeking to rent out their properties. Kyle goes over important issues like background checks, questions to ask tenants, scheduling showings, and more.
7 Quick Tips to Remodel Your Bathroom
Sharon Paxson, from Newport Beach CA, gives us some advice that probably most of us need. The bathroom is the most frequently used room in the house, so it may as well look great. Here you'll find some great ideas when it comes to remodeling your bathroom that won't necessarily break the bank.
Pros and Cons of Sharing a Seller's Home Inspection With Buyers
There's a lot of upfront costs that go into to buying a home, and one of the most important is the home inspection. Sometimes it's a smart idea for sellers to purchase a pre-listing home inspection. Conor MacEvilly, a successful Realtor in Seattle WA, gives us both sides of the coin for a seller sharing that information with the buyer. Have a look. This is a topic that not too many people think about when selling and buying a home. Well-written.
8 Costly Mistakes Home Sellers Make
Like I always say, "the goal is to sell the home!" I know, profound right? However, there are so many sellers around the country who don't listen to the seasoned advise of their Realtor. Michelle Gibson, a seasoned Realtor in Wellington FL, lists mistakes that sellers make that are keeping their home from selling. You'll find info on selling FSBO, overpricing, limiting home showings, and more. Great article!
The real estate industry is exciting but there are a lot of moving parts. That's why learning from folks who work it every day is a great idea if you're buying or selling a home. Thanks for reading my take on the the best real estate articles for January 2018!
About the author: The above Real Estate information on Buzz Worthy Real Estate Articles for January 2018 was provided by Jeff Nelson of IXL Real Estate – Eastern Shore. Jeff can be reached via email at jeff@livegulfshoreslocal.com or by phone at 251-654-2523. Jeff has helped people move in and out of properties for nearly 13 years.
Thinking about selling your home? I have a passion for Real Estate and would love to share my marketing expertise!
I service Real Estate sales in Baldwin County including the cities of Spanish Fort, Daphne, Fairhope, Foley, Gulf Shores, and Orange Beach.