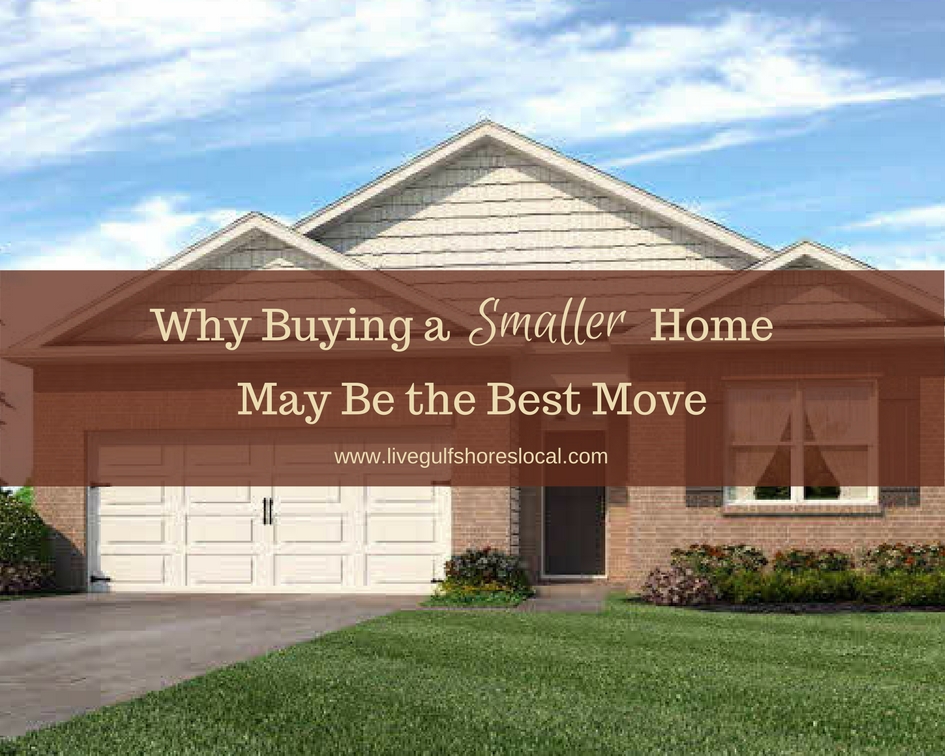 There was a time in my life when I owned a 7-bedroom, 4,400-square-foot house. At the time, it sounded like a good idea because, well, we had 5 kids and I guess it was a good idea. In addition to that, this big house was sitting on 10 acres, which was not a necessity but sounded cool (at the time). Let me just say that the coolness wears off and over the next 7 years, the kids grew up and began to leave home. Needless to say, it was time to downsize.
A lot of people (like myself back then) think that "the bigger the better," so they go hunting for the biggest house they can find as long as long as it fits into their budget. The fact is, though, in a few years those same people will be selling their big house only to downsize to something smaller. So, after all these years of selling homes and living in a big one myself, I've come to the conclusion that . . .
Buying a Smaller Home May Be the Best Move
Let me clear something up before I get in too deep here. You're going to see why buying a smaller home may bring you more happiness, peace of mind, and money in the bank; but I'm not talking about the "tiny home" craze that's sweeping across the country right now. To me, that's just too much or should I say too little?
Should you think about living in a smaller home yourself? There are many benefits.
You'll Spend Far Less On the Purchase Price
I realize that this is a Captain Obvious moment but, yes, bigger houses cost more than smaller ones – in fact, a lot more. To give you some actual real-life data, I just went into the MLS and ran some numbers. Here's what I found for homes that are for sale in one of our areas, Daphne:
Homes between 1,500 and 2,000 square feet (figures are averages)
89 homes for sale
3.17 bedrooms
2.01 baths
1,712 square feet
$192,400
$112 price per foot
Homes between 2,500 and 3,000 square feet
59 homes for sale
3.98 bedrooms
2.73 baths
2,745 square feet
$309,473
$113 price per foot
The criteria was just a simple square footage search without using anything fancy like schools, pools, or prestige. I find it very interesting that the price per square foot is only a $1 difference, yet the difference in price was nearly $120,000. Wow! Also, did you notice that the number of bedrooms for bigger homes didn't average over 4?
The difference in size is about 1,000 square feet in this example but you're saving so much money, would it be worth it? Many times homes have rooms that many people don't use, like a formal dining room, formal living room, or even a spare bedroom. All of that wasted space could be costing you big-time.
You'll Spend Far Less On Your Power Bill
Since heating and cooling your home make up over half of your energy costs, it only makes sense that a smaller home will save you a bundle over the larger alternative.
Using an industry standard of 14 cents per square foot to determine utility costs, a 1,500-square-foot home would cost you $210/mo, and a 2,500-square-foot home would cost $350/mo. That's a difference of $140/mo or $1,680/year.
You'll Spend Less On Taxes and Upkeep
Depending on where you live in the country, property taxes vary a lot, but everyone pays them. Taxes on a home with smaller square footage will absolutely cost you less than on a bigger property, saving you money every month. In our area, homeowners could save $600 to $1,000 per year living in a smaller home.
More space means more to repair when things wear out. This could mean thousands of dollars back in your pocket, especially if you have to replace the roof, flooring, windows, or the HVAC. Plus, smaller homes are just easier to maintain. You'll spend far less time, money, and energy.
I realize that all of this sounds obvious, but how many of us think about these other cost factors when contemplating buying a new "bigger" home?
Would you agree that spending less money would make you happier? Would it give you more peace of mind?
You'll Have Less to Clean
For those of you who have a larger home, you already know that cleaning that monster is an all-day, all-family affair. No one loves to clean, and who wants to spend their only day off knee deep in rubber gloves and dustpans, anyway?
In our case, what used to take 8 hours to clean now only takes about 2. There is nothing wrong about that! "I want to clean my house for 6 more hours instead of having a good time with friends and family", said no one.
You'll Accumulate Less "Stuff"
Owning a large home encourages buying and over-buying. No one likes a totally empty room, right? It would be odd to walk into a house to see a formal living room with absolutely nothing in it.
On the other hand, if you didn't have a formal living room, there's no reason to buy extra furniture that will never get used anyway. You can also forego all of the other extras like light fixtures, area rugs, wall art, and knick-knacks.
When we decided to downsize from the 4,400-square-foot home, we ended up having about 5 yard sales and, at the end of day 5, we were practically giving everything away.
Living in a smaller home changes how you look at purchasing. If there's no room to put anything new, you're less likely to indulge.
Smaller Homes Allow for Higher Quality Splurges
Houses wear down over time. Sometimes we homeowners are just ready for a change. If you want to replace the flooring or the countertops in your small home, you can more than likely purchase a higher quality product. Let's say that you want to install wood flooring and your budget is $2,000. If you had a 2,000-square-foot home, you would have to use the cheaper product at $.99 per square foot, spending $1,980. However, for your 1,000-square-foot home, you could buy a better product at $1.99 per square foot, spending $1,990.
Smaller Homes Are Easier to Sell
The fact is that most of us can't afford million-dollar homes, so there are far more buyers for smaller homes. Going back to my example for Daphne real estate, in the last 90 days there were 58 homes that sold with square feet between 2,000 and 3,000. They were on the market for an average of 124 days. For homes between 1,000 and 2,000 square feet, 73 homes sold in the same time frame and were on the market for an average of 90 days.
So, simply put, smaller homes are easier to sell because there are more buyers in that market.
Other Additional Resources on Buying Smaller Homes:
How to Know It's Time to Downsize Your Home – Bill Gassett

Sneaky Stagings Tips for Selling a Smaller Home – Kevin Vitali

Tips for Downsizing Your Home – Debbie Drummond

About the author: The above Real Estate information on Why Buying a Smaller Home May Be the Best Move was provided by Jeff Nelson of IXL Real Estate – Eastern Shore. Jeff can be reached via email at jeff@livegulfshoreslocal.com or by phone at 251-654-2523. Jeff has helped people move in and out of properties for nearly 13 years.
Thinking of selling your home? I have a passion for Real Estate and would love to share my marketing expertise!
I service Real Estate sales in Baldwin County, including the cities of Spanish Fort, Daphne, Fairhope, Foley, Gulf Shores, and Orange Beach.