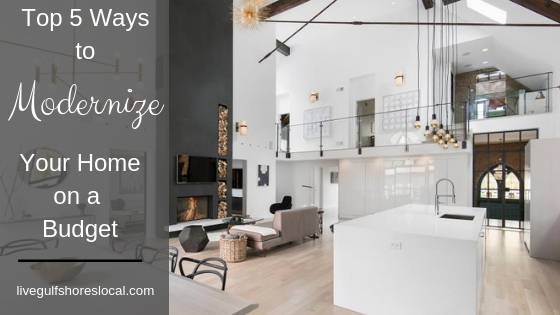 This article was written by Katie Mills from https://www.poshh.co.uk/. Katie is an expert and trusted voice in home design, furnishings, and renovation.
Even if you're on a budget, sometimes your home just really needs a makeover. The good news is that bringing your home up to date need not cost the earth. Small touches like replacing your balustrade, components, creating feature wall, or trying new lighting solutions can work wonders.
Giving your home a facelift can be surprisingly affordable if you follow these helpful tips. Here are the top five ways of modernizing your home without spending a fortune.
Add a Touch of Color
Paint is inexpensive but represents the ideal way to improve your room in a short space of time. Repaint the whole room for a brand new look or, alternately, you can keep the budget right down by creating a feature wall with just a single tin. Choose a subtle shade for a sophisticated look or opt for something vibrant to catch the eye, it's up to you.
A feature wall is often behing the fireplace in a living room, however, this needn't necessarily be the case. Why not paint a colorful backdrop to some shelving, or paint inside an alcove for an eye-catching look?
Create Lighting Effects
It's amazing how different a room can look with a change of lighting. Investing in some stylish but inexpensive matching lamps for the bedside tables will give any bedroom a more cohesive look, while an attractive floor lamp will bring an appealing glow to a dark corner. For an incredibly cheap way of improving the ambient light in your space, why not wind fairy lights around picture frames or place inside a glass jar on the mantelpiece for a pretty, twinkling effect at at budget prices?
Tactile Textures
You don't need to completely renovate your entire room to achieve a contemporary effect. Even the smallest details can modernize your room very effectively. Even by simply changing your textiles you can give your room a lift. Put down a colorful rug that contrasts with your decor, switch your existing cushions to something a little more colorful or with an appealing texture such as chenille or faux fur, and cover worn out upholstery with cozy throws for an affordable decorating solution.
Bedrooms too can be given a cozy new feel by choosing some new, luxurious looking textiles. New bedding in a beautiful fabric, or decorated with embroidery, sequins or detailing will have a powerful effect, especially if paired with new drapes or curtains in a matching design.
Fixtures and Fittings
Sometimes, it's the littlest touches that make all the difference. Even by simply replacing the drawer and cupboard handles in your kitchen, you can bring the room bang up to date, and changing the shower head and taps in your bathroom will give a stylish new look.
Changing your balustrade components will brinng a contemporary new look to your staircase or balcony, with stainless steel balustrade components being an especially popular choice for a more modern appearance.
Use Your Mirrors
While mirrors are a stylish addition to any room, they serve a greater purpose than merely allowing you to see yourself and to check out your latest outfit. Mirrors are known to reflect light incredibly effectively, and this makes them an essential accessory to add to your home.
Mirrors work especially well in small spaces, dimly lit rooms, and rooms with no windows, creating an eye-catching feature and also helping to reflect the light that exists to give the illusion of natural daylight and increased space. As well as adding mirrors in traditional locations such as over the fireplace and by the front door, consider placing them in more unusual locations. Floor to ceiling mirrors, when used wisely, can visually double your space - a perfect solution for narrow rooms which look disproportional.
This is a feature that works very well in hallways and dining rooms as well as on bedroom walls, and will instantly lift the space giving it a completely different appearance. Take these top tips on board, and you'll find that your home looks modern and up to date without having to break the bank. Whether you're keen to give your living room, bedroom, or kitchen a stylish new look, you can easily accomplish it on a budget.