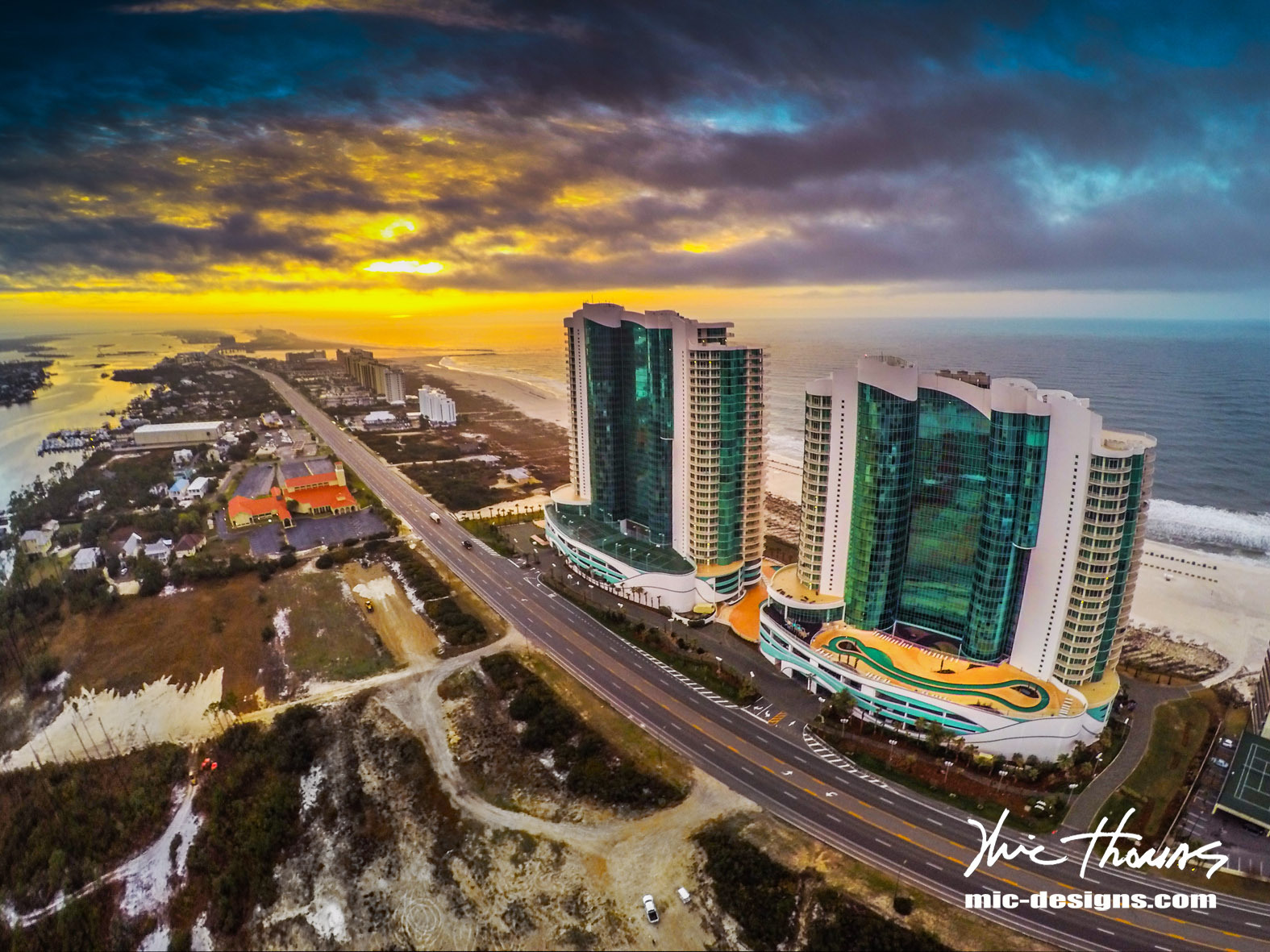 Turquoise Place Condos Real Estate
Address: 26302 Perdido Beach Blvd Orange Beach AL. 36561
For those seeking a luxury second home, investment property, or full-time residence, there are a number of Turquoise Place Condos for sale in Orange Beach. Sitting on 900 feet of prime Gulf front property with snow white sandy beaches and blue-green waters sits Turquoise, which is "for now" the premier luxury condo complex on the Alabama coast. With more confidence in our economy and the continued growth of our area, there are talks of new high rise luxury condominiums being built but, right now, however, Turquoise stands alone and has set the bar high for standards and design among Orange Beach condos. Its modern architecture and glimmering green glass-front structure has become a landmark for the area, encouraging all those who pass to come in.

Built in 2008, Turquoise has 2 separate towers. The west "D" Tower is 25 stories high with 173 units, while the taller eastern "C" Tower is 30 stories high with 227 units. While Turquoise is, by far, the tallest building on the Alabama Gulf coast, it is tied, by the way, for 6th place in the "tallest buildings in the state" category. This could change in the coming years, however. Developers have already had the first set of permits approved for the construction of 2 new behemoth complexes in Orange Beach, the 37-story Ascension Condominium and the 36-story Grace Condominium.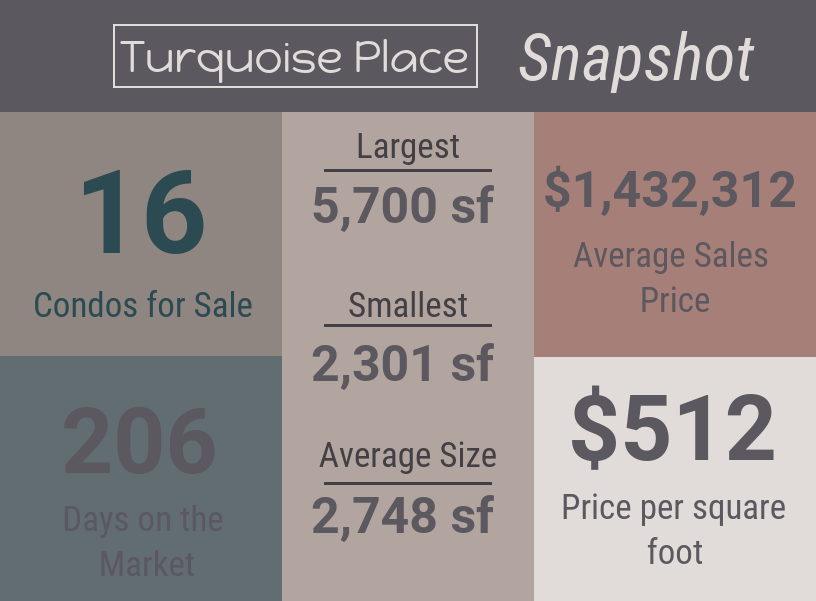 The land that Turquoise sits on is quite large, as well. The lot is 10.62 acres, which includes 500 feet of Gulf front beach. The community owns the beach up to the mean high tide. This point to the shore line is for the public and is owned by the city.
Below, you will find all condos that are currently for sale in Turquoise.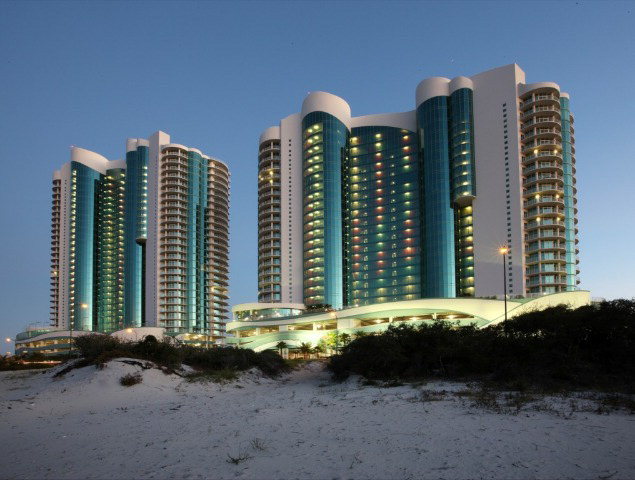 Turquoise Place Amenities
As you would expect, lavish accommodations will accompany you throughout the common areas, as well as the individual units. Here is a list of what you will find:


Private hot tubs on every balcony (unique to the area)
Natural gas grills on every balcony (unique to the area)
Full-size laundry rooms
High-end kitchen appliances
Wet bar with ice maker and wine cooler
10-foot ceilings
Private wireless access
Gas fireplace
Floor-to-ceiling windows and sliding doors
6 glass-enclosed elevators
On-site bar and grill
Fitness center (Gulf front)
Sauna/steam room
5 swimming pools (includes 2 indoor pools with underwater speakers)
Wading pool and fountain
Heated 450-foot lazy river
Tennis courts
Spa services
Resort activities for the kids
Children's playground
Shopping boutique
3,500-square-foot meeting room with an awesome view
Assigned parking in 4 levels of enclosed garages
Guarded gate entry
Scroll down to watch a video.
Find information and details right here for Turquoise condos that are for sale in Orange Beach.
These are luxury condominiums and hold 9 of the top 10 most expensive condos on the beach. As we have discussed, the individual amenities of each unit are lavish and there are many that we haven't talked about, as well. Some sellers, for instance, may have added many upgrades. High-end buyers have remained strong in our area because 20 units have closed within the last 12 months. The average size for the units that are for sale range from 2,300 – 5,700 square feet.


Click this link to view the floor plans for Turquoise Place

Rental Information and Potential
As with most of the condo communities at the beach, the majority of the owners at Turquoise Place do rent out their units for as little as a few days to many months out of the year. This is done either by self-managing through VRBO (Vacation Rentals By Owner) or by using one of the many rental management companies in town. This association is mainly handled through Spectrum Resorts, and there is an on-site facility to handle bookings and any issues that may arise.

Due to the size of the individual units, lavish amenities, and overall splendor of this community, Turquoise has done well with rentals over the years, really well. To my knowledge, more rental income is generated from this condo complex than any other on the Alabama Gulf Coast. In 2014, the highest rental income for a 3-bedroom was about $109,000 and the average was around $83,000. The highest rental income last year for a 3-bedroom unit was about $119,000 and the average was $119,000. The reasons for the differences between the high and the average incomes are usually due to marketing, tile floors, view, granite counter tops, upgraded decor, welcoming paint choices, how often it is rented, quality of internet pictures, etc… As you can see, there isn't a big difference (if any).

There are other condominiums here at the beach that cater to those who are willing to spend over $1,000,000 for a luxury condo unit. Some that come to mind are The Yacht Club, Oceania, Bella Luna, South Point, and Phoenix West II. However, Turquoise seems to have the total package and the proof is in the sales and rental income.
Affordability
I know that many who purchase here pay cash but if a mortgage is in order, here's an example using a sales price of $1,000,000. If you put 20% down as a down payment and have a 3.92% rate on a 30-year fixed conventional loan, your principal and interest payment would be $3,783. I'm going to use broad figures for property taxes ($4,000/year) and HOA fees ($1,500/month) because they vary so much here due to the size of the units. So, using these figures, your payment would be $5,616 . . . plus or minus.

Call or email me to get the exact property tax information and HOA fees for a particular unit.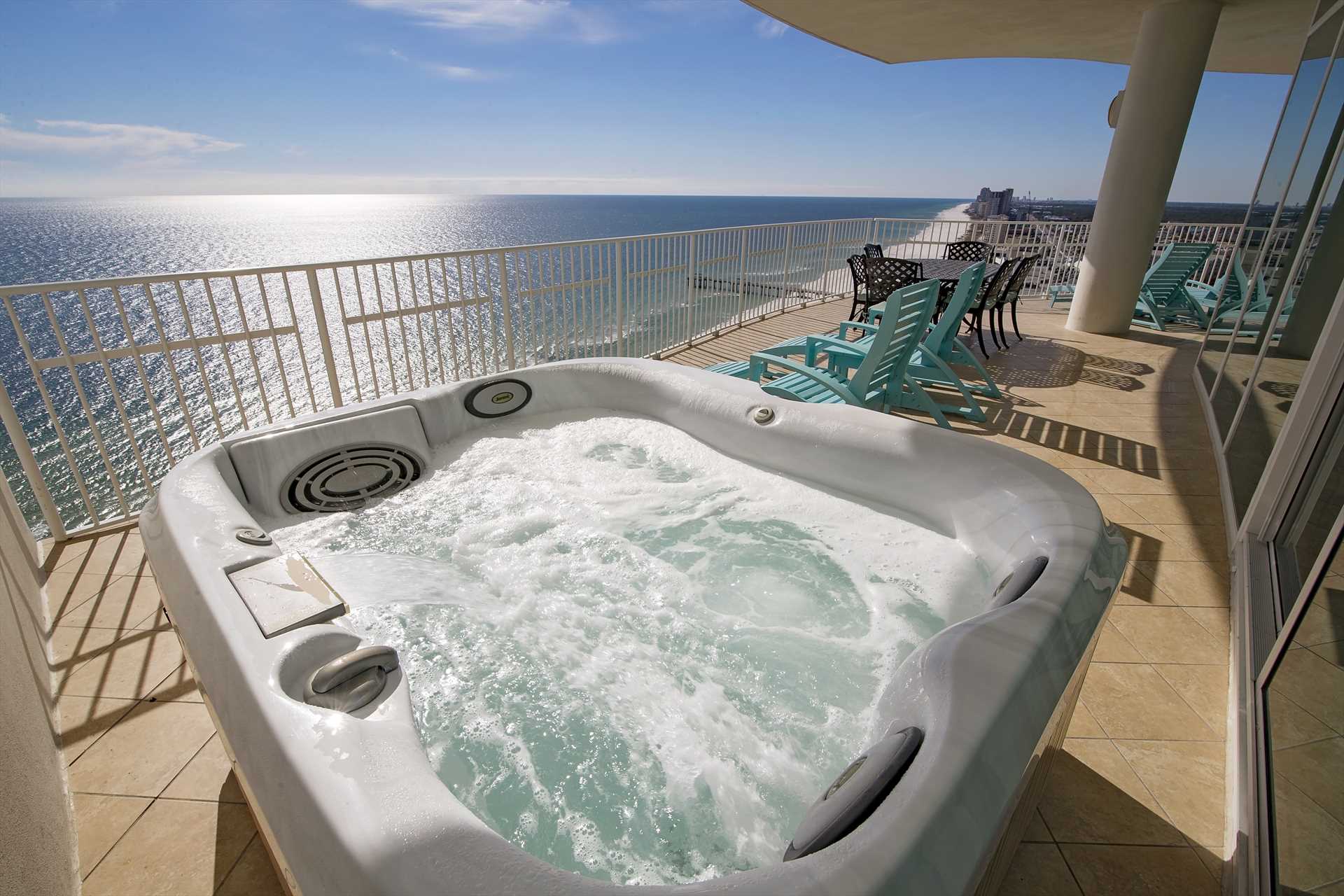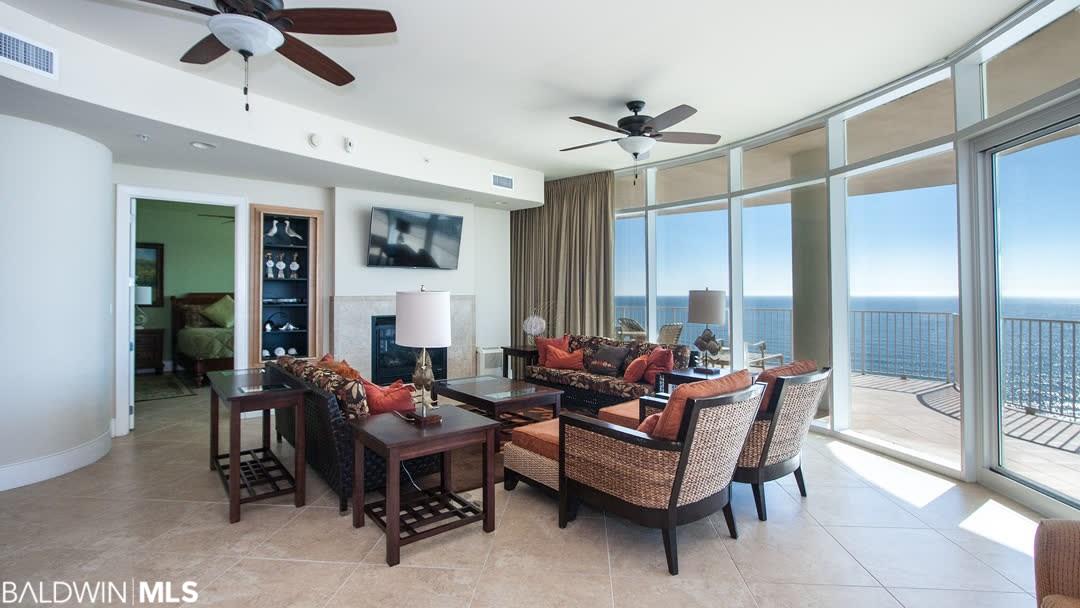 Turquoise Place - The Area

Nearby Restaurants Include

There are 32 restaurants within 1 mile of this location, but here are some "stand-outs" . . .
Cobalt
The Gulf
Voyagers
Guthries
Gulf Shores Steamer
Franco's Italian Restaurant
Cotton's
Activities
Here are some fun things to do located within 1 mile . . .
Adventure Island
Alabama Coastal Outdoors
Sail Wild Hearts
Adventure Aquatics
Paddle by You Kayaks
Pleasure Island Charters
Orange Beach Watersports
Chute Em Up Parasail
I hope that the information provided here has been helpful. I will update the figures on this page often, so please check back as needed. I know that you're busy. If you contact me with exactly what you are looking for, I'll do the legwork for you. If it's only properties with a lazy river or only kitchens with Sub Zero appliances, I'll do the searching for you and send you only what you really want. I live here at the beach and have been selling real estate for almost 14 years. I know what I'm doing and can make your next purchase as painless as possible.
Please contact me if you need additional information or if you would like a private tour of a property that interests you.
Jeff Nelson
251-654-2523
jeff@livegulfshoreslocal.com
Please remove some of the selected filters.