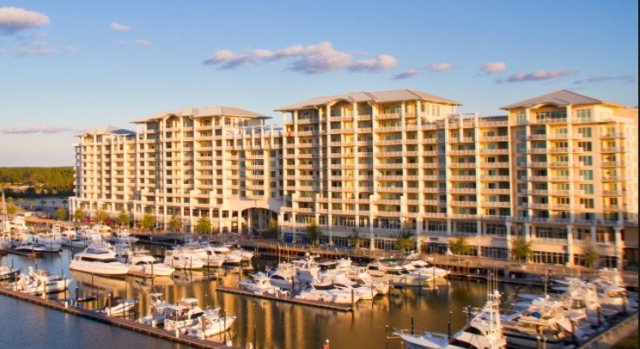 Below you will find all condos that are for sale in The Wharf of Orange Beach AL.
The Wharf Real Estate

Address: 4851 Main Street Orange Beach AL 36561

Although The Wharf is not on the Gulf of Mexico, this beautiful complex remains one of the most popular condo communities in the Orange Beach real estate market. What makes The Wharf so popular, you ask? Well, there's quite a bit.

Not only are the actual living spaces fantastic (I'll get to that in a minute), The Wharf is the most inviting destination for shopping, entertainment, restaurants, and fun with what seems like an endless amount of things to enjoy, all within walking distance.
Here are some of the extravagant accommodations and endless activities you'll find at The Wharf:

Incredible sunset views while overlooking the Intracoastal Waterway
Nearly a dozen restaurants, from upscale dining to casual cuisine
Several dozen unique shops, boutiques, and spas to enjoy
A 112-foot tall Ferris Wheel
A 10,000-seat Amphitheater for Concerts and Events, with two massive screens on either side of the stage
Massive conference center
Movie Theater with 15 screens with stadium seating
Large marina that has 208 boat slips and fishing excursions
A boardwalk that flows through the entire property
3 pools including The Oasis zero entry wave pool
Lazy river with lush tropical landscaping
Water slides
Waterfalls
Hot tubs
Fitness center
BBQ areas
Hammock Island
Tiki Bar
Large balconies with gas grill
Open floor plan with tall ceilings
Floor-to-ceiling glass on the back wall
Covered entry
Private security
Endless activities for you and your family to enjoy
Easy access to the Foley Beach Expressway
Click to see a property map of The Wharf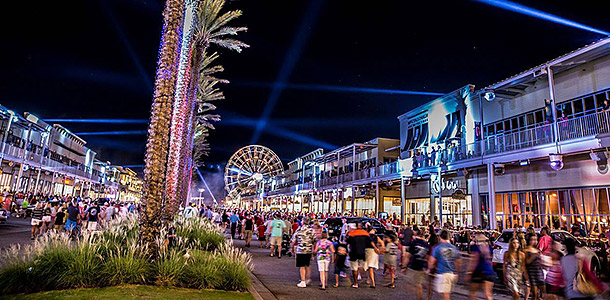 Thinking about living full time at The Wharf or maybe having a great second home?

Built in 2007, The Wharf offers 9 floors with a total of 190 condos, so there should be a few available condos that are for sale to possibly peak your interest. I think you'll find that most of the condos for sale will have well-appointed furnishings, awesome water views, and an overall upscale feeling to the living space.

The Wharf offers 1, 2, 3, 4, and 5 bedroom options ranging between 700 and 3,155 square feet.

Don't forget to see all of the available condos that are for sale in The Wharf below.