Orange Beach Real Estate and Community Guide
The following information is brought to you by Jeff Nelson of IXL Real Estate – Eastern Shore. If you have any questions about Orange Beach real estate or the community, please get in touch with me. I have been selling homes and condos for nearly 13 years giving me a wide knowledge of real estate and the area.
_____________________________________________________

The city of Orange Beach is located in lower Alabama on the Gulf of Mexico, bordered by the city of Gulf Shores to the west and the state of Florida to the east.

According to the United States Census Bureau, the population is 5,723, compared to 10,765 for Gulf Shores and 36,877 for Panama City, Florida. The city has a total of 15.9 total square miles with 14.7 square miles made up of land and 1.2 square miles made up of water

The zip code for Orange Beach is 36561.

The city is the easternmost city on the Alabama Gulf Coast served by Route 182 (Perdido Beach Blvd) which runs east/west, parallel to the beach. Route 161 runs north/south connecting Canal Rd to Route 182.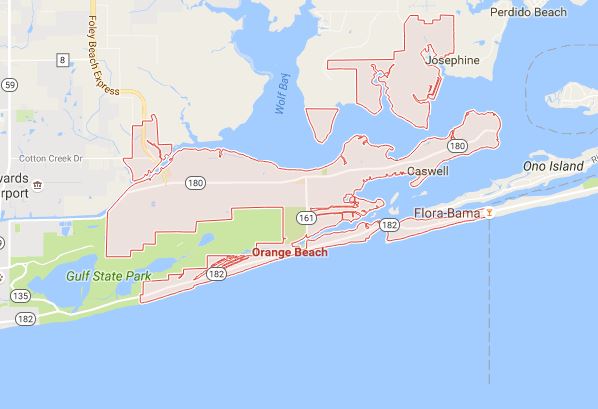 History of Orange Beach
The area was first settled in the mid 1800's. Due to its location and proximity to vast forests and the water, the first businesses to come out of the area was a shingle company, naval stores, and turpentine. As time went on, the forests became more and more depleted and were eventually replaced with orange groves, which is of course where the city got its name.

Firsts for Orange Beach:

First Post Office - 1901
First hotel - early 1920's
Completion of the Intracoastal Waterway - 1932
First paved road - 1947
Electric service - 1948
Phone service - 1956
Orange Beach Volunteer Fire Department - 1961
Pubic Water System - 1974


Fast forward 100 years to what we see today, an exploding and successful tourism market that is attracting millions of visitors every year.
Interesting Facts
Inc. Magazine named the Gulf Shores/Orange Beach area one of the top 40 places in the country to start a business.
Voted in as one of the top 3 beaches to visit from the readers of Southern Living.
Located at The Wharf is the tallest Ferris Wheel in the Southeast, standing at 112 feet.
The Orange Beach Sportsplex has hosted the SEC Women's Soccer Tournament on numerous occasions.
Housing units that are within a multi-unit structure (condos) are 72.7% versus 15.9% for the state average.

Orange Beach AL Real Estate
If you are thinking about buying real estate in town, you'll find that there are numerous residential options to pick from in all price ranges. I am an Orange Beach and Gulf Shores Realtor that can help you find exactly what you are looking for (or come real close), whether it's a condo overlooking the Gulf of Mexico as a second home/investment or a golf course retirement home. We are a resort and second home market and condos make up a large majority of our listing inventory. However, there are neighborhoods in Orange Beach with single family dwellings on golf courses and other nice areas as well.

The vast majority of all Orange Beach real estate falls into the price range of $200,000 to $500,000, while of course, there are homes and condos that fall below and over that range depending on your taste.
Search Orange Beach Condos for Sale by Price
$100,000 to $200,000 - $200,000 to $300,000 - $300,000 to $400,000
$400,000 to $500,000 - $500,000 to $600,000 - $600,000 to $1,000,000
Search Orange Beach Single Family Homes by Price
$100,000 to $200,000 – $200,000 to $300,000 – $300,000 to $400,000
$400,000 to $500,000 – $500,000 to $600,000 – $600,000 to $1,000,000
Our weather and proximity to the water attracts most visitors to our city. These appeal factors keep our tourism market very strong in the warm and cool seasons. Besides the obvious Gulf front properties, there are other waterfront options available as well, including bay, canal, river, and lake front homes sites. As you might think, the large portion of residences in Orange Beach are condos on the beach, however, homeowners who want to live in a single family home in a nice neighborhood can have that option too.

Our housing inventory is still good, however, our location to the Gulf, the good school system, and weather help to keep our area in high demand even through the cooler months. It is no wonder that Orange Beach is not only a wonderful place to raise a family but also to purchase a home or condo to build your real estate portfolio.

The median home value for Orange Beach is $324,200, while the median sold price is $290,800. The median age for Orange Beach real estate is 15 years. Long term renters make up for 6.6% of housing while 79.16% of homes/condos are unoccupied (this is due to the large majority of condos that are used for tourism and the snowbird season). Home appreciation is up 6.2% from last year.

Featured Neighborhoods and Condos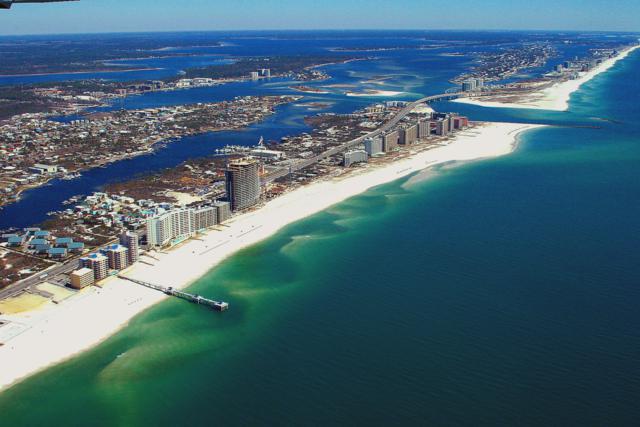 The Orange Beach Economy

As with most coastal towns, tourism plays a vital role in driving our economy here at the beach. From the 9 golf courses, amusement parks, charter fishing tours, dolphin watching cruises, amusement parks, nearby attractions, zip lining, and the beach, visitors are drawn from all over to spend their money. The growth of the city is attracting commercial builders as well. We are seeing even more high rise condos being built, a newly constructed Ron Jon Surf Shop (just completed), and the beginning stages of the Blue Collar Country Theme Park starting to break ground. Other newly notable construction starts in recent months have been Hobby Lobby, Big Lots, Shoe Station, and Academy in Foley.

Approximately 6 million visitors inject around $3 billion in our economy every year.

The unemployment rate is 5.20% with the future job growth sitting at 36.80% over the next 10 years. The sales tax rate is 10% and the income tax rate is 5%. The income per capita is $36,909, which includes all adults and children. The median household income is $59,679.

Population by Occupation
Management, Business, Finance 17.73%
Sales, Office, Admin Support 23.93%
Healthcare 9.75%
Food Prep, Serving 11.02%
Construction, Maintenance, Repair 11.95%
Production, Transportation, Material Moving 7.47%
Climate and Weather
Orange Beach has a warm and humid climate with little to no dry season and hot summers. Its "warm" season runs from May 26 until September 23 with an average high temperature of 85 degrees. The city's hottest day of the year is June 23rd with an average high temperature of 91 degrees and low of 75 degrees. Its "cold" season runs from November 25th until March 5th with an average high temperature below 67 degrees. The area's coldest day of the year is February 6th with an average low of 42 degrees and high of 61 degrees. During the "warm" season, there is a 53% chance that there will be some kind of precipitation that occurs on any given day (as a motorcycle rider, I agree). Most of the time these pop-up showers happen during the afternoon and they come/go fairly quickly. The average amount of rainfall per year is 57 inches and the average amount of snow is 0.

Parks, Trails, and Boat Launches
Backcountry Trail
- 15 miles with 7 trails and 6 distinct eco-systems
- Trails were originally used by the early settlers of the region
Public Boat Launches
- 2 boat launches that are part of the State Park System, both have paved parking
- Boggy Point Launch - Located at the end of Marina Road
- Cotton Bayou Launch - Located on Hwy 182 just east of Hwy 161
Robinson Island & Bird Island Park
- Only accessible by boat, kayak, paddleboard, or jet ski
- Owned by the city and is a sanctuary for birds and wildlife
- Open to residents and visitors
Waterfront Park
- Located on Wolf Bay
- 400 fishing pier
- Picnic shelters, restrooms, grills, paved paths and parking
- Playground
- Open to the public year-round
Dog Park
- 3/4 acre shaded park with water and disposal stations
- Separate areas for large and small dogs
Disc Golf Course Park
- 9 hole disc golf course located at 27920 Canal Road
Orange Beach Canoe Trail
- 10 designated landing sites along Cotton Bayou, Bayou St. John, Arnica Bay, Wolf Bay, Bay La Launch

Beach Access in Orange Beach
Cotton Bayou
5.1 miles east of Hwy 59 and .2 mile west of Hwy 161
Free parking, outdoor showers, and restrooms
East Alabama Point
Located on the east side of Perdido Pass, 2.7 miles from Hwy 161
Plenty of parking, bathhouse, and 4 boardwalks leading to the beach
Romar Beach
6.8 miles east of Hwy 59
Limited free parking
Gulf State Park - Pavilion Area
6 miles east of Hwy 59
Plenty of parking, restrooms, private showers, snack bar, and even a fireplace for cooler day
$6 fee for cars to park

Hospitals and Medical Centers
Orange Beach Medical Center
Modern Surgical Inc.
Orange Beach Walk-In Care
McCoullough Plastic Surgery Clinic
South Baldwin Medical Center Gulf Shores Urgent Care
Encore Rehabilitation Inc.
Thomas Hospital Urgent Care
Community Health Systems
American Family Care

Education in Orange Beach
Public Schools
This city is only served by Orange Beach Elementary. Middle and high school students attend the Gulf Shores school locations. Greatschools.org gives OBE a rating of 8 out of 10. Orange Beach Elementary is located at 4900 S. Wilson Blvd. The student to teach ratio is 13:1.

Colleges/Universities
Columbia Southern University
Faulkner State Community College - Gulf Shores
Auburn University Fisheries Department - Gulf Shores

Educational Statistics
High School Degree 91.6%
Some College 72.5%
Associate Degree 43%
Bachelor Degree 37.6%
Graduate Degree 15.9%

Transportation and Commute
The closest airport is Jack Edwards Airport in Gulf Shores off of route 59. Pensacola International Airport is 26.4 miles from Orange Beach.

Means of commuting:

Drive 75%
Carpool 15%
Walk 1%
Work from Home 7.53%

There are no significant means of public transportation other than cabs. Shuttles are provided for major events such as the Hangout Festival.

Important City Websites
Orange Beach AL Realtor
If you have been thinking about selling your condo, home, or other Orange Beach, AL. real estate, give me the opportunity to help make your experience a stress-free and smooth one. My goal is to create an atmosphere and work environment with no worries and hands-free for you. Real Estate comes with enough drama already so the more that I can take off your shoulders, the better.

When you hire a Realtor to work with you to sell your home, there should be a number of important items to consider first: the availability and interpretation of up to date statistical facts such as how many days on the market and sales price/list price ratios, communication and marketing skills, and past experiences/successes of the agent. I'm not one to inflate figures or oversell just to get your business. The purpose is to sell your home or condo, not just to put a sign in the front yard.

If you're in the market to purchase a new home or condo, there are a variety of listings to choose from in all price ranges and budgetary needs. Our market here at the beach is primarily a resort/second home market. You need someone who knows the condo market and how they work with regard to home owners associations, lending, and insurance. I look forward to the opportunity to work with you.

Jeff Nelson
IXL Real Estate – Eastern Shore
251-654-2523
jeff@livegulfshoreslocal.com