Important Safety Information for Gulf Shores and Orange Beach AL.
So, you've been waiting all year long to come back to Gulf Shores to stay at that great condo on the beach again. Then the unexpected happens . . . Trouble can happen anywhere, but it's always better to be prepared. Coastal areas around the country have potential problems that are unique compared to other destinations. say . . . in the Midwest (and vice versa). In addition to being a coastal town, we are also a southeast coastal town which contains other issues. We would like to cover most of the things that could be harmful to make sure that your stay is as nice as you hoped it would be.
Beach Warning Flags: Safety Information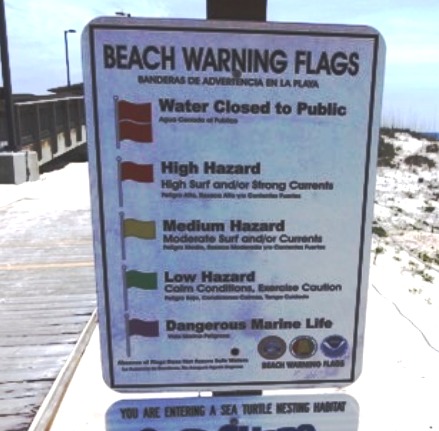 Here at the beach, different colored flags are used to give a visual cue to the public about the various surf and current conditions. You should educate yourself on the Beach Warning Flag system that Gulf Shores and Orange Beach have both adopted and enforce. This system was put into place solely for the protection of our visitors, as well as our full-time residents. Take a picture of one of the many posted signs with your phone, save this page, commit it to memory, or do whatever it takes to be informed. This is no joke!

Double Red Flags – Water is closed to the public. It is illegal to enter the Gulf of Mexico when double red flags are present.
Red Flag – High hazard. High surf and/or strong currents.
Yellow Flag – Medium hazard. Moderate surf and/or currents.
Green Flag – Low hazard. Calm conditions but exercise caution.
Purple Flag – Dangerous marine life.
An important note to consider – if no flags are present, this should not assure you that the water is safe. These flags are there for a reason. Unfortunately, each year we do have sad news to report about one or more individuals who did not heed the warnings and went swimming during bad rip tide conditions. As an example, just yesterday as I was traveling through where the Hangout Festival was going on and I noticed that there were both a red flag and a purple flag flying. We are on the Gulf of Mexico, folks. We have jellyfish, and we have sharks that come in from time to time.

Here is some good information concerning rip tides and what do.

Click this link for the current surf forecast.

Swim Safe/Stay Alive:
Reference the two links about to be informed about rip tides. Check the flags once you get to the beach.
Swim with a buddy or a group, never alone.
Swimming and booze do not mix. Liquid courage is not a good idea in the Gulf
Stay in designated swim areas, not near the pier or pilings. Avoid drop-off areas.
Don't swim where there are fishermen. Avoid swimming in schools of fish. If you see seabirds diving after fish, avoid this area.
Due to predatory feeding times for sharks, avoid swimming at dawn, dusk, or night time.
Again, due to predatory activity, avoid wearing shiny jewelry while in the water.
During the hot days of summer in the south, we could have pretty strong "pop up" storms that seem to come out of nowhere. Check your weather forecasts!
If you find yourself caught in a rip current, stay calm and swim parallel to the shore until you feel the pull that is taking you out to see subside. Fighting the current will exhaust you and could be deadly.

Gulf Shores has taken safety conditions in the water to a whole other level.
To help the general public make an informed decision about the quality of water that they are swimming in, the city has partnered up with The Alabama Department of Public Health and The Alabama Department of Environment Development to monitor bacteria levels in the water.

Water quality, as well as the risk of illness, is measured using a color-coded system. Signs displaying the particular risk or lack there- of can be found at the three locations where the water is tested: Little Lagoon Pass, Gulf State Park Pavilion Beach, and Gulf Shores Public Beach. Here are the three levels that is used to inform the public:

Green – Water quality is acceptable.
Yellow – Test results exceed EPA's threshold. There is an increased risk of swimming in the water.
Red – A repeat test continues to exceed EPA's threshold and, because the threat is persistent, a public warning advisory is issued.
Hurricanes and Storms
To be safe, be prepared. The last really bad storm that did significant damage to our area was Hurricane Ivan in 2004. Although it's been over a decade, if you live anywhere from Miami to Brownsville, Texas, there is always a risk. Two of the biggest factors when confronted with a monster storm is to be prepared for the risk and be ready to take swift action with those preparations when alerted.

Click here for a complete list of things to have on hand.

Have an Emergency Plan:

Have a list of locations that you can drive to out of harm's way.
Make sure that you have a full gas tank
If staying home, make sure you are stocked up with fresh water, non-perishable food, and everything else from the link above.
What are you going to do about your pets?
Prepare for you boat if you have one, and be aware of marine safety
Obtain contact information for your local emergency management office, hospitals, utility companies, the Red Cross, your insurance agent, friends, family, and neighbors.
This is my home and I help other people everyday find a home in Gulf Shores and Orange Beach. As beautiful and laid back and welcoming as this area is, there are certain risks no matter where you live. My goal here to inform and to assist in order to keep people safe. Be safe and enjoy our beach!

Jeff Nelson
IXL Real Estate – Eastern Shore
251-654-2523
jeff@livegulfshoreslocal.com
Folow Me on Facebook and Instagram for Constant Updates on the Area