Sea Turtle Season is now in session for Gulf Shores and Orange Beach
With the hustle and bustle of our busy tourism market just beginning, there is another major event taking place. May 1st marks the beginning of the season for the endangered sea turtle and runs through October 31st. Three different types of turtles will emerge on the beaches of the Alabama coast to build their nests from Fort Morgan to Orange Beach. These giant "living fossils" who have dated back to the dinosaur age will range in size from 150 to 400 lbs. and will lay an average of 110 ping pong ball-sized eggs at a time. On a warm night in May, the large female will enter our white sandy beaches from the shoreline, build her nest in the sand, and return to the water, never to see her nest again.
Here are the three types of sea turtles that nest in Gulf Shores and Orange Beach:
Loggerheads – Large heads with powerful, blunt jaws. Weigh 170 – 500 lbs. Live 30 to 50 years.
Kemps Ridley – Usually around 24 inches long and weigh up to 100 lbs. Live 30 to 50 years.
Green – Smooth shells and up to 4 feet in length, weighing up to 440 lbs. Live 30 to 50 years.
Although there will be dozens of nests, housing thousand of eggs on our beaches, only a very small percentage of the hatchlings will survive due to both natural and human peril. This is why the Share the Beach program was formed in 2005 by The Friends of the Bon Secour National Wildlife Refuge in Gulf Shores. Hundreds of volunteers will participate in locating and marking nests, assisting the baby turtles back to water, and educating the public on how to help. With an incubation period of 55 to 70 days, it is vital to have these caring people to not only assist in helping to protect an endangered species but also to aid in protecting our Alabama ecosystem.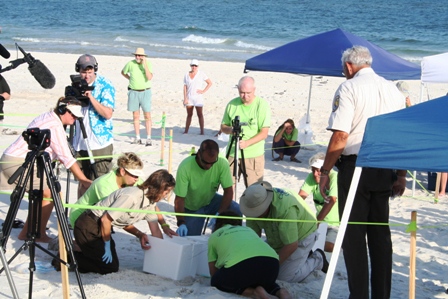 Pictured above is an example of just a few of the volunteers from the Share the Beach program assisting with the sea turtle population.
How we humans can help:
Volunteer with the Share the Beach Program.
Join the Adopt a Nest Program.
Don't block the beach with beach chairs, umbrellas, etc.
Don't be a litterbug. Remove your trash.
Do not disturb turtle tracks on the beach.
Do not disturb sea turtle nests.
Through evolution and instinct, sea turtles use moonlight to return back to the sea. Turn off patio lights that illuminate the beach at night.
Avoid using flashlights on the beach at night.
With the hundreds of thousands of vacationers who enjoy our area during the warm months, we also have some other temporary residents that rely on our beaches for their very survival. Please do your part to help in their protection. Whether you are crashing for a couple of days in Orange Beach for a music event, staying in a beach house in Fort Morgan, or on a house hunting trip to buy a condo in Gulf Shores, you may have the opportunity to witness one of these awesome natural events of the sea turtle.
For more information on sea turtles on the Alabama Gulf Coast, to volunteer, or to donate please visit http://www.alabamaseaturtles.com/.