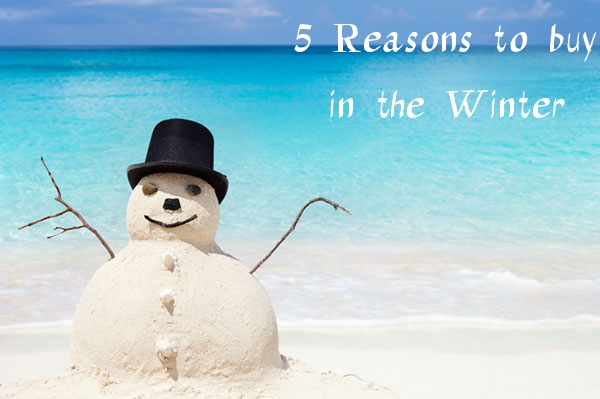 Historically, the home buying season begins in the spring; however, there are some key factors that could be beneficial to the home buyer in the colder months. We all want to save money, especially with the largest purchase that we probably will ever make. Doesn't it make sense to at least consider buying a home in the winter if you could save big bucks? Sure it does. Remembering back over the last 12 years of selling real estate, I recalled the greatest month that I have ever had — it was in December when I closed 9 transactions. My clients obviously were eager to take advantage of a timeless trend that would save them money to eventually increase their equity.
Listed below are 6 reasons why I think you as a buyer should purchase a home during the winter.
1. Prices will continue to rise.
According to CoreLogic, which is a global leader in property information and analytics, home prices have risen by 6.2% in the year leading up to last August. They are also projecting a 5.3% increase in home prices for the upcoming year. You can only imagine what percent that you could save on your home purchase by not waiting for the spring season to arrive.
2. Mortgage rates are projected to increase.
We have been enjoying low interest rates for several years now but, according to Freddie Mac, interest rates will trend higher in the next year. As of today, the rate for a 30-year fixed loan is 4.13, up from 3.95 a year ago. Here's a quote from Freddie Mac concerning the forecast on rates:
"We expect that interest rates will have more modest increases in store and that mortgage rates throughout 2017 will be significantly higher than what we thought last month."
3. Your paying a mortgage anyway.
Unless you are living with your parents rent free, you are paying someone's mortgage payment whether it's yours or your landlord's. Paying for your own mortgage is kind of like having "forced savings" that you will be able to tap into later in life. If you're renting, you are creating a savings account for whoever owns the property that you're living in.
4. Less market activity.
Typically during the colder months of winter, there are less buyers so this is a great way for you to capitalize. With less buyers, you will have better chances of getting a better price for your new home due to a few factors. Sellers know that there are fewer buyers and may be more willing to negotiate on their price. Also, with less activity you more than likely will not have to deal with any bidding wars that you may encounter during the summer. For instance in one of the markets that I work in, Fairhope real estate, we realtors see multiple buyers for a single property during the warmer season (even though we're still in a slight buyers' market).
5. Motivated sellers.
As I stated above, sellers who list their home during the winter know that there are fewer buyers in the market to purchase. What I have found out over the years is that sellers do not necessarily drop their prices during the winter but are willing to negotiate their price.
About the author: The above Real Estate information on Buying a Home This Winter was provided by Jeff Nelson of IXL Real Estate – Eastern Shore. Jeff can be reached via email at jeff@livegulfshoreslocal.com or by phone at 251-654-2523. Jeff has helped people move in and out of properties for nearly 12 years.
Thinking of selling your home? I have a passion for Real Estate and love to share my marketing expertise!
I service Real Estate sales in Baldwin County including the cities of Spanish Fort, Daphne, Fairhope, Foley, Gulf Shores, and Orange Beach.