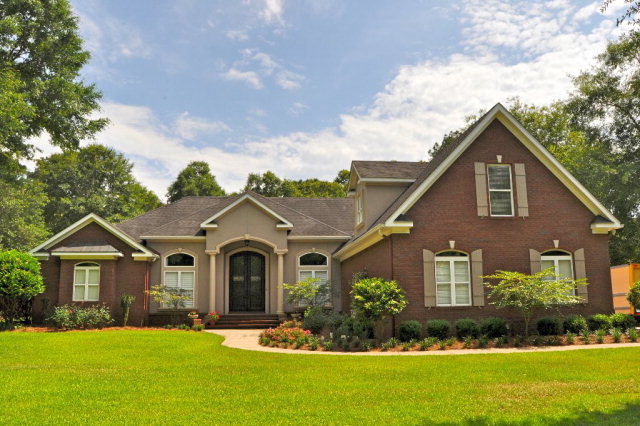 If you own a home in Daphne AL, you're already familiar with how popular the city is for both buyers and sellers alike. The Daphne real estate market is strong and is continuing to grow with new construction on the rise.
Selling Your Home in Daphne
Below you will find a number of questions that you may ask yourself before (and during) the home selling process.
Can I sell my home myself?
Sure you can, but the real question is, do you really want to sell it yourself? Obviously, the biggest motivator for a seller to not use a real estate agent is to save money. Typical Realtor fees usually run between 5-6% of the selling price, which are used to pay for the agent's time, advice, marketing, and administrative costs. What Daphne sellers don't realize is, most buyers who look at For Sale By Owner (FSBO) properties are "also" thinking that they will save money since the seller isn't paying Realtor fees. Both the buyer and the seller can't save on the fees. Many FSBO sellers also advertise that they will work with buyer's agents and pay them 3%, which automatically cuts their savings in half.
Time is another factor to consider. Not only will you have to be available to show your home whenever a buyer wants to see it, there are also a number of people who you will have to spend time negotiating/communicating with, including the buyer, buyer's agent (if necessary), the buyer's lender, title company, home inspector, termite company, and the appraiser if there is a question of value.
There are a number of reasons why not to sell your Daphne home FSBO, and I could write an entire page about this topic. With only 8% of homeowners selling their property on their own this past year, you may want to do some research and meet with a Realtor to discuss a game plan (which is where I come in). Then decide.
Market Condition
What causes a home to sell?
There are a plethora of books on the market that have been written on this subject but it really comes down to six things:
Price
Condition
Accessibility
Terms of the Sale
Location
Exposure or Marketing
The process can be daunting and, since your Realtor does this every day, they can walk you through it with ease. All of the factors above are extremely important when selling your Daphne home, and your Realtor will make suggestions based on years of experience and input from colleagues or even past clients. For instance, you may need to clean up your yard a little. You may be advised to rent a storage unit in order to de-clutter and de-personalize your home. There are a number of variables that could come into play, and it's different with every home.
When is the best time to sell my Daphne home?
In my opinion, the best time is when you are ready. Yes, we've all heard that the home buying season is from about March to September; however, homes are closing throughout the year. You may find it odd that the biggest month that I had as a Realtor was in December! You can check out this article that I wrote called 5 Reasons to Buy a Home in the Winter.
Does seasonality come into play when selling your Daphne Home?
This goes with the question above, but I can elaborate a little more. As we are located in the south, we have a multitude of potential home buyers who visit our area during the cooler months, many of which are looking for second homes or are even contemplating on moving here full time (I just got off the phone with one of them). Although the typical buying season happens within the warmer months, we find that, because of where we are located in the south, there will always be potential buyers to see your home.
How long would it take to get an offer?
The answer goes along with the six factors that I talked about above on what causes a home to sell. If all of those factors line up, you could get an offer fairly quickly, maybe within the first couple of weeks. Typical listings could last from 30 to 180 days, depending on those factors. It's imperative to get with your agent (me) to optimize those factors and put the cards in your favor. Market conditions also play a major role as well. If you have a desirable home in a market where there is not much competition for the specs of your home, you will get an offer.
Pricing
How much should I list my property?
This is the most important factor in selling your Daphne home. Most sellers, including myself in past years, think that their home is worth more than it probably is. We Realtors have a ton a statistical data to pull from in order to give you a real good idea of where your home should be priced. If you're priced too high, your home won't be shown very much, if any. If you're priced too low, you will lose money. As a Realtor, it's my job to find a buyer for you, at the best possible price to you, and with the least amount of hassle.
As an example, I had a potential client last April who decided that they wanted to list their home $60K more than what I thought it would sell for. The result . . . I turned down the listing because I'm not in the business of putting a sign in the yard and letting it sit. My job is to sell your home. I do keep track of that listing though. It was given to another agent and, 8 months later, it's still on the market. Get with your agent to achieve a reasonable price to list.
What is the "fair market value" of a home?
The fair market value of a property is simply what a well-informed buyer is willing to pay for it. Value is established by what similar properties have sold for in the recent past, that are comparable to your property.
What is the difference between the "asking price" and "fair market value"?
Oftentimes, we see situations where the sellers are willing to ask for a price (listing price) that is a little above what we think that the home would appraise for. Since the fair market price is lower than the asking price, you may have an issue with the appraisal if the home will have a mortgage. For example, if a buyer gives you an offer at your asking price which is higher than the appraised value and they are not paying cash, you as the seller will have to come down to the appraised value in order to close on your home or the buyer can walk away from the deal.
How flexible should I be about my asking price?
There are some agents who will gladly tell you what you want to hear in order to put a sign up in your yard. As I've said earlier, I'm in the business of selling homes in Daphne . . . not just listing them. Since my goal is to get you the best possible price with the least amount of hassle, I feel that your asking price should be as close to the appraised value as possible, which will give you some room to work with if the buyer wants to come down on your price. Again, the alternative is to go under contract, then the appraisal comes in low, and everyone will have to go back to the drawing board.
Find Out What Your Home is Worth in Daphne
Appearance
What home improvements should I do to sell my Daphne home?
The more you can do to improve the appearance of your home the quicker it will sell. Of course, this is determined by time and money but, anything that you can replace with new, do it. If your carpet is brown and it's supposed to be white, replace it if you can. If you have dark green walls and your agent suggests a lighter beige, go for it. The bottom line is that a buyer is looking for a home that not only meets their price but also needs the least amount of work for their tastes. Seasoned real estate agents are really good at suggesting what the masses of people will want to see in a new home.
For example, I live in a condo in Gulf Shores that was on the market for over 600 days when I looked at it. Other similar condos were selling within 2 to 3 months. The big difference was that my new future dwelling still had the original wallpaper in the kitchen and baths from 30 years ago. See my point?
How do I create curb appeal?
We've all heard this term. Curb appeal is the first impression. I always tell clients to walk out into the street and see their home as their neighbors do. Take a real good objective look at your home from the street because that's what your new potential buyer will be doing when they pull up with their Realtor.
Cleaning the weeds out of the flower beds, painting the front door, raking the leaves, or even mowing the yard could make all the difference in the world in helping to get you the best possible offer for your Daphne home.
What should I do to make my home "show" better?
Ok, here's a crash course on this topic. Most of "us" have issues with clutter or just having too much stuff. If you want to sell your home in Daphne AL or anywhere else in the country, you want to make your home feel bigger than it actually is. This is the time to have a garage sale, give away to charities, throw away, or even get a storage unit. Several years ago, we had a large home in the woods and ended up having three garage sales in a month because we had way too much stuff and we wanted to sell our home. The key is to minimize and de-clutter. You also want to de-personalize by taking out personal items like pictures and collections. Buyers want to see your property as if they live there.
Next, do a serious deep cleaning. The cleaner the better! Buyers will notice things like dusty return vents, dusty ceiling fans, smelly carpets, and dishes in the sink.
Correct any noticeable flaws like empty nail holes in the walls, light bulbs that are out, and doors that don't shut correctly. This is another topic that could be an easy 2,000 words and I'm just skimming the surface.
Always remember, if you can do something that the buyer realizes that they will not have to do, you will get an offer faster.
Should I make major home improvements?
Real estate in the Daphne area is very diverse, from older homes to a number of brand new neighborhoods. The biggest factor in making major home improvements to your home in order to sell would be the cost, of course. I believe major issues fall into two categories: must-haves and "wants". The must-haves would involve the home needing a new roof, plumbing, or windows. The "wants" deal with items that would more than likely appeal to a buyer, like granite countertops, new carpet, or a deck.
Your must-haves will likely come up with a buyer's home inspection and the "wants" attract more offers. Either way, these things are totally determined by your budget and how much you are willing to pay out in order to sell your home fast.
Marketing
How do I get the most exposure for my home?
First and foremost, you won't get the most amount of exposure for your new listing without the help of Realtor. In order to get the most potential buyers for your property, you will need to get it out to the most possible people. Most Realtors are really good at marketing, and it goes way beyond just putting a sign in your yard and listing your home on the MLS. As an example, here are a few ways that I market my listings:
Quality pictures and a lot of them
Your property listed on over 180 websites
Virtual tours with a QR code generator
High quality flyers offered to buyers on their yard sign
Front page publication on one of the largest local sites in Baldwin County
Print ads
Inter-office advertising
Maximum exposure to as many potential buyers is what I want for my clients. That coupled with the six factors mentioned earlier, you will have a quicker-than-typical offer for the sell of your Daphne home.
Should I have an Open House?
To be honest, "open houses" are not on the forefront of the best ways to use marketing time. With the age of technology and the internet, we are seeing less people actually drive around neighborhoods looking for homes to tour. I'm not saying that I won't do them or that they don't work, they are just not as effective as they use to be.

Working with a Realtor
Who's the right sales professional?
You and your Realtor will develop a relationship during the time of your sale (it's not like buying a car), and it's really a good idea to actually like each other. We all know that relationships are taste sensitive, so it's a good idea to meet with a few until you find a good match. So, what's a good match? In my opinion, they not only fit personality-wise, but they also need to know what they are talking about. You should look for someone who is experienced and has closed on many homes. You need someone who really knows real estate law and understands contracts with all of its disclosures. You want a Realtor who will foremost look after your needs before their own. You want someone who will stay in constant communication with you to update you on the daily status of your sale.
You may find the right Realtor on the first interview but by all means work with someone who you like, who is knowledgeable, and who has your interests in mind.
About the author: The above Real Estate information on Sell My Home in Daphne AL was provided by Jeff Nelson of IXL Real Estate – Eastern Shore. Jeff can be reached via email at jeff@livegulfshoreslocal.com or by phone at 251-654-2523. Jeff has helped people move in and out of properties for nearly 12 years.
Thinking of selling your home? I have a passion for Real Estate and love to share my marketing expertise!
I service Real Estate sales in Baldwin County including the cities of Spanish Fort, Daphne, Fairhope, Foley, Gulf Shores, and Orange Beach.