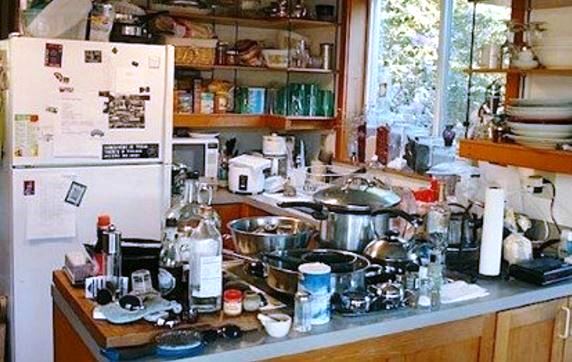 The biggest reason people give for moving is lack of space in their current house. If they come to your home and see that you are running out of space, it is the biggest turnoff you can give. Space sells! Maximize space by minimizing your things. Simple.
Potential buyers want to be able to picture all their belongings in your home. Overwhelming clutter makes it hard for buyers to see the true potential of a home, and could cause them to scratch your house off their list. Instead of seeing all the great features of your house, they will only see your stuff. A cluttered house can also give potential buyers the impression that the home is dirty. In addition, it is important that the house appears to have lots of storage space.
That's where decluttering comes into the picture! If you are really serious about selling your home, it will be worth your while to make sure it is clean, neat, orderly, and decluttered!
Go through your home, room by room, and look for areas where you can declutter and reorganize. Here's a few examples:
Kitchen
Countertops – Clear off the countertops. Any small appliances that you only use infrequently can go into storage while your house is on the market. Cluttered countertops give the impression that you don't have enough storage space and need the countertops for overflow. Generally speaking, the fewer items that you have on the counter, the better. Place a live plant or vase of flowers on the counter, instead.
Cabinets/Drawers – The best way to make home buyers think there isn't enough storage space for their things is to cram as much stuff as possible into the cabinets and drawers. So, clean them out. Any items that you don't use on a regular basis should be boxed up. For example, if you have an excessive amount of plastic storage bowls, glasses, mugs, etc., pack up most of them and leave only a few essentials in the cabinet. Pack up grandma's punch bowl and the turkey roaster that you use only once a year. Make your cabinets look roomy and orderly. Organize by grouping similar items together – pots and pans, glasses and mugs, storage containers, and such.

Pantry – Don't forget the pantry. Buyers will look inside to see if there's enough room for their things. Do you have any canned/dry goods that you will probably never use? This is a good time to pack them up for your local Food Bank. Throw away anything that has expired. Be sure to "face" each item toward the front. Think "grocery store." You know how neat and orderly that Publix (for example) keeps their shelves? They do that for a reason. It is pleasing to the eye.
Refrigerator/Freezer – Even if you do not plan to include your appliances in the sale, give them a full clean. Dispose of out-of-date items and orderly replace remaining items. Very important – take EVERYTHING off the fridge. Personal photos, magnets, and sticky notes all should be cleared away. That includes anything that's being store on top of the fridge.

Stove Top/Oven – Make sure it has been thoroughly cleaned.
Towels/Potholders – Keep towels and potholders in drawers – not dangling from the oven handle.
Bathrooms
Counters – No one wants to see your toothbrush, makeup supplies, curling iron (you get the idea). Clear your counters! Depersonalizing your counters of daily-use clutter will make it much more appealing. Replace with a fresh bar of fancy hand soap and a small decorative item that will coordinate with your matching towels that you have displayed.

Cabinets – It's the same idea as the kitchen cabinets. Dispose of any unnecessary items and organize remaining items.
Linen Closet – Pack and store any items that are not essential. Think "department store." Neatly fold your linens, and group them by color. Organize everything and dispose of anything that doesn't relate to a bathroom.

Shower/Tub – Be sure your shower/tub is sparkling clean. Please – no soap scum! Potential buyers don't want to see your old razor or eight bottles of shampoo and body wash in your shower either. Clear them out and replace them with perhaps a fresh bar of soap and a new bottle of shampoo.
Clothes Closets
Great closet space is high on every home buyer's "want list." If a potential buyer opens closet doors to an avalanche of objects, they will instantly assume that there isn't enough space in your home for their things. Pack and store off-season clothes and shoes. An easy way to make the space look roomy and organized is to pack and store off-season clothes and shoes. Then, arrange clothing based on type and color, and remove extra hangars. Make sure the laundry hamper is free of dirty laundry, too!
Kid's Toys
I know, I know, we love our kids. In fact, we love them so much we usually buy them more toys and gadgets than they could possibly use at any given time. Those extra things that the kids can do without while your house is on the market should be packed and placed in storage. The stuff that they simply cannot do without should be put away in cabinets or bins.
Pets
Here I go, again! We all love our pets, but home buyers won't! Ideally, pets shouldn't be in the house when potential buyers are coming over. Plus, you run the risk of buyers letting your pet out. Depersonalizing your home of all pet food, water bowls, and other pet accessories will keep home buyers from wondering about the cleanliness of your home. (Find a discrete location for your cat's litter box --- ideally, OUT OF THE HOUSE.)
Spacious
Do you have any unnecessary pieces of furniture in the house? Having too much furniture crammed into a room can make the space look smaller. Your rooms should appear spacious. Try to look at each room objectively. If you can do without grandma's chest or that third recliner in the great room (for example), consider putting them in storage while your house is on the market.
Personal Items
Potential buyers want to picture themselves living in the house . . . help them out by packing away your personal items, such as photos, collections, posters in a teenager's room, and such. Personal items only serve to distract a buyer. Your goal is to make them feel like your home could potentially become theirs.
About the author: The above Real Estate information on Declutter Before You Sell was provided by Jeff Nelson of eXp Realty Southern Branch. He can be reached via email at jeff@livegulfshoreslocal.com or by phone at 251-654-2523. Jeff has helped people move in and out of properties for nearly 12 years.
Thinking of selling your home? I have a passion for Real Estate and love to share my marketing expertise!
I service Real Estate sales in Baldwin County including the cities of Spanish Fort, Daphne, Fairhope, Foley, Gulf Shores, and Orange Beach.