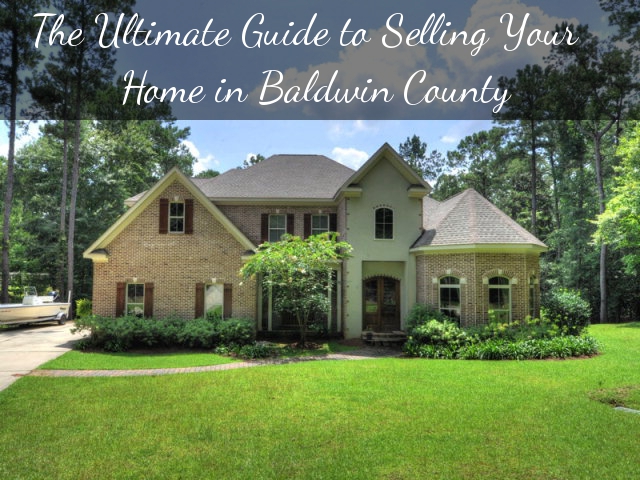 Most of the time when we decide to sell our home, it's not a spontaneous decision. We often start thinking about it weeks, months, or even a year before we put a sign in the front yard. Sometimes people hold off for the right timing in the real estate market or maybe we just put it off because we abhor the idea of getting our home ready to sell. Well, today there is so much more to just putting a sign in the front yard.
I've created this Ultimate Guide to Selling Your Home in Baldwin County as a resource to help you organize everything mentally and to let you know that working with an experienced Realtor can help alleviate many of your concerns. Baldwin County is a beautiful place to live and draws many new buyers every day. So, since Baldwin is my office, the information below will cover the cities of Spanish Fort, Daphne, Fairhope, Foley, Gulf Shores, Orange Beach, and all the towns in between.
Let's get started!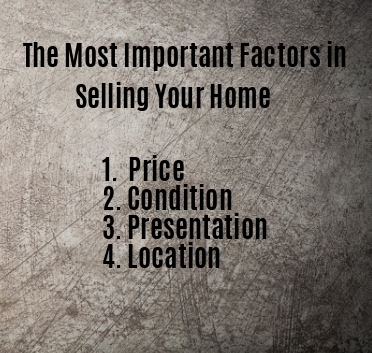 Price

Your home could be in pristine condition and in the best school district but, if your home is over-priced, chances are your listing will just sit on the market and never be shown. In the listing process, proper pricing is the single biggest contributor to your home selling in a reasonable amount of time. If priced too high, it may not even sell at all. I'll go into more depth below on pricing your home correctly.
Condition
One question that goes through every buyer's mind when they're looking at your property is, "How much work will I have to do to this house if I buy it?" Well, that's reasonable and you will probably ask the same question when you buy again. I think that most people want to present their home as a safe and sound place to live to new buyers; however, there may be issues that are not blatantly obvious that affect the condition of your home in a negative light.
There are basically three categories of upgrades that home sellers may need to make before listing their home for sale.
Refresh

- With the exception of new construction, of course, almost every home that goes up for sale will need a refresh. Typically, these upgrades are not very costly and may include patching old nail holes, repainting the walls to a neutral color, cleaning, or improving the curb appeal for your home. These small scale projects will make a huge impact on attracting buyers to your home.

Repair

- As you go through your home cleaning and refreshing, look for things that are in need of repair. This could include repairing cabinet doors that don't close correctly, fixing major cracks in the ceiling or walls, and or getting your HVAC serviced. On a side note, you may want to get a pre-listing home inspection to offset any surprises that may come when your buyer orders one.

Replace

- Finally, there may be some aspects of your home that should be totally replaced all together like dripping faucets, outdated light fixtures, old carpet, or countertops that have been there for 20 years. These items are totally dependent on your finances, of course, but the more you can do to attract more buyers and the less you give the buyers to feel they have to do after moving in, the quicker you will sell.
Presentation
Now that you and your Realtor have settled on a solid listing price and you have made all necessary repairs, it's time to present your home to its fullest potential. I often say that selling a home is 1-part science and 1-part art. Well, presentation is the art. You want to make your home look its best and be functional at the same time. Don't worry too much about this part. First of all, most of us don't live in our homes 24/7 as if it's a model home. We may lead hectic lives, have kids, and animals (or all of the above) and it's completely understandable to have a home that looks "lived in". When it's time to sell, however, you need to present your home at its peak.
Ultimately presenting your home the best possible way to potential buyers comes down to 3 major points:
Staging

- You want buyers to walk in your home and see themselves living there by de-cluttering and removing all "personal" items like pictures, collectibles, and hobbies. Staging also refers to even taking out certain furniture or rearranging furniture to make a room look bigger or have a better flow. Most areas do have professional stagers to hire but at the very least, your Realtor should be able to give you some tips to better showcase your home.

Photography

- Great photography is essential to highlighting all of the work that you just put in to staging your home to sell. It would be a shame to go through all of that effort only to have less than desirable pictures representing your home to thousands of people. If you don't use a professional photographer, your Realtor should use a good camera, take shots in the best light, and take a lot of them. I recently was looking at beachfront listings around $1 million to show a client of mine. One listing stood out to me, not in a good way. This beachfront home only had 2 pictures and they were absolutely horrible! Most people today look for their next home online so it's imperative to show them great photos.

Marketing

- Now that your home looks great and roomy, you need to get those great photographs out to the most people possible. First and foremost, you need to work with a Realtor who has a great website and a strong web presence. Over 90% of buyers find their home online nowadays, so working with an agent who is internet savvy is a big plus. In addition to internet presence through websites and social media, your agent should provide you with flyers, signage, and print ads if necessary. Here is how I market homes that I list and sell. Your listing that you've put so much work into deserves the best exposure. The more eyes that see your listing, the better chances that you have of selling for the best price and in the shortest amount of time.
Staged Home - Before and After
Location
Homes within a good school district tend to be more in demand versus homes that are not, so location definitely affects the sale of your property. Although you can't do anything about where your current home is located, you can highlight the attributes of your community and surrounding areas. Is there a community pool or park nearby? Does your neighborhood have water access, a boat ramp, etc.? Are you close to shopping and restaurants? These are just a few examples that you can use in your marketing to enhance the attributes of your community.

We just talked about the most important factors that affect the sale of your home. Below you'll find the 8 key components of the sale from start to finish, including: deciding to sell your home, getting your home prepared to sell, choosing the right Realtor, pricing your home correctly, marketing your home, handling showings, working with offers, and closing the sale.

It's been said that the 3 most stressful things in life are death, divorce, and moving, so no one is blaming you if you've been thinking about selling your home but putting it off. Maybe you haven't been procrastinating but you're just now realizing that the time has come to "move" on. We all have our reasons why, and they are all personal. Whatever your reason is, "it is what it is".
As mentioned earlier, a lot of folks watch the real estate market before making the big decision; however, market conditions aren't the only reason why people decide to sell.
The Top 10 Reasons Why People Move:

Buy a better house
Establish a new family
Job related
Find a cheaper home
To own a home and not rent
Easier commute
Change in marital status
Better neighborhood
Looking for a job
Retirement
(according to Wheaton Worldwide Moving)
On the other hand, life gets in the way and some of us have to deal with hardships. Here are the most common:
Have to sell due to divorce
Loss of income
Death in the family
Medical problems
Increased expenses
Here are a few things to consider when you're in decision mode to sell or not.
Where will you live after you sell?
Do you already have a neighborhood in mind? If you do everything right and follow what's detailed in this article, you may very well sell your home sooner rather than later. In fact, that is one of my main goals when I list a home. As an example, the Daphne real estate market is very strong right now, and the average time that a property is on the market is 112 days. That means that some of the homes that come off the market may have gone under contract within a week or two. Have a plan in action of where you will go next.
Have your finances sorted out.
Once you sell, you will more than likely have some equity left over but you never want to be surprised, especially when it comes to money. You will have closing costs which will include your Realtor fees, title search, and preparation. Your listing agent should prepare for you 2 "net sheets" with a high and a low outcome to give you an idea of what you should net after the sale.

After closing, you will need funds to purchase your new home so, with the help of your agent, you should be able to have a real good idea of what your total outlay of money will be for both transactions. This brings us to our next consideration when deciding to sell.
Should you buy a home before you sell?
If you are fortunate enough to be able to manage your financial obligations for two homes, that's great but the majority of people are unable to cover two house payments. So what do you do?
If you DO have an option.

Ideally, the easiest way to go is to buy the home that you want, move in, and get settled. Then, you can concern yourself with taking on the sale of your previous residence. Also, if you're in a seller's market, there are more buyers than there are listings so more than likely you will find a buyer rather quickly. This way you won't have to rush to buy another property that may not be ideal.
If you DON'T have an option.

To avoid having two house payments for an undetermined amount of time (plus being able to qualify for both loans), the most financially sound way to go is to sell first, especially if you're in a buyer's market. A buyer's market is when there are many more listings than there are buyers so buyers have a lot of options to choose from, giving you much more competition.
So if you fall into this category like most people, it is possible to buy and sell at the same time. Here are some tips:
You will need to work both sides at the same time. While preparing and listing your home to sell, you will also need to be actively looking for your new home. Ideally, we will want to orchestrate the closing of your current property and the closing of your next home on the same day.
Know your market and real estate conditions. For instance, single family home prices in Spanish Fort versus those in Fairhope are very different. Have your Realtor present the facts on what homes are selling for in the area where you would like to live.
You can make an offer on a home with a Home Sale Contingency Clause (if the seller approves it) meaning you are not obligated to close on Home B until Home A closes.
You can utilize a "bridge loan". Get with your mortgage lender on this.
You can rent out your current home.
Have a Plan B in place if you can't close both properties at the same time. (ex. staying with friends or family for a few days)
The buyer for your new home may be willing to sign a rent-back agreement for you to remain in the property after closing.

Mentioned earlier, the condition of your home is one of the most important factors in selling. This section will go into much more detail on the obvious and not so obvious actions that you should take to prepare your home to sell quicker.
De-clutter

I realize that "clutter" is somewhat of a negative word but what I'm really talking about here is removing unnecessary items from your home and organizing what you have to make your space feel bigger. This is the time to schedule a massive garage sale (or 2 or 3)!
You want buyers to focus on what they will be buying, not on all of your stuff. Yes, your stuff means something to you but not to anyone else. Plus, do you really want to move all of that to your new home? Think floor space, counter tops, closets, and your garage. I can't tell you how many times I've heard from buyers, "They have so much stuff! It would take them months to clean all this stuff out."
Take a hard look at what you have and ask yourself if you can live without it.
Clean
Make it sparkle. At this point, you have already reduced your personal belongings down to what you absolutely need and now it's time to clean inside and out. Buyers will be watching for this as well as they tour your home so you will want to cover every area of your home including baseboards, vents, floors, ceilings, ceiling fans, tops of appliances, inside of appliances, etc. Here's a handy check list for every room of the house to help you get started.
This would also be a great time to have the outside of your home power washed.
Paint
Because of normal wear and tear, walls and trim will probably need to be touched up at least; however, give some consideration to what color they currently are. Color is an extremely taste-sensitive subject to most everyone, so the best route to take in order to appease most buyers is to choose an off-white, neutral color for your walls. Giving your walls and trim a fresh look is relatively inexpensive while providing a clean and dramatic affect.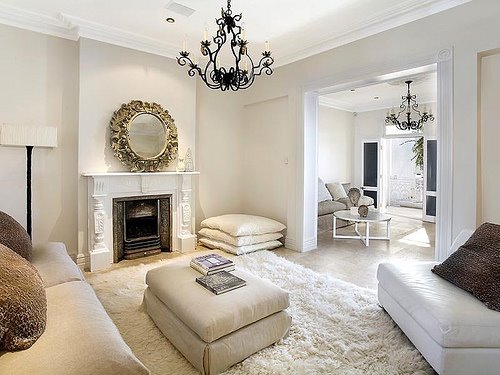 Home Repairs
Earlier I shared that there are 3 categories of upgrades: refresh, repair, and replace. This is such an important topic when you are in the beginning stages of selling your home that I wanted to go in more detail here. You may be surprised that it doesn't take a lot of time, money, or effort to go through your house taking note of problems that you can correct right away. In just a few hours, you could replace light bulbs that don't work, re-caulk and touch up cracks where wood meets the wall, re-caulk around sinks and tubs, tighten up loose door knobs, tighten up wobbly cabinet doors, etc.
After working all day, many of us like to sit down and rest with our family and it's easy for these minor issues to get overlooked. However, buyers will be on the lookout for everything that stands out, good and bad. I'm sure you've watched those real estate shows on TV when buyers go through a home and are critical over every little detail.
Before you list for sale, take care of the repairs that you can and, if some of them are too big to handle, you can always price your home accordingly.
Staging
You want your home to speak to buyers and give them that "warm and fuzzy" feeling when they walk through the front door.
Here are 7 reasons why you should stage your home to sell:
You will more than likely get a higher price for your home. If there are other homes that are for sale in your neighborhood that are similar to yours but yours is staged, buyers will be drawn more to yours. Why? A staged home is aesthetically pleasing and shows organization.
A staged home sells faster. A study has shown that a staged home sells 43% faster than those properties that were not staged.
Hiring a professional stager will light a fire under you to get rid of any clutter which is something that you need to do anyway.
Buyers look at a professionally staged home as well-maintained.
You never get a second chance to make a good first impression.
These homes stand out in the buyer's mind. This helps if the buyer has looked at several homes already.
Professionally staged homes look better in photos which is important since nearly all buyers first look at their new home through the internet.

Don't Forget the Outside
It would be a shame to spend so much time inside and totally neglect the absolute first impression of your home: the outside. You may not be able to replace your roof but there are a number things that you can do to give your home great curb appeal and not break the bank. Instead of listing everything here, I've already written an article on the subject. Check out the above link for a comprehensive list of inexpensive upgrades for the outside of your home.

No, not all Realtors are the same. They come in all shapes, sizes, and personalities. Some agents have been around for 25 or 30 years and have not kept up with the ever-changing world of technology when it comes to selling real estate. Other agents may be brand new. Choosing the best Realtor for you comes down to these points:
Do they know what they are doing?
Are they going to listen to you?
Will they advise you based on data and experience? (and not be a "yes man" (or woman) just to get the listing)
Will they spend time and money marketing your home?
Do they have a proven marketing plan?
Are they good negotiators?
Are they internet savvy?
Will they have or make time for your needs?
Do they have a strong internet presence with their website?
Some potential sellers will interview a number of different agents before making a decision on who they will choose to list their home. That's great! It's so important that you not only work with someone who is experienced and has a track record, but you also need to have a good rapport with them. You and your Realtor will spend a lot of time face to face, talking on the phone, texting, or emailing each other back and forth, so you might as well like each other.
A Note on Commissions

Everyone realizes that commissions are charged by a Realtor to list your home for sale and is paid upon the closing of the property. However, a lot of sellers don't understand how everything is paid out in the end. A typical real estate commission in Baldwin County is 6%. However, in the majority of the time, a buyer's agent will actually be responsible for bringing the buyer for your property. In this case, the 6% commission is split in half. Of the 3% that is left, we agents have to pay our brokerage company a portion. In addition to that, I choose to spend quite a bit on marketing and advertising your home . . . then we still have to pay taxes.
So, beware of agents who are discount brokers or who are willing to deeply discount their fee in order to get your listing. The reputable agents out there (like myself) are professionals and invest in you as well as ourselves to continually improve our performance in real estate.

Usually, when we are in a long meeting or reading a lengthy article like this one, we only retain about 15% of what we heard or read. Well, this section is your 15%. If you don't pick up on anything else, understand that pricing your home properly is the number one key to selling your home in a timely fashion, and if it's priced too high it may not sell at all.
We've all been guilty of thinking our home is worth more than it really is; however, the facts are the facts. There are definite dangers to pricing your home too high, so it's imperative to work with an experienced Realtor who will give you the facts instead of telling you what you want to hear just to put a sign up in your front yard.
There are guidelines to pricing your home properly. You could have done everything else right but, if you are priced way too high and it's not justified, your will listing will more than likely sit on the market and go stale.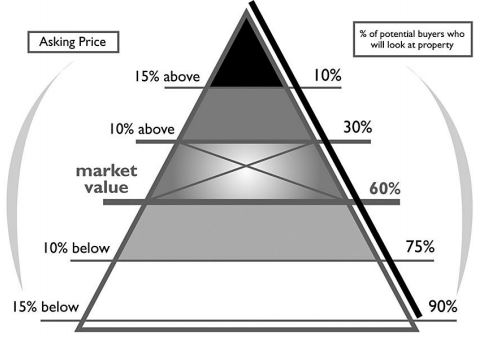 So how is this done?
There are various different tools that I use in order to come up with a good value of your home. I even have a tool that gives value to improvements that you may have made, like installing granite countertops for instance. From the information that I get from these tools and techniques, I provide a professional CMA for you detailing my findings and laying out my reasoning for your price.
The CMA - Comparative Market Analysis
A CMA is a professional packet of information that lays out other properties that have sold in your area that are similar to yours. A CMA is prepared by Realtors and is used to establish value for your home. A home appraisal is different and is prepared by licensed appraisers. You can pay an appraiser in order to establish value to come up with your initial listing price, but your Realtor should be able to do this for you.
Understanding real estate market conditions, knowing what homes to use, and what gives actual value to a home are all needed in order to correctly price your home to sell. Here are some of the things that I take into consideration when building a CMA for you:
Location
Size
Age
Lot size
The key is to find homes which have recently SOLD, are the most similar to yours, and are the closest to your property. This is the same information that a home appraiser will use, but here's the caveat. The appraisal is what the mortgage company will go by, so if the appraisal comes in lower than the sales price, the seller will have to lower the sales price or the buyer can walk away.

Marketing is simply giving exposure to your home and creating awareness that's directed toward the most amount of potential buyers possible. We are long gone from the days of merely putting a sign in the yard and hoping the right buyer will drive by. Today, the real estate industry has evolved with technology and if real estate agents do not keep up they will get left behind, along with their clients. In fact, according to the National Association of Realtors, 94% of buyers use the internet to look for their next home.
The average agent uses the "3 P's" Marketing Plan:
- Place a sign in the yard
- Put it on the MLS
- Pray that it sells
This just doesn't cut it anymore. In my real estate practice, I use the most cutting edge marketing techniques that will put you in the best position to sell your home for the most money and in the shortest amount of time. As you can see, the focus is on internet marketing to create big exposure.
My website at www.livegulfshoreslocal.com, which is currently 810 pages. Many of those pages show up on the first page of Google giving your listing exposure to thousands of additional people.
Paragon MLS - Features your listing to over 70 syndicated real estate sites, plus on every other Realtor's website in the area.
SEO Campaign - Search Engine Optimization along with Google Adwords
Imprev - This is an automated marketing system that I use.
Social Media - I utilize Facebook, Pinterest, Twitter, LinkedIn, Google+, and Youtube to feature your listing.
Your own single property website
Facebook boosted ad
Color flyers along with info box on yard sign
Jumbo postcards
ePostcard
Virtual Tour
Video
Craigslist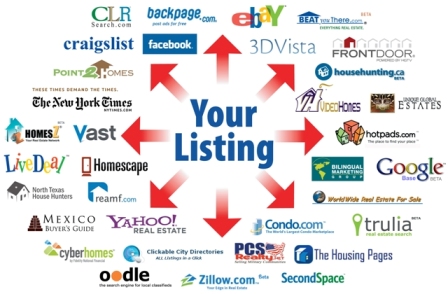 Now, the fun begins! Once you get your home on the market, your listing agent will begin to get calls for new buyers wanting to see it. How many times your home is shown has everything to do with all of the information in this article. If you are in a good real estate market, you've priced it right, you're working with a great agent, and your home looks fantastic, be prepared for a lot of showings especially in the beginning.
Here's the process for each showing:
- Your agent will get a call from either a buyer or the buyer's agent to set up a time for the buyer to see your home.
- If the buyer doesn't have an agent, your listing agent will show your home to them.
- If the buyer is working with a buyer's agent, that agent will show the house.
- In either case, your listing agent will contact you to confirm that it's ok to show during that time.
- The agent will access your home through a lockbox that's been placed on the property.
- The showing time is usually a block of time of around 30 minutes.
- After the showing, your listing agent should call the buyer's agent for feedback from the buyer.
Now, if your property is vacant, there is, of course, plenty of flexibility for whoever is showing. There are some challenges though that come with occupied homes and some of them are understandable (and some, not so much).
Here are Some Tips on Showing
As a seller, you'll want to do the best you can to accommodate buyers and give them the most access as possible. Last minute showings can be frustrating though. Just do the best that you can.
Make sure the TV and radio are turned off, so the buyer can focus on your home.
If you're able to, turn on the lights of the major rooms of your home, and open the drapes to let the light in.
It's really best for the seller to leave and let the agent and the buyer talk among themselves. Plus, buyers may feel like they're intruding and won't be themselves if the seller is looming over their shoulder.
If you as the seller must stay during a showing, make sure the kids go outside or stay out of the way.
Pets should be outside or taken away (optimally).
Some buyers may be a little bold and knock on your door because they saw your For Sale sign. It's best to get their information and let your agent handle everything. It can be bad "JuJu" for buyers and sellers to become buds in a business transaction.
It's best to let me negotiate with the buyer over price and possession. I've got your back and have your best interest in mind.
No dishes in the sink!
Do a "quick clean" and inspect each room.
It might seem a little weird for strangers to be walking through your home, but rest assure that they will be with qualified professionals. In fact, the lockbox that I use is electronic and only qualified Realtors can use it. I also get a report of who exactly uses the box. Always remember that if you follow the steps in this article, the less you will have to show your home because you will find a buyer quickly.

Hopefully, sooner rather than later, I'll be giving you a call saying, "We have an offer!" All of the hard work has paid off and now we have a buyer who is serious and wants to buy your house. I won't go into every aspect of the offer and contract here but will hit on the major points of the whole process and terms that you'll need to be familiar with.
It's been said that a successful negotiation is when both parties get something that they want. Well, once we get an offer on your home, let the negotiations begin! I'll be trying to get you the best possible price and terms and, if the buyer has an agent, they will be working for the buyer to do the same. Unless we are in a full-blown seller's market, you more than likely will get an offer that is less than your asking price. This is when the seller and I have a serious conversation about what they want and what they can live with.
Reviewing the Offer
Sales price
Once we have an offer in hand, I'll create an updated CMA in case there have been any other homes that have sold that would affect the appraisal. So, what is the very first thing that every seller wants to know when we sit down to go over the offer? What's the sales price? In addition to the CMA, I'll also create another "Net Sheet" with the new offer price (if accepted), so you will know what to expect at the closing table in regard to proceeds back to you.
Financing
Located in the same first paragraph as the sale price are the financing terms. In this section, you will see if the buyer is paying all cash or how much down payment they are putting down. On a side note, you may be surprised that about 30% of buyers for Orange Beach and Gulf Shores condos are paying all cash. Also in this section, you'll see what kind of loan they are getting, their interest rate, and how many days before they are fully approved by their lender, if applicable. I always require a copy of the buyer's "pre-approval letter" to go with the offer, but this section asks when they will be fully approved.
Contingencies
A contingency is a condition that must be met in order for the contract to be binding. If a contingency is not met and is within the specified time frame, the buyer's earnest money is protected and they can get out of the contract. In virtually every real estate contract, there will be some kind of contingency, so don't be worried if you see them. Here are some that you may see:
Financing - The buyer has a certain amount of time (usually 7-10 days) to be fully approved.
Home inspection - The inspection has to be completed and the repairs addendum must be in the hands of the seller in a specified time.
Termite - The seller must provide a "clean" termite letter to the buyer.
Appraisal - The property must appraise at or higher than the sales price. If it comes in lower, the buyer can walk.
HOA or Condo Docs Approval - Optional, but a smart buyer's agent would include this contingency.
Home sale contingency - The buyer must sell their home before buying yours.
Random - A buyer can literally ask for anything to go with the property and make it a contingency.
Earnest Money
The buyer must include an earnest money deposit, also called consideration, with the offer. By law, there is no set amount that they have to offer, but there are traditional amounts depending what area you live in. This check is deposited at the time the offer has been accepted by both parties and will sit in escrow until closing. When the property closes, the buyer will be credited at closing with the amount. Should the buyer default on the agreement, the earnest money will go to the seller.
Closing Costs
In every transaction, both the seller and the buyer will have their own closing costs to pay. These costs for the seller include Realtor fees, title search and preparation, recording fees, etc. These figures are laid out in the Net Sheet that you'll get from me. In some cases, the buyer may ask you to pay all or a portion of their closing costs as well. This just depends on what kind of market that you're in.
Closing Date
This is yet another vital portion of the contract because, by law, a real estate agreement is not a contract unless there is a specified date when the agreement will end.
While these items are the major aspects of an offer, there is so much more that can and probably will come into play. Rest easy as I go through every detail and clause of the agreement with my sellers so you have a full understanding of what you're signing. You may be fortunate enough to even get multiple offers on your home, which almost always benefits you as the seller.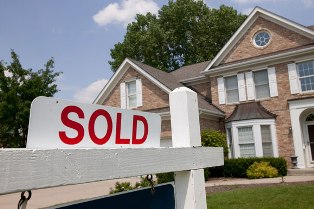 All contingencies have been met and the big day is here. For sellers, your time is relatively short at the closing table as you don't have to sign all of the loan documents that the buyer has to sign. Typically, it will take about 15 to 30 minutes to sign your closing docs; then you're finished. The buyer will come in separately and sign their own documents, the deed will be recorded, the keys will be given over, and you just sold a house!
Side note: Because we are a southern, coastal area, we have quite a few clients who actually live out of town and the home or condo that they're selling here is either an investment or second home. If you're an out-of-town seller, no worries. The title company will simply overnight the closing package to you, you sign in front of a notary, and then you overnight the package back on closing day.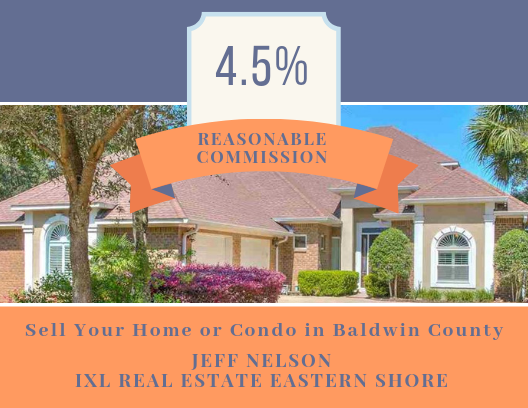 How long will it take to sell my home?
My main objectives are to sell your home for the best price and in the shortest amount of time. The length of time that it takes to sell your home is totally dependent on listening to your experienced Realtor and following the steps in this article. Some homes go under contract in the first day or two and others take a year to sell. The right price, great condition, and location are keys to a fast sale.
When is the best time to sell?
This has a lot to do with what part of the country you live in. Here in Baldwin County, our climate coupled with the large amount of "snowbirds" that flock here to beat the brutal winters of the north creates a steady market all year long. There are more sales in Baldwin County from March through October; however, real estate sales in the fall and winter here are also very strong compared to most of the country. I just looked back at a blog post that I wrote on real estate stats for the month of February 2017. There were 49 homes that sold that month, just in the city of Fairhope.
What are the most important things to look for in the listing paperwork?
Obviously, the sales price will be the most important but you also need to look for the commission amount, when the listing agreement ends, and make sure the description of your home is adequate. Listing commissions can be anywhere from 5-7%, and typical listing periods are normally 3-6 months. I offer an Easy Exit Listing Agreement in case you're not happy with me, which can be found in my Pre-Listing Package for Sellers.
How is the real estate market in my area?
The market usually changes slowly throughout the year so get with me to find out what's selling and if you're in a buyer's or seller's market.
Can I stay home during showings?
Well, of course, you can; however, buyers who are spending hundreds of thousands of dollars will want to look at everything, including inside cabinets and closets. They may feel uncomfortable with you hanging around. It's best to leave and let the agent show them around.
What should I disclose to buyers about my home?
The correct answer is everything. I believe that most people want to transfer their home to a buyer in a safe and well-maintained conditioned. If you know that there are problem areas with the property, be upfront about it and iron it out with the home inspection and repair addendum.
Can I block out times when buyers can't view my home?
Sure, it's your house but the more open you are to showing whenever possible, the quicker you will find a buyer. I've had buyers who really wanted to see a property but ended up buying something else because they couldn't see it.
How much is my home worth?
This is probably the most frequently asked question, understandably so. Because it's very specific to your home, I will need some details about your property. You can call, email, or click the button below to give me some information about your home, and I'll get back to you quickly on a value.

Should I make repairs before listing my home?
I say yes. This gives you the upper hand and the confidence knowing that much of what the buyer will want to have done will already be corrected. You could also go a step further and purchase a pre-listing home inspection.
Why is the assessed value different from what you say my home is worth?
Assessed value and value given from a CMA or appraisal are two totally different things. Your assessed value is used to determine your yearly real estate taxes. No matter what property you're selling, the two figures will never be the same, unless it's a "fluke". In fact, you want the assessed value to be low and the market value high.
Should I remove valuables from my home for showings?
I think it would be prudent to pack away jewelry and other expensive items. I definitely wouldn't leave stacks of cash around either. However, there will never be a buyer in your home without their agent following close behind. Realtors adhere to a strict moral code of honesty and integrity that is also regulated by the state.
Should I price my home high to leave room for negotiations?
I see where you are going with this but I say no. The value of a home is totally determined by how much a buyer is willing to pay for it. So it doesn't matter if you want to tack on another $10,000 on top of the market value or not. You could also cost yourself a lot of time and money by over-pricing your property due to increased Days on the Market and lowering your price from lack of interest.
What happens if I'm not happy with you and want to cancel our agreement?
I mentioned this briefly above, but I feel confident enough with my knowledge and experience that I offer an Easy Exit Listing Agreement that can be found in the Pre-Listing Package offered to all my seller clients.
How often do you communicate with your sellers?
One of the biggest complaints that I hear from sellers is that once they sign the listing paperwork, they hardly ever heard from their agent. That's not how I work. At the very least, you will hear from me weekly even if nothing is going on with your listing. You will hear from me every time your home is shown, and I will provide feedback from buyers who have seen your home. I will also provide a weekly summary of homes that have sold around you to let you know what's going on in the market and why your home didn't go under contract. In addition to all that, I'll check on you now and then just to see how you're doing during the process.
Thank you for taking the time to read this article. I know it was lengthy, but there really is a lot that goes into selling your home. That's where I come in. I would love the opportunity to talk with you about your property, go over the real estate market conditions in your area, and discuss how I can help you reach the goal - selling your home. If you have any questions or concerns, please contact me from the information below.

About the author: The above Real Estate information on Ultimate Guide to Selling Your Home in Baldwin County was provided by Jeff Nelson of eXp Realty Southern Branch. Jeff can be reached via email at jeff@livegulfshoreslocal.com or by phone at 251-654-2523. Jeff has helped people move in and out of properties for nearly 12 years.
Thinking of selling your home? I have a passion for Real Estate and love to share my marketing expertise!
I service Real Estate sales in Baldwin County including the cities of Spanish Fort, Daphne, Fairhope, Foley, Gulf Shores, and Orange Beach.