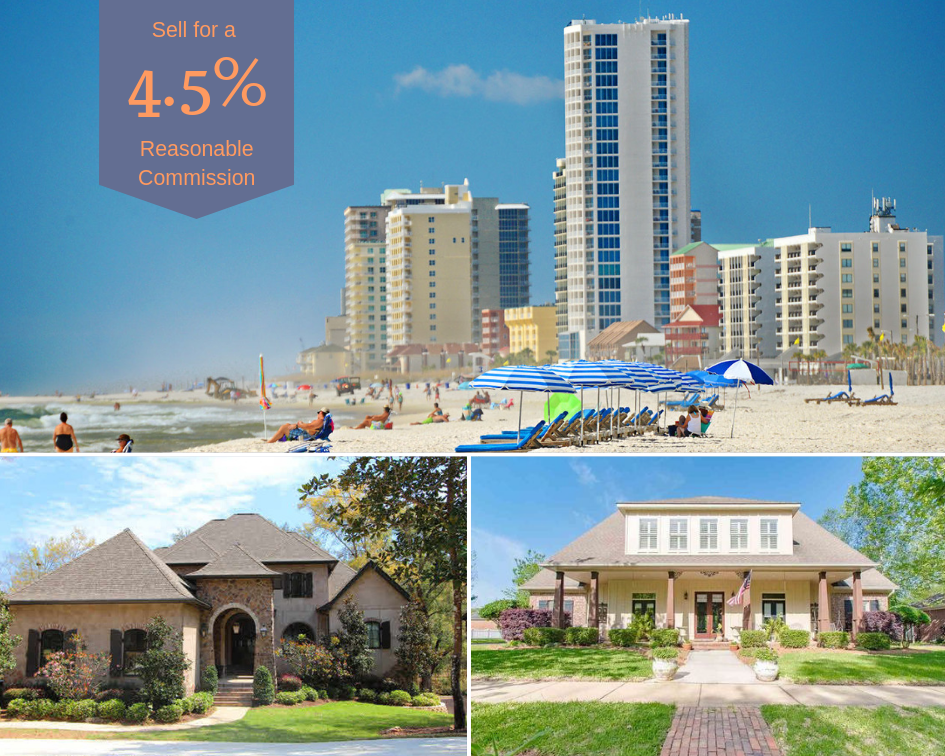 As your lower Alabama Realtor, my main objective is to help you get the highest possible price for your home while giving you the best possible service. This makes for an improved bottom line and a great home selling experience.
I primarily service Baldwin County which includes the cities of Spanish Fort, Daphne, Fairhope, Foley, Gulf Shores, Orange Beach, and all of the smaller towns in between. So, whether you want to sell a condo on the Gulf or a cottage in Bay Minette, I will give you the service and a commission rate that is uncommon in our area.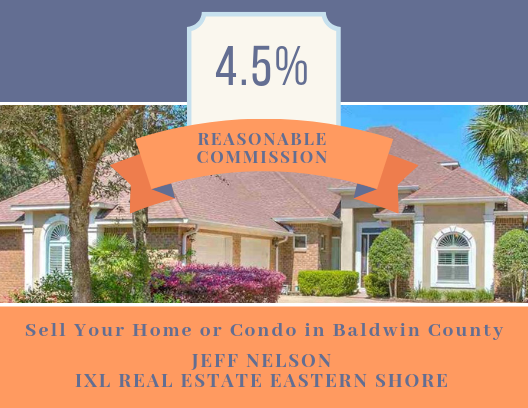 4.5% (or Less) Total Real Estate Commission to Sell Your Home in Baldwin County
The Maximum Commission - 4.5%
First of all there are no standards when it comes to commissions and selling real estate. I believe that real estate commissions in Baldwin should be reasonable and service should be exceptional. In nearly every real estate transaction you will have the listing agent who represents the seller and a buyer's agent who represents the buyer of course. Sometimes the listing agent will find the buyer themselves. As a listing agent specialist, I'll keep 2% and offer a buyer's agent 2.5%.
It gets better though!
If I sell your home myself (without the help of a buyer's agent), you only pay me a total commission of 3%.
Possible 3% Commission
If the buyer reaches out, wanting me (the listing agent) to work them without the use of a buyer's agent, I will only be paid 3% by the seller. This is called Dual Representation and both the buyer and the seller would have to agree to this in writing.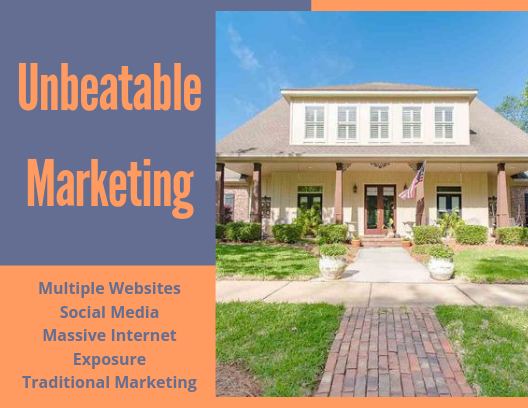 This is not a discount brokerage service where all you will get is a listing in the MLS! Your listing will get thousands of views from multiple platforms across the web. In addition to being listed on the major national real estate websites like Realtor.com, Zillow, and Trulia, your listing will be sydicated out to hundreds of other websites as well.
Ok, well just about every listing will get that kind of exposure. What makes this so different?
I took a campfire and turned it into a bonfire. Over the years I've been studying search engine optimization and online marketing, creating a monster of a local real estate website. LiveGulfShoresLocal.com has been listed in 2 rankings as one of the top real estate sites and blogs in the country, along with being featured in numerous other major sites. There are hundreds of pages of this site that show up on the first page of Google making it possible for your listing to be seen by thousands of visitors.
What does this mean to you?
While 99% of other agents place your home in the MLS and put a sign in the yard (charging you a 6% commission or more). Here you will of course get that but you will also get maximum online exposure for your listing through search engines, paid ads, and social media.
By listing here, you are partnering with a site that is already getting the online attention that everyone else is wanting in their local market (at a maximum of 4.5% commission).
Your Home Will Be Listed in 2 Multiple Listing Services
Most local real estate agents list on just one MLS. Your listing here will be listed with two giving increased exposure throughout the entire region in Alabama.
Baldwin County Association of Realtors (BCAR)
Mobile Area Association of Realtors (MAAR)
Professional Photography
No smartphone pics here! Over 95% of buyers find their home online so it's crucial to have top of the line photos for them to see. Dark and blurry pictures can ruin a sale! I'll pay for a professional full-time photographer to take as many pictures as needed for your listing. Drone footage is also available for properties that would benefit.
Custom Neighborhood Reports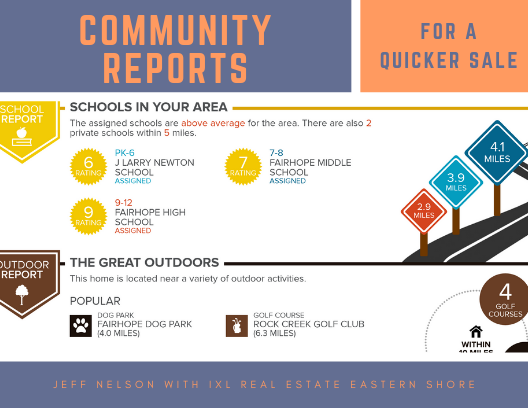 For every home that I list, a custom neighborhood report will be created that highlights nearby schools, restaurants, parks, stores, and more. Buyers love this information to have readily at their fingertips. Your listing will give them what they want, making your home stand out over all others in the area.
Cancel Anytime. Easy Exit Listing Agreement
On top of the reasonable 4.5% commission, professional photography, full blown Realtor service, and maximum internet exposure, I'll make it easy for you to leave the listing agreement if you prefer. While most agents want to hold you to a 6-12 month contract agreement, I want you to be happy with my service. I feel so confident about what I have to offer that I provide an Easy Out if you feel that you're not getting the best service.
Full Service Realtor
Expert negotiations on hundreds of transactions
I'm easily accessible and available for you when you need it
Staging consultation
Video tours of every home with a shareable Youtube video for marketing
Open House if desired
Professional flyers
Constant communication about the progress of your sale
Easy paperless contracts
If you're wanting to sell your home at a reasonable 4.5% commission and get maximum exposure for your listing, please contact me using the information below.
You can also fill out this form. I'll get back with you as soon as possible.
Jeff Nelson
251-654-2523
jeff@livegulfshoreslocal.com