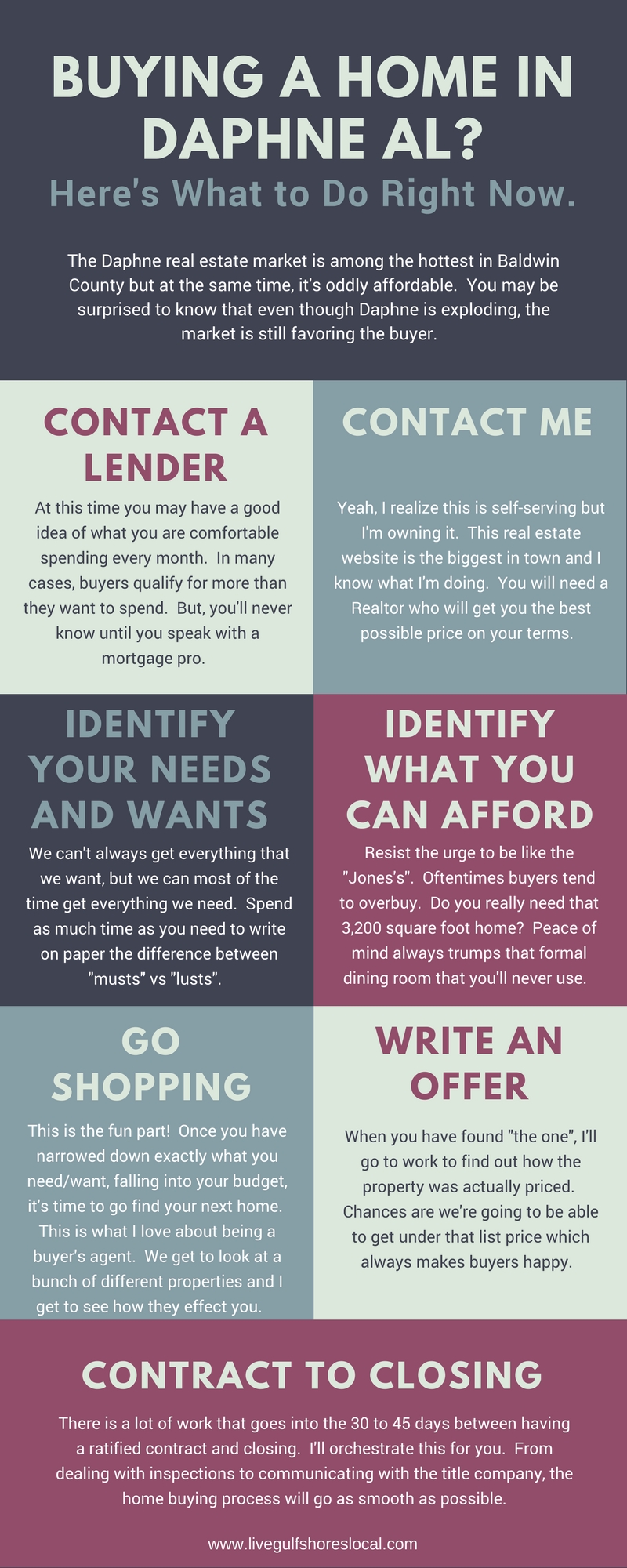 Are You Thinking About Buying a Home in Daphne?
Here's what to do right now....
Contact a Mortgage Lender
Yes, if you're needing to get a mortgage this is an obvious step but some folks tend to put this step off until after they start looking at listings online or after viewing properties in person. The best route to take is to knock this out initially because there's nothing worse than to fall in love with a home then finding out you don't qualify for it.
On the other hand, many buyers qualify for more than they want to spend. This first step of getting pre-qualified or pre-approved usually takes a little time over the phone but can save you some stress and possibly even money.
Call Me
There are usually 2 real estate agents involved in every transaction - one for the buyer and the other for the seller. As a buyer you need to have a seasoned buyer's agent to work with from the very beginning until closing. Please understand that the agent's name on the yard sign works for the seller. The same goes for the model home agent if you're thinking about buying new construction. A quality buyer's agent works for you and has your best interests in mind.
That's where I come in. I have 13 years experience selling homes and have hundreds of closings under my belt. I can you get the best possible price on your terms versus you trying to work with the listing agent, who is watching out for the seller's best interest.
Identify Your Needs and Wants
Buying a home in Daphne is going to be rewarding and Daphne is a great town to get the most amount of house for your dollar. The price per square foot here is the second lowest in Baldwin County behind Foley. For the most part, you should be able to get a great home without over-extending yourself financially.
It's a great idea to go Ole School and physically write on paper a list of things that are most important to you and items that would be nice to have. Sometimes buyers find that they can give a little on ,say, square footage and still be in a fantastic school district. With some homes, the layout means everything. Have you every noticed that smaller homes feel bigger because they have a smoother "flow"?
Identifying your needs and wants can bring less stress in your life and save you money.
Identify What You Can Afford
I have a tight network of Realtors around the country where we bounce ideas off each other all the time. I'm floored sometimes when I hear how much housing costs in their area. While buying in Daphne, you'll quickly find out that home costs are very affordable and there are plenty of neighborhoods in Daphne where you can purchase even a new construction home at surprisingly low prices.
"Stick to your Guns" with your budget. Unless your next purchase is your forever home, you should be able to give yourself peace of mind finacially when buying in Daphne.
Let's Go House Hunting
I always find it so exciting to go house hunting with buyers even though I'm not buying at the time. There's nothing like seeing spirits rise when my clients know that they have found "the one".
One of my jobs is to narrow down the search to about 5 contenders based on the needs and wants of the buyer. Figure on taking a few hours for 1 or 2 days to visit these properties in person. Take notes and have a scrutinizing eye. Can you see yourself living in this home for years?
Write the Offer
Ok, you've found the home in Daphne to buy and now it's time to write the offer. This next step is heavily relying on your Realtor to help you not only save the most amount of money possible but also purchase the home that closely matches your terms. The first thing that I'll do when you're ready to "pull the trigger" is to analyze what homes have sold nearby that closely matches the subject property.
For all the buyer knows, the home that they now love is grossly over-priced, which is great for them. I often see homes that are priced too high and unreasonable. By digging into the past real estate sales data, I can quickly determine if my client (you) is overpaying or not.
Don't forget, there are also a number of other factors in an offer that are crucial when it comes to buying a home. Financial contingencies, the home inspection, termite and moisture inspections, and working with the title company are all examples of the many elements of the offer.
Working with a qualified buyer's agent will allow this transaction to go much more smooth.
Closing
Well the moment that we've all been waiting for is upon us - Closing. Over the last 30-45 days you and your Realtor have followed through with deadlines, tidying up lose ends on financing, and working with the title company and now you're ready to take ownership of your new home. Such an exciting time!
The big work happened between contract and closing but this day is usually layed back. You'll need about an hour and make sure to bring your driver's license. It's time to take possession of your new Daphne home.
If you are buying a home in Daphne, I can help you. Please reach out. I've love to know your needs and what you expect. I'll give you the same service that I would expect myself.
Jeff Nelson
eXp Realty Southern Branch
251-654-2523
jeff@livegulfshoreslocal.com