I think we've all heard that supply and demand effects the price of just about everything. Well that is certainly true with real estate. So if the demand for homes is greater than the current supply, you're going to find that homes will appreciate because buyers are willing to pay more for the property than they would when the supply was great.
Appreciation typically occurs slowly over a long period of time in most areas and I think that most real estate professionals would agree that a growth of 2%-4% yearly would be a healthy increase.
"Appreciation is an increase in the value of an asset over time. The increase can occur for a number of reasons, including increased demand or weakening supply, or as a result of changes in inflation or interest rates. This is the opposite of depreciation, which is a decrease over time." - Source: Investopedia.com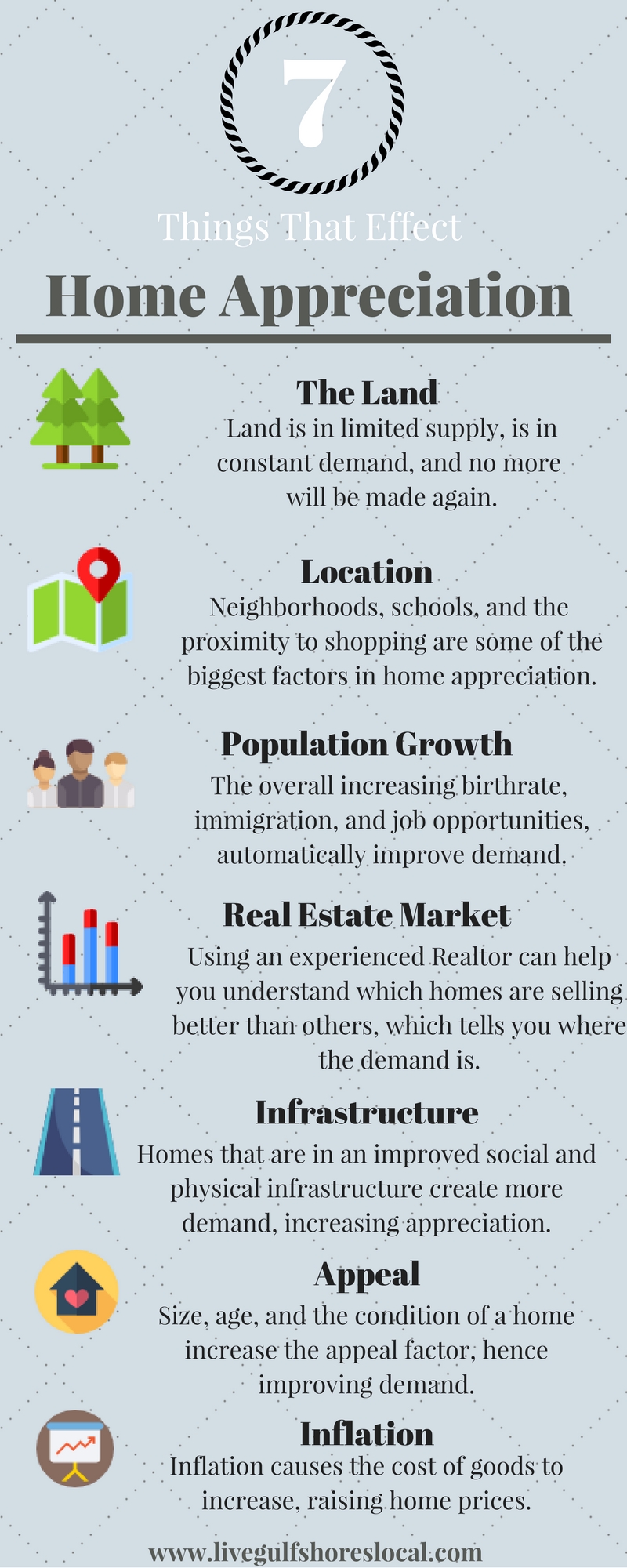 So if demand is the main cause of appreciation, the deeper question is .......
What Causes Demand to Increase in a Housing Market?


One of the most interesting things about buying real estate is one of the most overlooked - the land on which the home sits. Think about it, when was the last time you included criteria about the lot when looking for your next house? We find it in our area because we have properties with a lot of acreage as well as thousands of waterfront properties but the average person doesn't give land a second thought.
It's interesting because the land is the "real" appreciating factor. Whether new or old, your home will break down over time and if you never made any repairs, it would eventually fall to the ground. There are 3 reasons why land is so important: it's in limited supply, population growth will keep land in perpetual demand, and no more land will be created.
When you're thinking about your next home to buy, look more into just how many beds and baths that you will need. Take the actual lot into consideration as well. Land will always appreciate over time.



Neighborhood
Whether it be a condo community or single family home subdivision, the "right" neighborhood tends to be at the top of most home buyers priority list. There are certain trends within neighborhoods that seem to draw people in. Maybe the neighborhood has an incredible amenity package like a great pool and large green space. The neighborhood may have wide streets, sidewalks, and lamp posts giving off of a vibe of being family friendly.
Whatever the case may be, there are neighborhoods that sell more homes yearly over other areas and this demand will cause homes to appreciate.
Adversely, the word gets out about neighborhoods that have higher crime rates causing home prices to either stagnate or depreciate.
Also, locations within the neighborhood can help your home appreciate. For instance, homes in the back of a neighborhood hold their value or appreciate better than those that are lined next to the main road up front. Corner lots appreciate better as well as homes in cul-de-sacs.
School System
It's no surprise that most families with kids are concerned about where their child will go to school. As a Realtor, I get asked questions about this topic all of the time.
What's the school system like?
What are the best schools in the area?
Is this home in the "XYZ" School District?
A good example of this in our area is Fairhope High School. This school is ranked at the top in our county and Fairhope homes are selling for $40-$50 more per square foot than homes in the surrounding cities. Makes sense. Of course there are many other reasons why buyers are moving to Fairhope but the school system ranks high.
Proximity to Shopping
Although most of us wouldn't prefer to live right next door to a Sam's Club, I think we all would like the idea of not traveling too far to go to the grocery store. For about 7 years, we owned in a home in the country. It was a big house on a big piece of land but it took 30 minutes just to buy a loaf of bread. The home fit our needs and it sounded good at the time but the drive became old real fast. There are a lot of pros and cons to rural living but homes that are "near" great shopping and restaurants tend to appreciate more than those that are not.
In fact, you've probably heard about Walkability. More and more people these days are finding enjoyment in being able to walk to parks, stores, and restaurants. We're finding that homes that are answering this call tend to appreciate a little better. What is your Walk Score?

Growth of the population is the very essence of demand. People have to have a place to live. When more home buyers are driven into a particular area, prices will rise mainly from buyer competition which will cause your home to appreciate.
Another aspect to look at as it relates to population growth has to do with jobs. Areas that have constant and growing employment opportunities with existing or new companies in the market will always promote growth of the area, driving appreciation upward.

Real estate market data is used everyday by appraisers and Realtors to determine the value of a home or condo. The information from this data is the main indicator on whether homes are appreciating or not. For example, I wrote an article about how the real estate market is doing in the condo market on the Alabama Gulf Coast. In this particular article I found that the median sales price has increased by 6.9% in the past year and 8% over the past 5 years.
Well, that historical fact tells us that condo prices in Orange Beach and Gulf Shores are trending up and appreciating.
To find this information out for yourself in your area, just contact a seasoned Realtor who knows how to pull and analyze real estate market data for a neighborhood that you're considering.
Remember, home value is determined by the buyer and the more buyers there are for an area, the more home prices will be driven up. Short supply and high demand cause appreciation.

The local roadway system and infrastructure is vital to any area providing ways and means of transportation to hospitals, schools, and shopping. However, as the population and demand increases, cities will have to re-address their current infrastructure to possibly make improvements. In most cases this is a major plus to homeowners and will make their lives easier in the long run.
When an area has a solid infrastructure, home values will appreciate because demand will increase. On the flip side, areas that tend to get gridlocked for example, could depreciate.

As we all know, buying a home is a very personal decision. We have to think about the layout, how many bedrooms we will need, the lot size, etc. Let's face it, some homes just show better than others but there are some basics that can really increase the appeal factor in a home which therefore ignites appreciation.
Size
Again, the size of your home is taste sensitive and is directly tied into the needs of your family. However, it's easy to see what size homes are selling better by looking at past real estate facts. I can easily go into the MLS to find what homes sold in an area and quickly identify what was most popular in regard to square footage and number of bedrooms.
Of course this depends on your area because 1 bedroom condos may be more popular in urban areas and 4 bedroom homes may be more popular in areas that attract more families with kids. So, by looking at past data, you can find which homes are in more demand hence creating more appreciation.
Condition and Age
In our area there has been a really big an uptick in the sale of new construction homes.
There are new construction homes currently being built in nearly 100 different neighborhoods in our county. This information just tells me that demand is trending toward brand new homes. Although newly constructed properties tend to sell for a little higher than a pre-owned home, it's very telling that buyers are preferring new causing that market to appreciate.
On the other hand, you have properties in certain areas of your city that are decades old and selling just fine. If you own an older home, you're not doomed but if the demand is greater toward new homes in great condition, appreciation will be greater.
If you do own an older home, make upgrades that will have lasting value like adding granite countertops or energy efficient windows.


One of the more negative causes of appreciation is inflation. When the value of money falls, prices of goods increase. Everything from building permits to material and labor increase in price due to inflation promoting appreciation in home prices.
On a positive note, if you're a real estate investor you may be able to capitalize on inflation.
History shows us that over time, real estate is a great investment, especially if held over a long period of time. Trends come and go but the 7 factors that you've just read on home appreciation has hopefully given you a better understanding on how it all occurs.
Additional Resources on Home Appreciation:
Factors That Determine Home Appreciation - Wendy Weir
What Makes Real Estate Markets Different - Kyle Hiscock
Improvements That Will Boost Your Homes Value - Bill Gassett
How to Make Your Home More Appealing - Anita Clark
31 Home Improvements That Add Value - Property Workshop
Buying or selling a home in Baldwin County, AL? Let's talk!
About the author: The above Real Estate information on What Causes a Home to Appreciate? was provided by Jeff Nelson of IXL Real Estate – Eastern Shore. Jeff can be reached via email at jeff@livegulfshoreslocal.com or by phone at 251-654-2523. Jeff has helped people move in and out of properties for nearly 13 years.
Thinking about selling your home? I have a passion for Real Estate and would love to share my marketing expertise!
I service Real Estate sales in Baldwin County including the cities of Spanish Fort, Daphne, Fairhope, Foley, Gulf Shores, and Orange Beach.