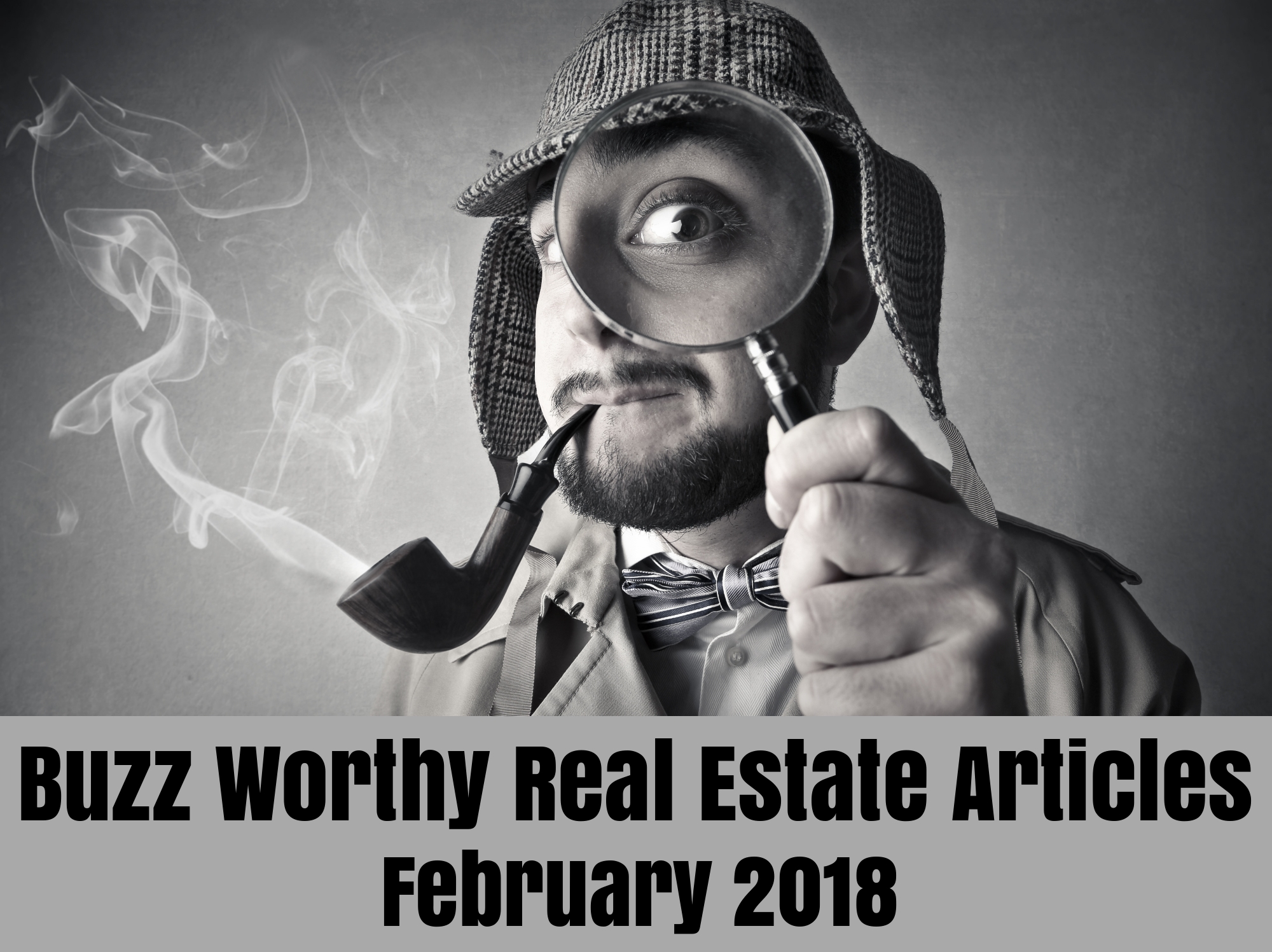 As the winter months are coming to a close, real estate pros have been continuing to pump out great industry articles for the month of February. Here are my picks for the best buzz worthy real estate articles from last month.
Click on the link in each section to go directly to the article.
5 Tips for Selling Your Tenant Occupied Home
Michelle Gibson, a successful Realtor in Wellington, Florida, has put together a great article that isn't talked about that often. Renters do occupy many homes and condos that are on the market so Michelle gives us some great tips on selling a tenant occupied home.
You'll learn about how to communicate better with the tenant, creating a showing schedule, offering incentives, and handling showings. This is a great read that's pertinent in our industry.
DIY Projects to Do and Ones to Avoid When Getting Your Home Ready to Sell
Paul Sian of Cincinnati, Ohio always creates thoughtful and informative articles and his piece on DIY Projects to Do and to Avoid is no different. Let's face it, there are projects around the house that are just too much to tackle and a professional should be hired to get the job done. On the other hand, there are a number of things that homeowners can handle themselves to get their home ready to sell.
Preparation is a key factor in selling your home and Paul gives us some timely considerations on what to do and what to avoid.
A Realtor's Guide to Maximizing Curb Appeal
It's a shame to know that a seller has done so much work on the inside of their home to get ready to sell but has neglected the outside. Curb appeal is the "first impression" and Lynn Pineda of Coral Springs, Florida lays out an easy to read guide and checklist to make the outside of your home shine!
Lynn points out that in many cases, you don't have to spend thousands of dollars in order to maximize the curb appeal of your home. Check this article out, especially if you're a home seller.
Buying a Home at Auction: What You Need to Know
There are a lot of moving parts if you're thinking about buying a home at auction and Bill Gassett, a successful Realtor and blogger from the Metrowest area of Massachusetts, gives us a great explanation about the whole process for Live Auctions and Online Auctions.
You'll learn more about doing your research, searching for properties, doing a title search, verifying information, financing, and much more.
Real estate auctions do play a role in our industry so give this a read if you think auctions would benefit you. Very informative.
Common Mistakes When Pricing Your Home to Sell
For many home sellers, pricing your home incorrectly can result in little to no showings and worse yet, no offers. I believe that pricing too high is the number one factor why homes go stale on the market and Eileen Anderson of Simsbury, Connecticut spells out all of the many mistakes made when pricing your home from the start.
Eileen goes over the following:
Knowing how the market works
Why Zillow estimates aren't accurate
Waiting for a buyer without an agent
Pricing high for negotiating room
Spending more money in marketing
Getting a low ball offer
and much more
This is a must read for all home sellers. Check it out!
The Psycological Factors of Home Buyers and How They Perceive Your List Price
This is just a "smart" article (wish I thought of it) and is definitely buzz worthy. Kevin Vitali, a successful Realtor in Essex and Northern Middlesex Counties, Massachusetts, points out how home buyers think when it comes to the home price.
There was a lot of thought put into this article and Kevin effectively shares with us how buyers make decisions based on emotion, how homes in certain price ranges have certain expectations, the psycological affect of days on the market, the herd mentality of buyers, and much more.
Since sellers are at the mercy of what a buyer thinks about the price of their home, every home seller should read this well thought out post.
6 Reasons Why Your Home Hasn't Sold
If your home hasn't sold there's a reason for it. In fact, according to Maria Mastrolonardo of Naperville, Illinois, there are 6 reasons why. Maria gives homeowners some solid advice when it comes to selling and by taking the advice in her article, sellers will save themselves a lot of time, money, and frustration.
She covers preparation, hiring the wrong Realtor, pricing, showing your home, bad photography, and the lack of staging.
A must read if you are selling your home now or in the future.
Are You Buying a Money Pit? Get a Home Inspection
In this Buzz Worthy Real Estate Artcle, Sharon Paxson of Orange County, California, goes over the dire importance of getting a home inspection before you close on your home. It just makes sense to spend a few hundred dollars now to give you peace of mind versus the stress you would have to later find out you bought a huge money pit costing you thousands or even tens of thousands of dollars.
Sharon writes about what's involved in a home inspection, how to request for repairs to be made, and what should be repaired. Every buyer should read this article.
Listing Agreements and Negotiating Inspections
Wendy Weir, a Realtor out of Birmingham, Michigan, has written a well-planned and easy to follow article for sellers concerning their listing agreement and negotiating repairs with buyers. The whole selling process can be overwhelming which is why the vast majority of sellers work with a Realtor to sell their home. Wendy's article is very detailed and covers the following elements:
The Pre-Showing Period involving preparations, measurements, marketing, and photos
The Seller's Disclosure
Negotiating various inspections that involve repairs, credits, and price changes
Offering a home warranty.
There's a lot of very helpful information here for sellers. Check it out!
Should I Buy a Condo or Rent a Condo?
The condo industry is growing all over the country, especially in more urban and coastal areas. Kyle Hiscock, a very busy Realtor in Rochester, New York, writes a great real estate article on whether you should own or just rent a condo.
Kyle delivers a well-written post that includes information about homeowner's associations, HOA fees, benefits, how long you're willing to live there, and maintenance. Not everyone wants to live in a single family home, so if this is you, give this article a read.
It's a Wrap
Well there you have it, my picks for the most buzz worthy real estate articles for February 2018. If you think these articles are buzz worthy too, please share them with others.
Come back next month for March's round-up!
About the author: The above Real Estate information on Buzz Worthy Real Estate Articles for February 2018 was provided by Jeff Nelson of IXL Real Estate – Eastern Shore. Jeff can be reached via email at jeff@livegulfshoreslocal.com or by phone at 251-654-2523. Jeff has helped people move in and out of properties for nearly 13 years.
Thinking about selling your home? I have a passion for Real Estate and would love to share my marketing expertise!
I service Real Estate sales in Baldwin County including the cities of Spanish Fort, Daphne, Fairhope, Foley, Gulf Shores, and Orange Beach.