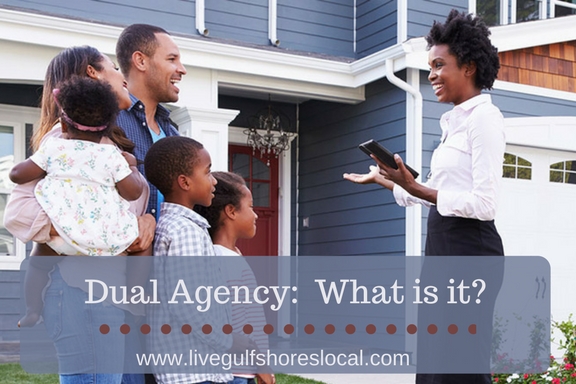 When you're buying a home, the last thing you are thinking about is the agents involved. It's all about you right now and it should be. I've been there myself and dang, we've all been there. BUT, most people don't know how real estate law works. I don't change the brakes on my car, I don't blow insulation in my attic, and I don't know anything about growing tomatoes. I hire the pros.
So......it's not a surprise that you (the non-Realtor) know nothing about real estate law. It's ok and that's why there are articles like this.
Below you will find information about dual agency and why it's a bad idea or a good one. As a Realtor for 13 years, I definitely have my own thoughts. You will find from my comments along with "back up" from other real estate pros around the country everything you need to know about hiring a Realtor.
Dual Agency
What is dual agency?
Duel agency is when one realtor represents both the buyer and the seller of a property.
So, another question that may come is .......
How can a Realtor represent the best interests of both the buyer and the seller?
The answer is, they can't.
If you call the name on the sign in the front yard of the home for sale, you are then working with someone who has an obligation to the seller.
This is totally fine because this listing agent is trying to sell the home for their seller. The problem comes with your representation.
A Realtor can only represent the best interests of one party.
Now, don't get me wrong. ALL Realtors are bound to truthfulness and integrity but let's say you give the seller's agent personal information about your offer or your finances. That Realtor has an obligation to inform their seller.
Example
It's Saturday afternoon and beautiful outside, a perfect day to go house hunting. You drive through one of your favorite neighborhoods and, low and behold, you see that one house that you've been eyeing for months is for sale. You see the inviting For Sale sign in the front yard, so call. You like what you hear and agree to meeting the agent for a private tour of the home. Everything that you see is exactly what you expected so you want to make an offer. The listing agent is obviously grateful to find out what you want to offer and hopefully close this sale.
What has happened in this scenario is duel agency....Understand that during the initial meet, the touring of the home, negotiations on price, writing the offer, agreeing on price, and negotiating repairs, your "agent" did not have your back. If you told them that you were willing to go down to $295,000, they told the seller.
This happens every day around the country!
The Breakdown on Agency
Here's how representation works within real estate law.
Seller's or Listing Agent
The listing agent is bound to the seller. The seller is a "client" and not a customer to the listing agent which creates a fiduciary relationship between the two.
Webster's definition of Fiduciary: of, relating to, or involving a confidence in trust.
So, as a Realtor, when we take on a seller client we are bound to confidentially, accountability, obedience to law, reasonable care, and loyalty.
Buyer's Agent
A buyer's agent has a fiduciary relationship with the buyer and owes them the same qualities of loyalty, trust, and integrity.
When working for a buyer, the buyer's interests are first above even the interests of the Realtor and especially the seller. In other words, if a buyer wants to make an offer of $300,000 on a listing of $310,000 but is willing to go to $306,000, my job is to keep that information confidential. If I was representing the seller, I would be bound to tell the seller that the buyer was willing to pay $306,000.
Can you see why one Realtor cannot represent both parties?
Dual Agent
Ok, well I've already talked about what a Dual Agent is at this point so let me just reiterate.
In a typical sale, the seller pays all commissions and that commission is usually split between the seller's agent and the agent who brings the buyer. This is a normal scenario. When the buyer for the seller's home does not have their own agent, the listing agent will get the whole commission.
Double commission!
Now, I'm a capitalist and I'm good with making the most money that I can as long as it's legal and ethical. However, Dual Agency does not give the buyer any representation. Put very simply, it's not right! So, as enticing as it is to get the full or double commission, the listing agent should do the right thing.
What is that?
I'm not trying to be holier than thou and you as the reader may be thinking, what have I done as a Realtor to back up my opinion on this topic?
Well after 13 years, I can honestly say that I have never been involved in Dual Agency. This brings us to the next section.....
What's the Remedy?
The 4th part a of Real Estate Agency law is......
Designated Agent
In real estate law, the true owner of the seller's listing is the brokerage company not the agent. For instance, I work for IXL Real Estate - Eastern Shore. When I obtain a listing, it's actually IXL's not mine, although I'm the representative.
So, the remedy is easy when it comes to Dual Agency. The broker of the agent (in my case IXL) would designate another agent within the company to represent the buyer in the transaction.
This is very reasonable in my eyes. I represent the best interest of the seller and a Designated Agent represents the best interests of the buyer. We cannot collude with each other as agents but in fact, we are truly working for our clients.
Yes, as the listing agent I would miss out on "double the commission" but if a Realtor is worth their weight, they will have their broker bring in a Desinated Agent.
For this reason, I and many of my national colleagues have written numerous articles about model home agents, open houses, and buyer's agents.
Agents: Don't let greed come before doing the right thing for BOTH parties involved in the sale.
Bill Gassett is a very successful Realtor in Massachusetts and a friend of mind. He has said it best in his article, How Does Dual Agency Work?
It is impossible to serve 2 masters on opposite sides of the closing table.
Click on the link above to get his full take on this situation that effects buyers every day in this country.
About the author: The above Real Estate information on Dual Agency: What is it? was provided by Jeff Nelson of IXL Real Estate – Eastern Shore. Jeff can be reached via email at jeff@livegulfshoreslocal.com or by phone at 251-654-2523. Jeff has helped people move in and out of properties for nearly 13 years.
Thinking about selling your home? I have a passion for Real Estate and would love to share my marketing expertise!
I service Real Estate sales in Baldwin County including the cities of Spanish Fort, Daphne, Fairhope, Foley, Gulf Shores, and Orange Beach.