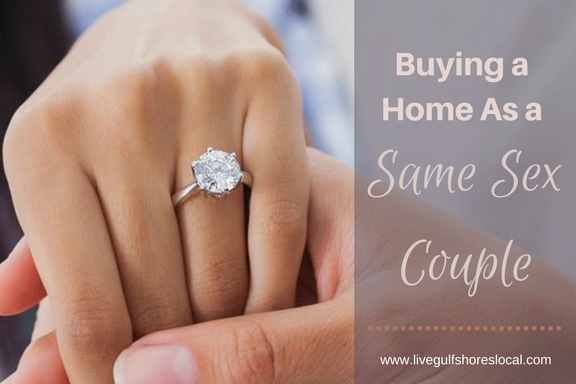 One topic that is rarely talked about is buying a home as a same-sex married couple. Laws have changed in states around the country, of course, and I think this is a great topic to talk about as it relates to real estate.
There's a couple who is very close to me that gave me the idea for this article. So let's get into it . . .
Does it make a difference at all?
Do you have to be legally married?
How does the couple take ownership?
Buying a Home as a Same-Sex Married Couple
Because this issue is very sensitive, not only personally but also from state to state, please understand that I am not a lawyer! I'm a Realtor who writes for my business at LiveGulfShoresLocal.com. From time to time, I work with same-sex couples who want to buy a home, but I will always encourage these couples to consult an attorney as well. Here are my thoughts . . .
Getting a Mortgage
I always want to provide the most up-to-date and "correct" information for my present and future clients, so many times I go to the experts in their field if I'm unsure.
From my research on the subject, the following is the manner in which same-sex couples should make a mortgage application:
If the borrower was legally married in a state that allows/accepts/recognizes same-sex marriages, for legal purposes, that borrower is married and will report himself/herself as married, regardless of the state the borrower may purchase or refinance a property. These same rules apply for conventional, FHA, USDA, and VA financing.
The rules are slightly different for unmarried borrowers. Unmarried borrowers, including but not limited to unmarried same-sex couples, may apply for joint credit on a joint mortgage only if they have a history of living together, currently reside at the same residence together, share at least one reported joint credit account, and share at least one joint asset account. If the borrowers meet these criterias and will be on a joint Form 1003, then a credit report must be pulled jointly.
If two unmarried borrowers are applying for a mortgage and do not display ALL of the required characteristics above, they must be listed on separate loan applications with an individual credit report for each borrower.
So thanks, Bill, for the research! In my opinion, there is no difference when getting a mortgage whether you are same-sex or opposite sex (at least in Alabama).
Taking Ownership
No matter who you are, there are different ways to take ownership of real estate depending on if you're a single buyer versus buying with two or more people. So, obviously, we're talking about two or more people here so let's get into it.
Whether you are a straight or same-sex couple, all relationships eventually come to an end by either divorce or death. It's inevitable for everyone, sadly.
We can't live forever, which is why it's important to know how real estate is owned. Disclaimer: I work in Alabama, so please check with an attorney in your state concerning how real estate is owned. For the most part, these real estate laws are similar across the country but, again, I always promote talking with the experts for your state.
If you're buying a home before marriage, take note of Joint Tenancy!
Real estate is owned by two or more people in 3 ways:
Tenants in Common (Tenancy in Common)
Tenants in Entirety
Joint Tenants
Tenants in Common
In this form of ownership, each owner owns a share of the property. The shares do not have to be equal. Also, there is no Right of Survivorship.
What is Right of Survivorship? When two people own a property with right of survivorship and one dies, the remaining owner would automatically absorb the other share of the property.
For example, if Jill and Mary (a same-sex couple) buy a home as Tenancy in Common and Jill dies, Mary would not automatically assume Jill's portion of the property. Jill's portion of the property would go to whoever is in her will. Also, Jill and Mary could own different shares of the property. Jill could own 30%, and Mary could own 70%.
Ownership of real estate is personal for straight and same-sex relationships, but many feel that tenancy in common is not the best form of ownership. Make sure to do your own due diligence that works best for your relationship.
Joint Tenancy
Joint Tenancy is a form of ownership where two or more people own real property. The shares of the property are equal. With right of survivorship, if one partner dies, the remaining share of the home would automatically go to the other owner.
Jill and Mary buy a home as Joint Tenants. They own the property 50% / 50%, as equal partners. If Jill dies, Mary would automatically assume the entire ownership of the property.
Tenancy in Entirety
This form of ownership is very similar to Joint Tenancy; however, there are many states that do not recognize Tenancy in Entirety. This type of ownership can only be used by married couples, and both parties own 100% of the property.
If one of the parties dies, the other party would automatically assume the remaining portion of the property.
The last two options are the most popular option for same-sex couples, but you'll have to be legally married for Tenancy in Entirety.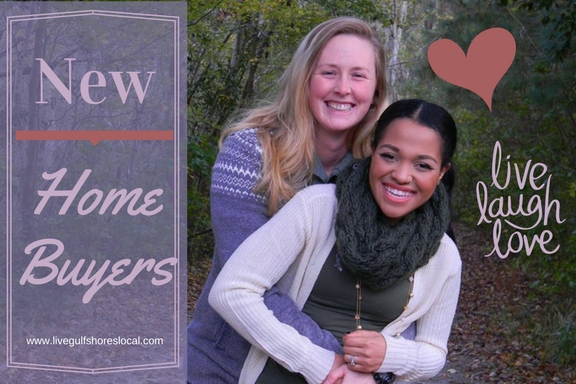 How About When You Sell?
Same-sex marriages are now recognized across the country for capital gains when you sell your home. As an individual, you would not have to pay tax on any proceeds up to $250,000. BUT, as a married couple, you will not have to pay taxes on any proceeds up to $500,000. Same-sex married couples now get the same tax benefits as opposite-sex couples when selling their home.
Considering Where to Live
This advice would be given to all of my clients, but I am sensitive to the fact that same-sex couples may have another set of "things to think about".
With the age of the internet and the ease of gathering knowledge, it's very easy for anyone to gather information on just about anything. You can also talk with your Realtor (me, of course). Let's dive into to this one . . .
Hate crime
Everyone deserves to live their life free of hate, but I'm not an idiot. Crime happens everywhere, but you can choose an area that is more friendly when it comes to same-sex relationships. You can either get with your local Realtor or do your own research to find the best areas for you when you buy your next home.
Lower Alabama, for instance, has become a melting pot from all over the country (probably has something to do with the beach). The people here are warm and inviting, but I understand that some areas may not be. If you're a same-sex couple wanting to buy a home, get some opinions from your Realtor or other people in the area.
Where I live, it's really laid back. No problems. Just saying.
Schools
I think that most same-sex couples will want to have kids through artificial insemination, in-vitro, or adoption. Many of these couples do worry about how their children will be treated in school. Many consider homeschooling.
I don't have experience with this one since most of my kids are grown and gone, but I think that, in general, if you have the gist of the general public, the schools will be fine. However, if you were to decide to homeschool, lower Alabama is a great place for that as well. There are many support organizations for the homeschooler in our area. As a homeschooler, my own son was permitted to participate in the sports programs of a local private school, where he enjoyed playing basketball on their team for all four of his high school years.
Churches
Many same-sex couples are seeking to find a church where they feel accepted. Everyone wants to feel accepted, especially in a place where everyone "should" be accepted. I'm a straight man getting ready to be married to a wonderful woman, and there are many times when I don't even feel accepted.
Yeah, the couple may have to "kick the tires" and test out several different churches, but that's a part of the process whether you're straight or gay.
With my clients, I told them I would call around on their behalf, but that's me.
The Takeaway
Although there may be some social issues that a same-sex couple has to deal with from time to time, these relationships are real and recognized. As far as I can see, there shouldn't be any real problems that would keep a same-sex couple from buying a home compared to a straight couple. Bottom line is the home is where the heart is - gay or straight.
I work with everyone. I don't look at color, sex, or religion. If you're my client, I will put you first, period.
If you are looking to buy or sell a home in lower Alabama (LA), please reach out to me. If you have any questions that I haven't addressed, let me know. I welcome your comments and questions and, if I don't know the answer(s), I will do the necessary research to find them! I'm here for you!
Other Great Resources When Buying a Home:
How to Build Up a First Time Home Buyer Budget - Anita Clark
First Time Home Buyer's Guide - Luke Skar
Making the Decision to Buy Your First Home - Kevin Vitali
About the author: The above Real Estate information on Buying a Home as a Same-Sex Couple was provided by Jeff Nelson of IXL Real Estate – Eastern Shore. Jeff can be reached via email at jeff@livegulfshoreslocal.com or by phone at 251-654-2523. Jeff has helped people move in and out of properties for nearly 13 years.
Thinking about selling your home? I have a passion for Real Estate and would love to share my marketing expertise!
I service Real Estate sales in Baldwin County, including the cities of Spanish Fort, Daphne, Fairhope, Foley, Gulf Shores, and Orange Beach.