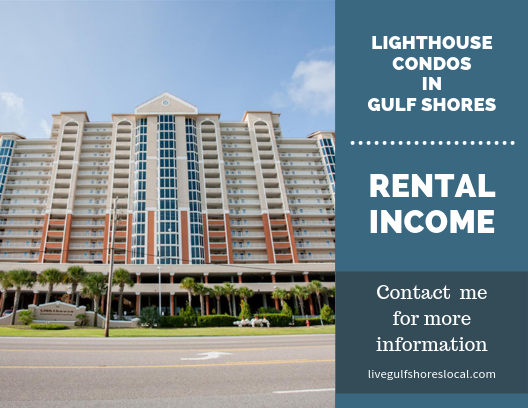 Lighthouse is a large complex that is well-known among tourists and provides investors with a solid rental income, bringing a nice addition to their real estate portfolio. Lighthouse is a majestic looking building that sits right on the beach, offering beautiful views of the Gulf of Mexico.

Along with offering large, attractive floor plans, tourists are also attracted by the proximity to nearby attractions from the Lighthouse. The Hangout and the rest of downtown Gulf Shores is all within walking distance. This fact alone will bring in a strong rental income from visitors to our beach.
Lighthouse offers an impressive amenity package that includes 2 outdoor pools, a heated indoor pool, fitness center, and more. Renters love the idea of a Gulf view but they also like the idea of having plenty to do off the beach without leaving the property. These Lighthouse amenities are a huge plus that bring in income, not afforded to other complexes in Gulf Shores.
Rental Income for Lighthouse of Gulf Shores
Although there are some large penthouse units here, most of the condos at Lighthouse have either 1, 2, or 3 bedrooms ranging in size from 875 to 1,547 square feet.
Here are typical rental income amounts for the different floor plans:
1 bedroom/2 baths – $47,000
2 bedrooms/2 baths – $45,000 +
3 bedrooms/3 baths – $58,000
The income that you see above is from recent history from renters who have stayed at Lighthouse. The community is a definite money maker. Also be aware that owners can add even more income to their bottom line by updating their condos through neutral paint colors or through staging the space to be more conducive for tourists.
Rental income is also effected, of course, by how much the owners use their condo for personal use.

For more information on Lighthouse and to see what's on the market, visit Condos for Sale in Lighthouse.
If you've been thinking about buying a condo in Gulf Shores for investment purposes or a second home, please contact me. I can help you with any property at the beach, provide a rental income history for any condo, and advise you on pricing for your next purchase.
Jeff Nelson
IXL Real Estate – Eastern Shore
251-654-2523
jeff@livegulfshoreslocal.com