The Gulf Shores condo market is hot (even in the off season) and buyers always have their own set of specifications for their next property. This article will focus only on 2 bedroom units in Gulf Shores. Here you'll find out the most up to date information for the properties that are for sale now, as well as how sold units compare to recent years.
2 Bedroom Condos in Gulf Shores - December 2019
Currently On the Market
Are you in the market to buy? Here are the most recent stats for 2 bedroom units for sale.....
141 for sale
Highest - $529,000
Lowest - $119,000
Average - $274,878
Median - $240,000
Largest - 2,528 square feet
Smallest - 520 square feet
Average size - 926 square feet
Price per foot - $302
Days on the market - 119
Here are some popular communities with these condos for sale:
Find all 2 bedroom condos for sale in Gulf Shores here.
Sold Units Compared to the Past
First, let's look at what sold last month...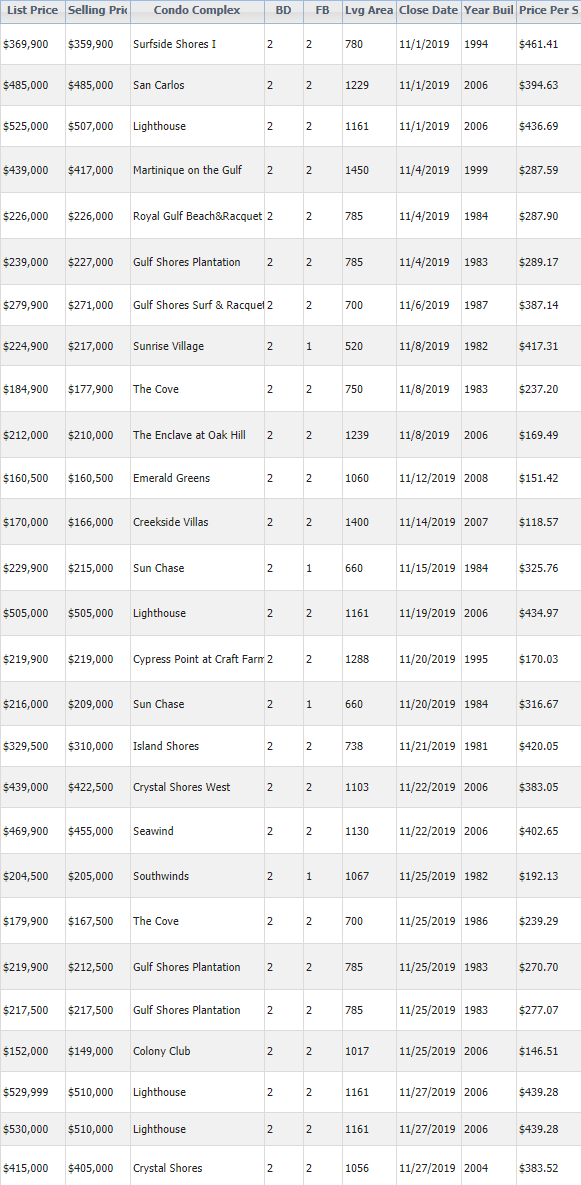 There's no better way to get the pulse of the market than to see what has most recently sold....
I find it very interesting to see that 27 condos sold in the month of November. This real estate market is huge and continues to grow. Also, it's interesting that units sold (all having 2 beds) from $152,000 to $530,000.
Look closely at sales over the past 4 years. Values for 2 bedroom condos have increased by a whopping 43%! Where do you think condo values will be 4 years from now?
To give you an idea of how consistent sales are this time of year, 120 condos sold during the month of November in the last 4 years.
The Gulf Shores real estate market is strong. If you're wanting to invest here at the beach, please get in touch with me.

ALL GULF SHORES CONDOS FOR SALE BY PRICE

$100,000 to $200,000 – $200,000 to $300,000 – $300,000 to $400,000
$400,000 to $500,000 – $500,000 to $600,000 – $600,000 to $1,000,000