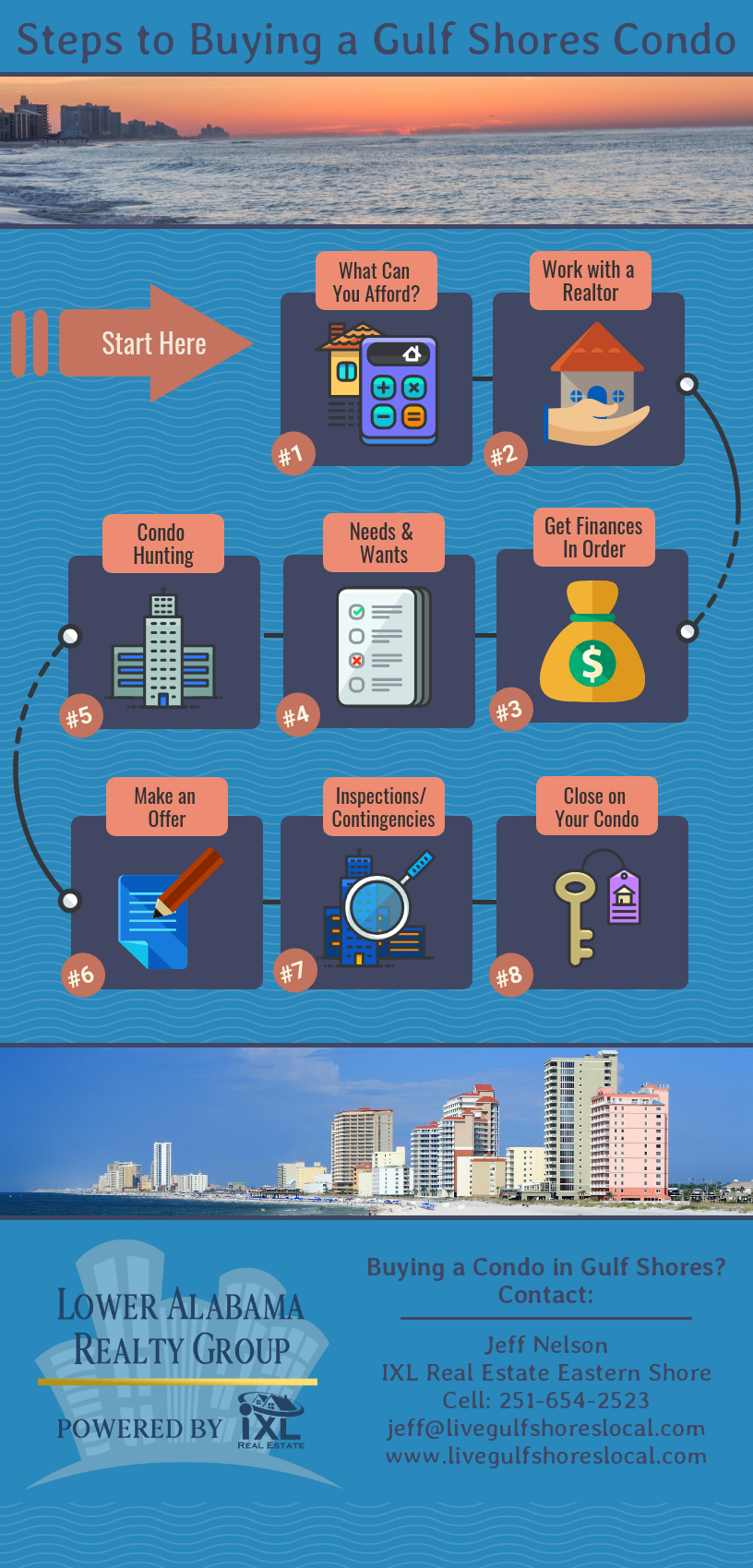 So, you already know that the Gulf Shores coast is one of the most desirable areas in the south when it comes to affordability, the beautiful beaches, and southern charm. And, you may be at a point in your life when you're ready to invest in a condo. Put those two things together and you have a great match for owning a new condo in the south.
The Gulf Shores real estate market stays very busy not only among the millions of tourists that visit each year but also with buyers. It doesn't take too long to figure out that the multitudes of people who visit here continues to grow and they have to stay somewhere, right?
Well, grab a cup of coffee and sit back for a minute to read a general guideline for the....
Steps to Buying a Gulf Shores Condo

Whether you're buying with all cash or getting a mortgage, you have to start with what you're willing to spend on a condo at the beach. Determining what you can afford goes hand in hand with your goals for buying a condo.
Do you want to live in it full time?
Does a second home retreat sound appealing to you?
Are you strictly looking to buy a property for investment purposes?
If you're like most of my clients who want to purchase a condo in Gulf Shores, you probably want to use the unit for yourself as well as rent it out to as many renters as possible. This way, you have a great place to utilize yourself while offsetting the overall cost of being an owner.
For Investors
When deciding what you can afford, keep in mind that there is a rental market for all price points here at the beach. If you want to start out small with a condo that's under $200,000, there are plenty of renters for that option. But, you'll definitely find plenty of folks who want one of the larger condos that are facing the Gulf.
Determining what you can afford will mainly come down to your down payment which I'll get into a little more later. For the most part, every condo that looks appealing and well-kept will attract enough renters to come close to paying your yearly expenses. In many cases, the condo will pay for itself.
For Full Timers
With online mortgage calculators, it's easy to figure out what your monthly costs will be but be sure not to forget to factor in taxes, extra insurance, and the HOA fees. Alabama taxes are some of the lowest in the country so there's no big worries there and the only insurance that you would need to get is for contents and liability, since in most cases, the HOA fee usually covers common area insurance.
So, figure out what your threshold is for monthly housing expenses then I can assist you in determining what price range you should be in.
With my help, you'll know exactly what your monthly costs will be so you can stay on budget.

An experienced Realtor who understands the condo market in Gulf Shores will give you the edge that you need to save more money and time. I do have that experience and I've been selling real estate for 14 years. My duties to you will include:
Helping you identify the properties that best fit your needs. I'll show you the condos that you want to see and those that will give you the most bang for your buck.
I'll never push you past what you want to spend.
Every condo that you're interested in will be hyper-analyzed to see how it's been priced. You'll know if it's been over-priced and I'll help you draft an intelligent offer.
I'll get you the rental history for every condo that interests you.
I'll give you advice on how to attract more renters, giving you a bigger bottom line at the end of the year.
You'll have all of the condo documents needed to make an informed decision including reserve funds, rules & regulations, minutes, and know assessments.
I'll orchestrate closing on your condo along with scheduling all inspections and working with the title company.
Other than getting personal documentation to a lender, I'll handle everything on your behalf.
Buying a condo is much different than a single family home so you need to make sure that your Realtor knows about all of the intricacies of this kind of purchase.

As you know, the two facets of getting a condo in regard to finances are cash and credit. So, here's some information pertaining to both.
Qualifying
About 25% of my clients are paying cash for these units but if you're like the rest of us, you're going to need to get a mortgage. You already know that you'll need to qualify based on your assets, income, and credit score but I really want to hit home with who you will use to get the loan.
There are plenty of great lenders around the country but I strongly urge you to choose one who is local. There is a difference in lending money for a condo over a single family home, especially here at the beach. A local lender will know what condos are Fannie Mae approved, what questions to ask the condo association for approval, and how to deal with beach condo associations in general. Lending on a resort condo at the beach is a much different animal than a condo in Dallas.
We have many great local lenders that will have your back and keep the frustration level at a minimum. Give me a call for recommendations.
Down Payment
For investment purposes, you will have 2 options when it comes to how much you will have to put down: 10% or 25%. This is a conversation you'll need to have with your lender but those are basically your options unless you're going to live in the unit full time, in which case your down payment would be 5%.
Out of Pocket Cash
You will need some actual cash when buying your condo. Here is what to expect:
Earnest money deposit - there's no set amount but 1% of the sales price is typical (you're credited back at closing)
Home inspection - $350-$400
Pest inspection - $150
Appraisal - $400
Closing costs - varies greatly depending on the sales price, mortgage, etc. (could be roughly 1%-3% of the sales price)
Owning a Gulf Shores condo can be very gratifying and a positive force in your portfolio but you will need to get your finances in order before making an offer. Establish a relationship with a local lender and be sure to have plenty of cash when you're ready to purchase.
I can narrow down cost for you much better after knowing more about you and a particular property.

One of the most important steps in the buying process is knowing what you need to have in a Gulf Shores condo and what would be nice to have. There is a difference and these are two different lists even if you have the means to buy everything that you want.
I suggest to write out on paper (yes, paper) a list of "needs" and "wants" in two columns. The first column will have everything that you have to have. For instance, you may need to have a southern facing balcony overlooking the Gulf, like would you find in Lighthouse. All other properties without this feature would not be a consideration. Well, if that's what is important to you, then that is a need. I'll take that need along with your others and find the properties that match.
However, if having an indoor pool would be nice but not a deal breaker if not present, that would be a "want". Most our needs and wants are dictated by our price point so once that's established we are better able to establish the list.
Here are some possible ideas that could be needs or wants:
Gulf front - direct southern view
Gulf front - indirect side view
2 or more bedrooms
Indoor pool
Tennis courts
Boating facilities
Granite counter tops
1st floor unit
Mid-floor unit
Covered parking

Once you've established your price range and what you need in your new condo, it's time to get serious about the hunt. I'm an advocate for only showing you condos that match what you're looking for in a property. So, if your max is $400,000, I'm not going to push $450,000 units on you. I may go a little over just because we may be able to negotiate a little off the sales price but I'll never push you to raise your comfort level.
From your specific list of needs, I'll set you up with a "saved search" that only includes what is on the list. So, if you only want to see condos with a boat slip, that's what you'll get from me.
I call this saved search a collaboration center and here's what it looks like....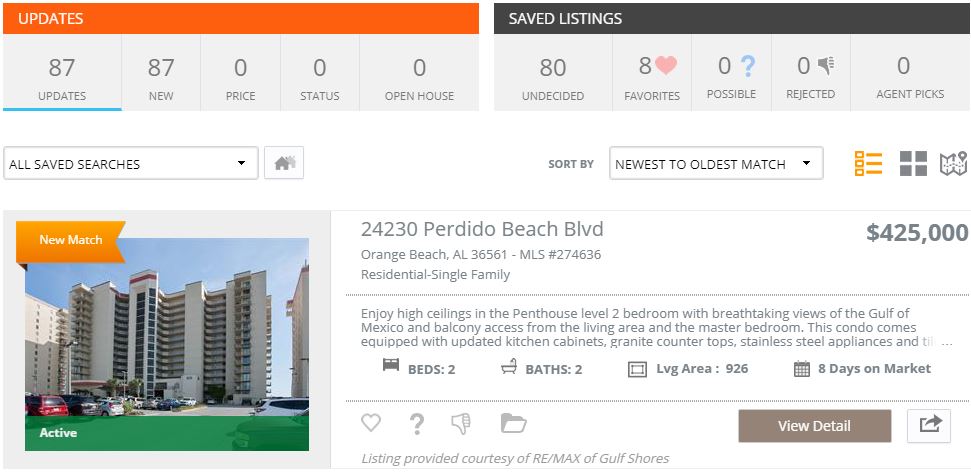 This is a nifty tool that I'm sure you'll love and find useful. When you have narrowed down your search to the handful that you would like to see in person, I schedule everything for you. I block out time that's convenient for you so you'll be able to take in all of the aspects of each condo that you're considering.
See all Gulf Shores condo communities here.

I take this part of the transaction very serious because you're the one getting ready to invest your money in a property and I want to make sure that you're happy for years to come.
I'll dive into the history of the property and those that have recently closed that are similar to the property. Your offer should be a direct reflection of our current market conditions. At the time of this writing, we're in a slight buyer's market so the buyer is in a position to save some money. It's my job to help you save the most.
I write the offer with an appropriate offer price along with including contingencies for financing, home inspection, pest inspection, and your approval of the condo documents. All real estate contracts are time sensitive and I'll make sure that deadlines and closing dates work for you.

Contingencies are aspects of a real estate contract that protect you. For instance, you'll like have 10 business days to get a home inspection and have your report back to the seller. The contract is contingent on you agreeing to all aspects of the inspection, whether there's a minor repair that you don't mind fixing or a repair that the seller is willing to make.
Either way, if you're not happy with the results of the inspection, you are free to "walk". All inspections and other contingencies in the agreement are there to benefit you and I'll make sure they exist and are followed.

We'll work through the contingencies and deadlines of the contract and usually within a month or so, you'll close on your new condo. You'll own property in a vibrant town that attracts people from all of the country by the droves.
Just prior to closing day, we'll do a final walk through to make sure repairs were made and everything is either the same or better from the time we wrote the offer.
On closing day, bring your driver's license and any funds that are needed. If you're paying cash, you'll be out of there in about 15 minutes. If you're getting a mortgage, figure on closing taking between 30-45 minutes.
Many of my clients who purchase in Gulf Shores live in another area or state. No worries. This is typical down here and our title companies are accustomed to mailing out the closing package to you and having funds wired here. Also, if you can't be here for the walk through, I can do that for you.
At this point, you're a brand new condo owner in Gulf Shores. What a small price to pay for a little piece of paradise!

ALL GULF SHORES CONDOS FOR SALE BY PRICE

$100,000 to $200,000 – $200,000 to $300,000 – $300,000 to $400,000
$400,000 to $500,000 – $500,000 to $600,000 – $600,000 to $1,000,000