Various factors influence your home's resale value. While you may have limited control on factors such as the market trends and location of your house, there are some simple and low-cost tweaks that you can carry out to significantly improve the value of your home.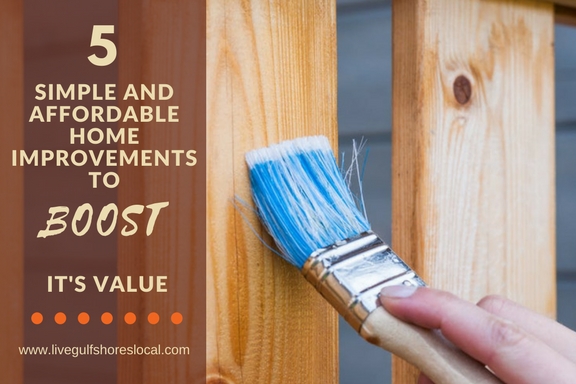 Photo Credit: Pexels
Here are five simple home improvements to boost its

resale value

.
Create curb appeal
Curb appeal is the attractiveness of your home's exterior. Your home's exterior creates the first impression to potential buyers, and you want it to be a good one.
You can boost the look of your home in a number of ways including repainting exterior walls, updating your landscape, adding external decorations such as lighting and flower pots and installing decorative fences.
A colorful garden creates a welcoming feel of your home. Create an affordable and instant garden by purchasing ready-made containers and plant your favorite plants and flowers. The mailbox is often overlooked. Yet, a mailbox makeover could give your exterior the aesthetically pleasing it needs. Consider repainting your mailbox or replacing it with a new one.
Replace front doors and windows
Make a statement to potential buyers with your front door and windows. Install window boxes to present different looks for your home. For instance, iron and copper window boxes create a traditional look while wooden window boxes feature a cottage look.
You could install bespoke bi-fold doors or composite doors to stand out from neighboring properties. Consider painting the front door and window with sophisticated shades of green that evoke vibrancy and blend well with the natural environment. Ensure your door is not only attractive but also provides optimal security for the house.
Paint the walls
Painting your walls not only gives your home a fresh look but it can also significantly increase resale value. Experts note that certain colors schemes are preferred in the property market, therefore, improving the chances of selling your property faster and at the best price. Whether you DIY or hire a professional painter, pay attention to which paints and finishes are appropriate for different wall material, texture, and locations.
Stage the master bedroom
Staging the master bedroom presents the challenge of creating an intimate ambience that is not isolated and boring. Remove excess furniture and items, and organize the closets. Clean up every corner of the master bedroom.
Stage the bathroom
The most important aspect of staging a bathroom is ensuring it is clean. Take some bleach, water and a scrubber to wash the walls and floors. If mold has infested some parts of the bathroom, you may need to hire a professional mold removal company to clean it and eliminate excess moisture.
Replace old floor rugs with new ones. If your bathroom has cabinets, remove clutter and clean the countertops. Lay your towels neatly in a rack, drawer or cabinet.
Home improvements need not be costly. You can DIY some home improvement projects while the rest you can seek professional services within your budget. Ultimately, home improvements should fetch you the best-selling price in the market. Work with a professional real estate agent to establish a goal-selling price that offers a high return on your home improvements and the value of your home.
This Guest Post was written by Seth Murphy of PapaDIY.com.
Seth loves hands-on DIY projects and sharing what he has learned with others. He first got into doing DIY projects to save money, but over time he has developed a real passion for this hands-on, intensive work.