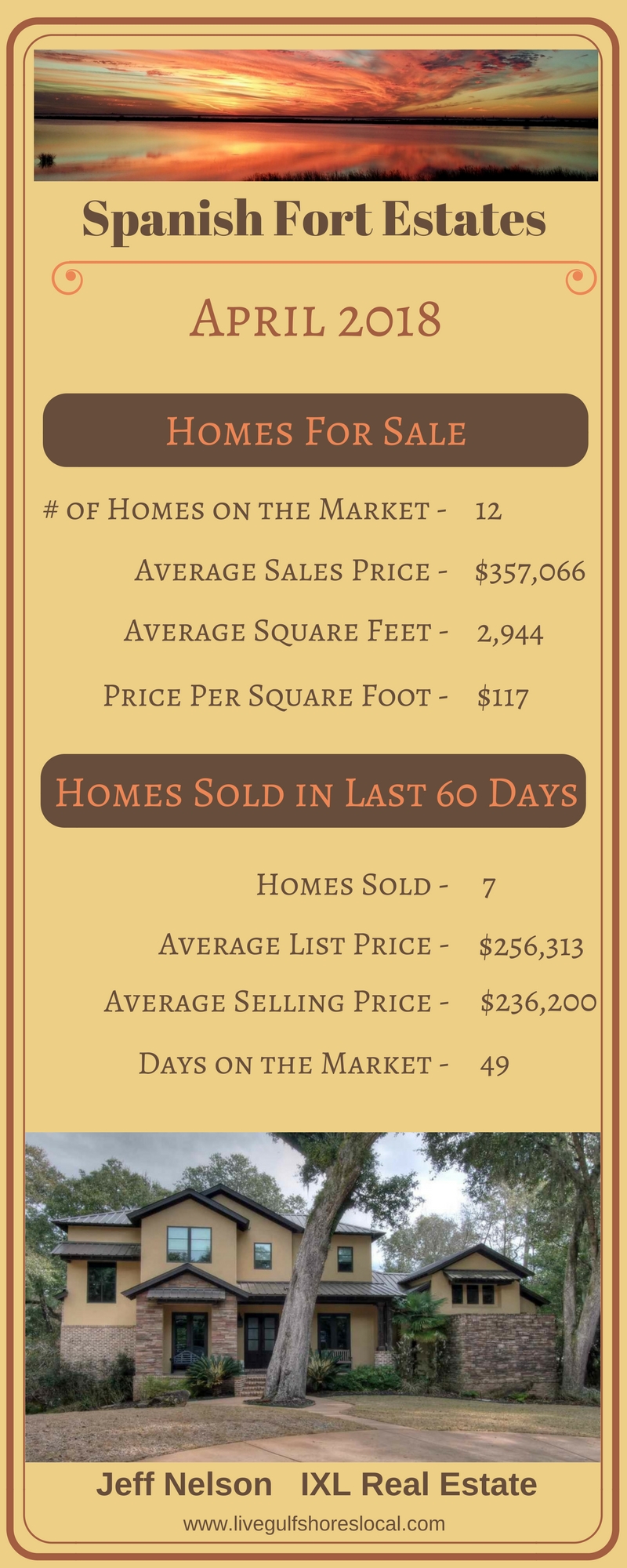 For those who like keeping an eye on the current real estate market conditions for certain neighborhoods, I provide those right here every month in the blog section. Here we have the statistics for Spanish Fort Estates of Spanish Fort.
By the way, if you would like this information on a neighborhood that I don't already highlight, please contact me and I'll get you the information.
Homes on the Market in Spanish Fort Estates
This neighborhood is fairly large and is located off of Hwy 225 near the intersection of Route 31. Homes in Spanish Fort Estates widely vary in style and size. You can see from the Infographic above that on average, properties are on the market for an average of $117 per square foot. That's a fairly decent price per foot for this neighborhood.
Of the 12 homes that are available, the smallest is 1,800 square feet and is priced at $175,000. The largest home is 4,885 square feet and has a price tag of $899,500.
For more information about the area and to see the actual listings that are available, please visit the main real estate page at Homes for Sale in Spanish Fort Estates.
Homes Sold in Spanish Fort Estates
With 7 homes going to closing in the last 60 days, that's a decent number of sales compared to the size of this community.
Of the 7 sold, the smallest home was 2,156 square feet and sold at 189,500. The largest home was 3,080 square feet with a final selling price of $329,900. For the properties that sold in the last 2 months, the average price per square foot was an incredible $90. Wow!
Also the listing to selling ratio of 97% shows that Spanish Fort Estates is still in a buyer's market. On average, buyers and their agents were able to negotiate an average of 3% off of the original list price.
Hope you find this helpful. Please contact me for all of your real estate needs in Baldwin County.
Jeff Nelson
IXL Real Estate – Eastern Shore
251-654-2523
jeff@livegulfshoreslocal.com