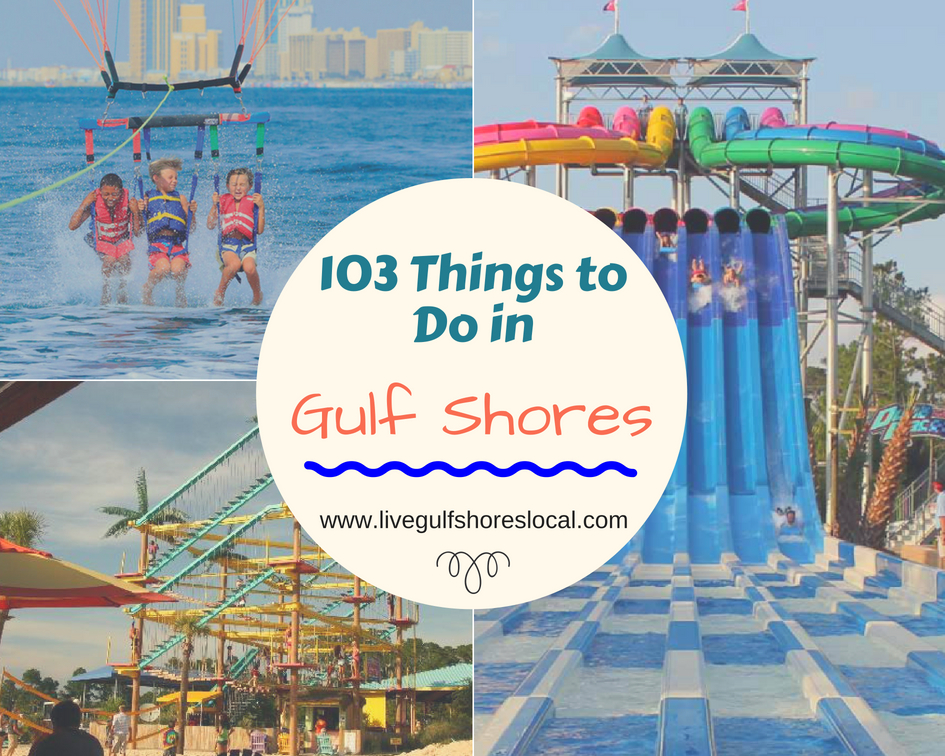 As a Realtor in Gulf Shores, I'm always asked about great things to do at the beach. Well, folks, there's a ton of activities to keep you busy outside of just laying out on our sugar, white sands (which is on the list, of course).
Every activity in this post is for Gulf Shores only. Orange Beach will need its own page. There are some attractions/businesses that offer the same activities, but I'm attempting to make each "thing to do" below unique.
Let's get into it!
Be One with Nature
1. Go on a guided nature and pier walk.
2. Catch dinner off of the second longest pier on the Gulf Coast.
3. Ever tried Geocaching? Well, you can learn about it and do it Gulf State Park.
4. Get away from the condo and stay overnight at one of the park's cabins or lakeside cottages.
5. Park your RV at one of the 496 "full-hookup" sites
6. Rough it by camping out in a primitive site.
7. Take Rover to the newly improved Dog Park on Lake Shelby.
8. Have a family picnic at the Beach Pavilion.
9. Try something new, like a Segway Tour.
10. Try to capture an alligator on camera.
11. Explore the living museum of local plants and animals at the Nature Center.
12. Catch a glimpse of the vast wildlife in the park including alligators, but don't get too close.
13. Hike or bike through the 25 miles of trails that wind through the park and Backcountry Trail.
--------------
14. Check out the hundreds of species of plant and wildlife within the 500 acres of the Graham Creek Natural Preserve.
15. Go bird watching at the Bon Secour National Wildlife Refuge.
16. See lions and tigers and bears at the Alabama Gulf Coast Zoo.
17. Look for sea turtle nests on the beach, but don't mess with them.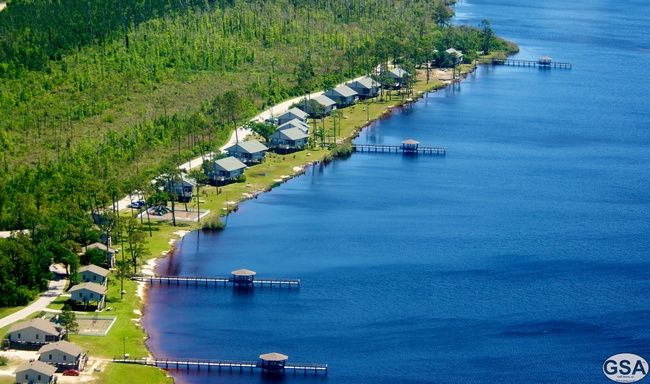 Parks, Recreation, and Health
18. Go for a run on the Fort Morgan Road Trail.
19. Rent a bike at Tiki's Bike Shack.
20. Find a wide range of classes at Glow Yoga.
21. Take a break and treat yourself to a day spa at Spatacular Skincare Health & Wellness Center.
22. Get a Swedish Massage at The Beach Club; then have a nice beachside dinner at their restaurant.
23. Play tennis at the George C. Meyer Tennis Center.
24. Get a Day Pass to workout at the Bodenhamer Recreation Center.
Water Adventures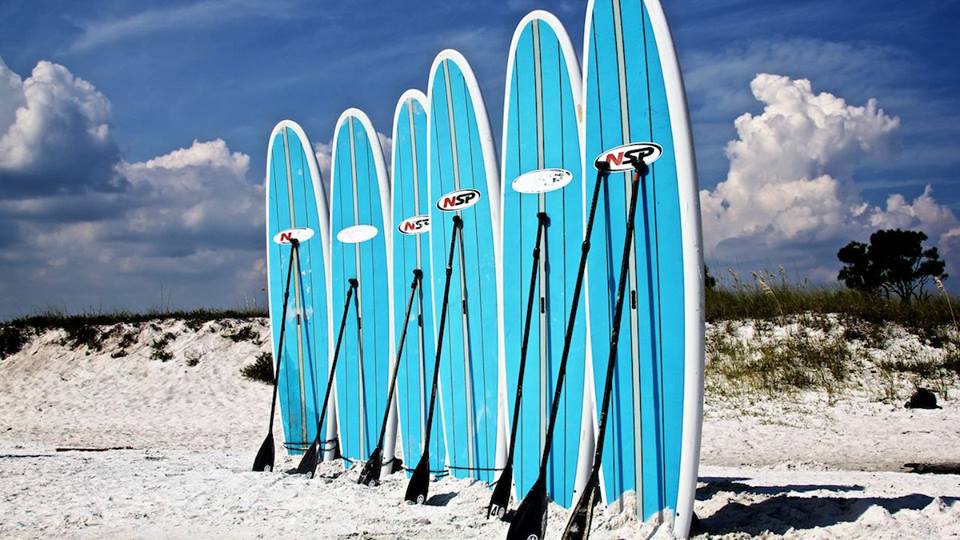 25. Catch a glimpse of bottlenose dolphins on a sunset tour with WildNative Tours.
26. Rent beach loungers at Ike's Beach Service.
27. Do you love being on the water "without a motor"? Try Go Go Kayaks.

28. Schedule a 4- to 12-hour fishing trip with Nicole Fishing Charters.
29. Rent a pontoon boat and spend all day on the water.
30. Try something different and go bowfishing at Fishkabob.
31. You know you've seen it and wanted to do it. Rent a paddleboard at Gulf Shores Boat and Paddlesports Rental.
32. Book a scuba diving charter at Down Under Dive Shop.
33. Go on a Banana Boat Ride at Blue Sky Parasailing and Watersports.
34. Drive to the end of Fort Morgan; then take the Ferry to Dauphin Island.
35. Spend the afternoon on Robinson Island. You'll need some kind of watercraft to get you there. The island is located near Perdido Pass.
36. Jet ski on Little Lagoon.
Golf Anyone?
37. Play a round at any of great golf courses in Gulf Shores:
Refuge Golf Course at the Gulf State Park
Kiva Dunes
Cotton Creek
Cypress Bend
The Peninsula
Gulf Shores Golf Club
38. Check out all of the golf courses in the area here.
39. Play any of the 3 disc golf courses at Graham Creek Natural Preserve.
40. Play against your friends and family in a competitive round of Mini-Golf at Pirate's Island.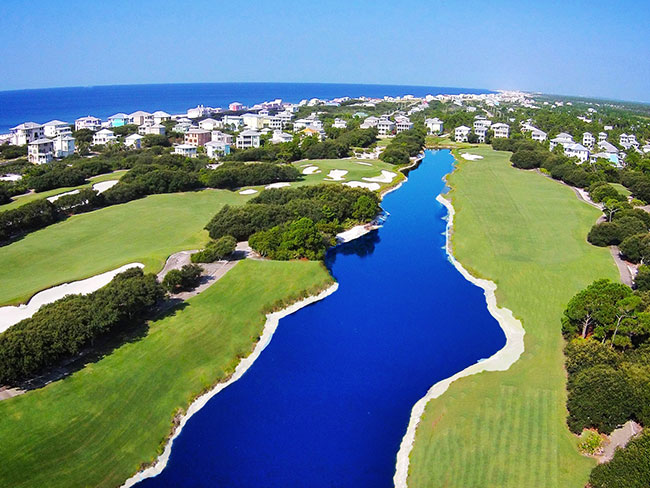 Area Attractions
41. Cool off in all of the 12 water park attractions which include a simulated surfing/boogie boarding attraction.
42. Then, dry off on Gulf Shores' only roller coaster, along with many other amusement rides.
----------------
43. Check your problem-solving skills in the Gulf Coast Escape Room.
44. Take in the ultimate Go-Kart experience at The Track.
45. The Factory is a huge complex filled with trampoline fun and an obstacle course for kids.
46. Catch the latest movie flick at Cobb Theatres.

Things to Do Up Above
47. Lulu's is known for its great food, but did you know they also have a 3-story Ropes Course for the kids? Check it out!
48. If parasailing is on your bucket list, you can visit Pleasure Island Parasail.
49. Catch a bird's eye view of our beautiful beaches from a private helicopter tour from Fly Oasis.
50. Fly through the air from 110 feet above in this amazing thrill ride called Skycoaster . . . located at The Track.
51. Take in the views from above in a Powered Hang Glider with a certified flight instructor, of course.
52. Do something incredible! Take a hot air balloon ride over the coast of Gulf Shores at Taking Off Hot Air Balloon Co.

Free Things to Do in Gulf Shores
53. Spend the day laying out on the beach (a no-brainer).
54. Gather shells along the coast.
55. Go surf fishing.
56. Let your kids burn off some energy at the Gulf Shores Kids Park.
57. Go out to the beach at night with your flashlight to spot crabs.
58. Play horseshoes at Meyer Park.
59. Launch your boat at Lagoon Park.
60. Go bird watching on the Alabama Bird Trail.
61. Take a Night Hike at Bon Secour National Wildlife Refuge.
62. Looking for a skate park? Well, it's at Sims Park, along with baseball and soccer fields.
63. Enjoy a scenic boardwalk stroll at Wade Ward Nature Park.
64. The 15-mile Backcountry Trail is perfect for hiking, biking, running, and nature watching.
65. Go to the beach at dusk to capture our incredible sunsets.
66. Launch a canoe or kayak at the Bon Secour National Wildlife Preserve.
67. Have a romantic dinner on the beach . . . at sunset.
Food and Drink
68. If you want to skip the restaurants, Blalock Seafood and Specialty Market will steam anything from their wide selection of fresh seafood.
69. Try fried cheesecake at King Neptune's Seafood.
70. Check out the huge wine selection at the Sunset Cork Room.
71. Have a cold one at our local brewery, Big Beach Brewing.
72. Indulge your sweet tooth at the Chocolate Corner.
73. Pick up some freshly boiled crawfish at Rouse's Grocery (my favorite).
74. Who doesn't like a fresh, gourmet cheesecake? You can find it at Hope's Cheesecake in Gulf Shores, since 1996.
75. Find the freshest Royal Reds at Billy's Seafood - Open Air Seafood Market.
76. Cool off with the area's only homemade ice cream at Matt's Ice Cream.
77. Alcohol infused cakes, need I say more. You can find them at Rum Sisters.
78. Eat Alligator bites at The Original Oyster House.
79. Build your own milkshake at The Yard.
80. Have a Bushwacker while looking out at the beach at The Pink Pony.
81. Try Cafe Beignet's for a sweet treat from the South.
82. Become a member of the 15-dozen club (oysters) at ACME.
83. Many say that the best Bloody Mary in Gulf Shores is at Bill's by the Beach, just sayin'.
84. Try the homemade plantain syrup at Sassy Bass (goes great with the jalapeno hush puppies).
85. Try a wine smoothie at Speakeasy Spirits.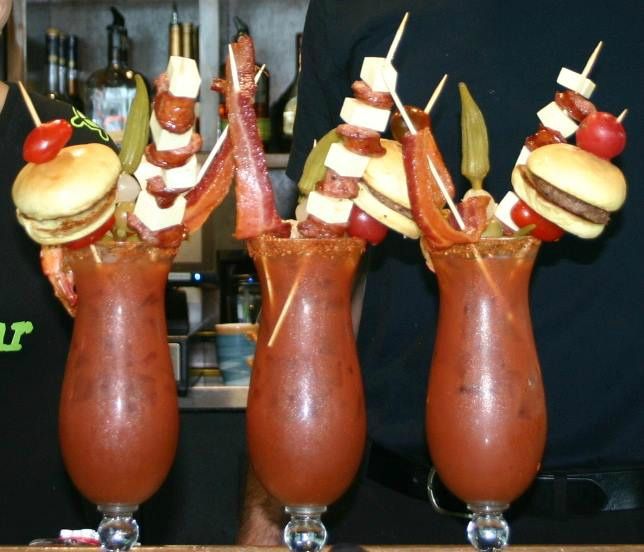 Shopping
86. Either buy a custom piece of jewelry or learn from the pros and do it yourself at Blue Girl Beeding Co.
87. Need incense, hand tie-dyed apparel or other unique gifts . . . check out The Happy Shak.
88. Expand your palette by picking up some handcrafted sauces, infused olive oils, spices, rubs and more at The Saucery.
89. Find a wide variety of specialty gifts and accessories at The Royal Standard.
Entertainment
90. If you time it right, you can take in any of the great events like the Hangout Festival, Oyster Cook Off, and The Shrimp Festival.
91. Shoot some pool at Mudbugs Bar and Grill.
92. Have a foam party at The Hangout.
93. Grab lunch while you watch the boats go by on the Intracoastal Waterway at Tacky Jacks.
94. Karaoke at the Pink Pony Pub.
95. Dine on the beach at Sea-N-Suds (literally). This restaurant is directly on the beach.
96. Check out live music at The Hangout.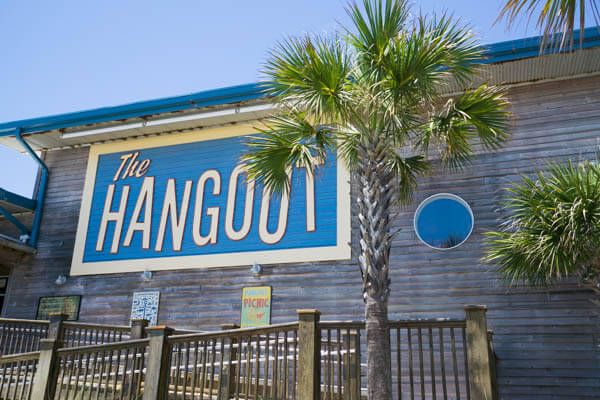 History and Culture
97. Learn about the history of our great city at the Gulf Shores Museum.
98. Love local art? Check out the Gulf Coast Arts Alliance.
99. Fort Morgan is ripe with history and fascinating to see.
100. Check out some of the most intriguing sculptures and pottery from one of the best in the area, Steven Dark.
101. Break things up a bit and catch a staged performance at the South Baldwin Community Theatre.
102. Visit the Butterfly Garden at the Gulf Shores Museum.
103. Bring Sand Castle University to your beach location for instructions on how to build the perfect sand castle.
As you can see, there is a lot to keep everyone busy in Gulf Shores. Many home and condo buyers often purchase in Gulf Shores after visiting for vacation, whether it be for full-time residence, a second home, or an investment.
Are you thinking about a real estate purchase at our beautiful beach? Please contact me. I'd love to share with you what I can do to help you get the best deal.