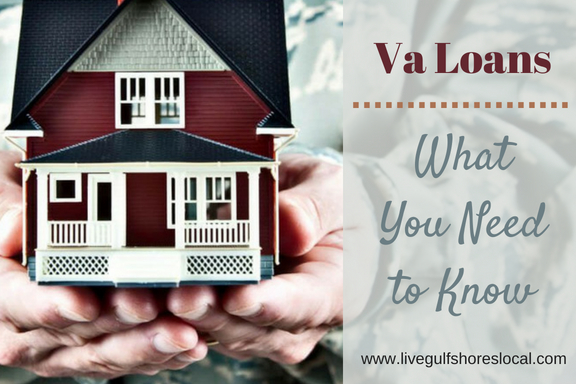 I've never been in the military but I have a deep appreciation for the men and women who serve to protect our country. My granddad served during World War II, my mother retired from civil service with the Navy, and my daughter is a Sergeant in the Army. Very proud.
So before I go into What You Need to Know About VA Loans, I want to say "Thank You" to all of the Veterans who are reading this. You deserve every benefit that is available to you.
Let's get into it!

I'm a Realtor in Baldwin County (south Alabama). So, I'm not a loan guy but I want my current and future clients to have all the facts when it comes to purchasing a home or condo in our area through a VA Home Loan.
Below you will find all of the information that you will need but if you need to speak with a VA Loan lender for greater detail, reach out to me from my contact information below. I have several qualified lenders who can walk you through the process.
Here are the facts if you're a Veteran purchasing a single family home, condo, or new construction in Baldwin County.
VA Home Loans
Who is eligible for a VA Loan?
You should qualify for a VA Loan if you fall into any of the categories below:
You have served at least 90 consecutive days of active service during war-time.
You have served at least 181 days of active duty during peacetime.
You have served 6 years or longer in the Reserves or National Guard.
You are the surviving spouse of a service member who has died in the line of duty or because of a "service related disability".
What are the great benefits of a VA Loan?
If you qualify, a VA Loan is really the best home loan you can get. There are benefits that come with this loan that are unmatched when obtaining a mortgage for a new home.

Zero Down Payment
Let's face it, not everyone has thousands of dollars laying around and if they do, they may want to hold on to it for emergencies. For other mortgage loans, buyers would have to put a substantial amount down in order to just qualify to buy a home. A typical down payment for a conventional loan is 5% of the sales price. An FHA Loan requires a 3.5% down payment but it also has income requirement.
No PMI
Private Mortgage Insurance is put in place to protect the lender if the home owner stops making their payments.
With conventional loans, if the loan amount is greater than 80% of what the property appraises for, you will have to pay PMI, which is typically between .5% to 1% of the loan amount.
Since VA Loans are backed by the Federal Government, PMI is not required making home ownership much more attainable for Veterans.
Flexible Guidelines
You'll find that loan requirements for a VA Loan are much more relaxed than other types of loans. For instance, while other types of loans require a credit score of over 700, many VA Lenders still require a score of 620. This factor alone can benefit the military buyer making owning a home possible.
Great Rates
Some might think that because of all of these benefits the rates must be outrageous. Not the case. In fact, VA Loan rates are not only competitive with other loan options but they could even be lower.
I write a weekly update for mortgage rates for my blog and the latest shows a VA rate that is .5% less than a conventional rate. Of course rates can change daily so for the current VA rates, contact me and I'll connect you with a VA professional.
No Pre-payment Penalty
Some other loans do penalize the borrower for paying off their mortgage early, however, this penalty is prohibited on a VA Loan. Whether a Veteran doubles down on their payments or comes into a win-fall of cash, they will never be charged for paying off their home mortgage.
What are the loan limits and maximum sales prices for a VA loan?
Ok, this can get a little dicey so let's walk through this. The answer to the question above is.....there are no loan limits if you qualify of course (income, assets, credit, etc).
HOWEVER, if you want a 100% VA Loan with no down payment, you will have to stay under a certain dollar figure.
In most counties in the country including lower Alabama (Baldwin County) that figure is $453,100. So, as long as the home you want to buy is under that number, you can reap the rewards given to Veterans outlined in the Benefits section above.
In other words, there is no cap to how much you can borrow according to VA Loan standards.
So, Jeff, I'm a Vet and I qualify for a home that is $600,000 and I really love it.
What now?
The VA requires that you put down 25% of the difference between the allowed loan amount of $453,100 for 100% financing and your sales price.
So, if you wanted to purchase a $600,000 home, the difference between the qualifying amount and the sales price is $146,900.
To purchase this home you would have to put down $36,725.
For any sales price under $453,100, a Vet would have a Zero down payment. Make sense?
No Money Down Does Not Mean No Money "Out of Pocket"
If you qualify for a loan that is under $453,100 and are eligible for the no down payment loan, there are other fees that you will incur during the home buying process. You will need "some" cash.
Earnest Money Deposit
Whenever you buy real estate you will need to offer something in "good faith". This is called Earnest Money. While there is no set amount, there are typical figures to use according to different sections of the country. Figure on putting up an Earnest Money Deposit of at least $1,000 for any property that is $200,000 or more.
Now, please understand that this money is only in place if you default on your contract to purchase. In this case the seller would receive your EMD. As long as the purchase goes on as planned and all obligations and contingencies are met, you (the buyer) will be credited with your EMD amount at closing.
VA Funding Fee
Although you can buy a home with zero money down for the loan, the VA does require a Funding Fee. This fee is determined by the type of military service you're involved in and if you put down any kind of down payment. See below.
Regular Military
Va Funding Fee for Home Purchase of Re-Finance.
| | | |
| --- | --- | --- |
| Down Payment | Fee for First Time Use | Fee for Additional Use |
| None | 2.15% | 3.30% |
| 5% to 9.9% | 1.50% | 1.50% |
| 10% or more | 1.25% | 1.25% |
Reserve or National Guard
Va Funding Fee for Home Purchase of Re-Finance.
| | | |
| --- | --- | --- |
| Down Payment | Fee for First Time Use | Fee for Additional Use |
| None | 2.40% | 3.30% |
| 5% to 9.9% | 1.75% | 1.75% |
| 10% or more | 1.50% | 1.50% |
This fee can be paid in cash OR it can be financed into your loan.
Surviving spouses of a Veteran who was killed during service and Veterans who are disabled due to their service are not required to pay this VA Funding Fee.
Home Inspection
No matter what loan you obtain to buy your new home, you should always get a home inspection. This inspection is optional but it is highly advisable to not bypass this contingency.
An inspection will usually cost between $300 - $500 (depending on the size of the home) but it is well worth the out of pocket expense.
Appraisal
A VA certified appraiser will have to give a value for your new home in order for you to get a mortgage. Some lenders roll this into closing costs and some require this fee to be paid up front. The cost is usually around $300-$400 but is a necessity.
Closing Costs
Whenever you purchase a home you will have closing costs on the buyer's and seller's side. Here is a list of fees that you should expect to see when buying.
Loan Origination Fee - Typically around 1% of the loan amount
Appraisal
Title charges
Credit report
Pre-paid property taxes and home owner's insurance
Daily interest charges
Recording fees
Everything is negotiable when buying a home, so it is feasible to write into your offer that the seller will pay for your closing costs. The VA allows for the seller to pay up to 4% of the sales price for concessions.
Steps to Take When Buying a Home with a VA Loan
1. Talk with a certified VA Loan lender
You will need to get pre-approved with a qualified VA Loan lender. Not only will you have to provide the typical information (income, assets, and credit) but you will also need to get your Certificate of Eligibility. This certificate acts as proof that you meet the requirements to obtain a VA Loan.
There are a few ways to get your COE:
From you VA certified lender: Approved lenders can access a special database to obtain your COE status in no time. Again, I have people. Call me.
You can go online to eBenefits page and do it yourself.
You can go snail mail by printing off this form and mailing it off.
2. Contact a Realtor
You should always have a real estate agent in your corner, also known as a buyer's agent. Do not work with the listing agent of any home that you see for sale because they work for the seller and represent their interests.
A seasoned Realtor will save you money, time, and frustration. If you're buying in Alabama, I'm your man. You can reach me from my contact info below.
3. Start House Hunting
This is the fun part. Once you know what you qualify for, you're able to look for homes that match your specific criteria. If you're working with me, I'll give you your own webpage that lists every home that matches exactly what you're look for. Plus, you are notified every time a new home comes on the market that matches your needs.
Just a couple of days ago I had a client who was notified through this system that a property came on the market that matched her criteria. On day 2, we wrote an offer and it was accepted. The interesting part is that there were other offers on this property as well but because she was notified quick, my client got the home!
4. Write an Offer
Your Realtor will give you advise on your offer based on the real estate market conditions for the area. Once you and the seller have agreed on a price, you will then go through a number of conditions and contingencies before you close. Your Realtor will walk you through the process.
5. Close on Your Home
It typically takes around 45 days to close on a home using a VA Home Loan. As long you provide your lender with everything that they request in a timely manner, your closing should go smooth and close on time.
Additional Resources for VA Loans:
What is a VA Loan? - Bill Gassett
How to Budget When Buying a Home - Eileen Anderson
VA Mortgage Program - Luke Skar
If you are thinking buying a home in lower Alabama, please contact me through the information below.