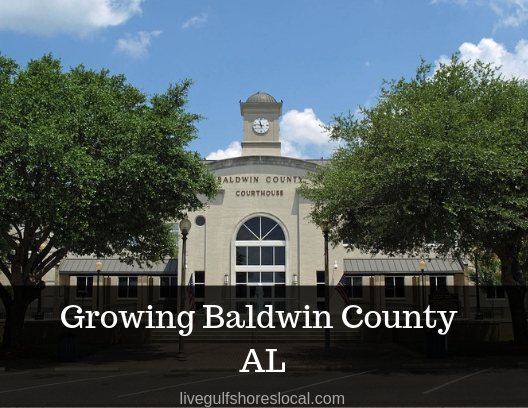 For those who already live in Baldwin County, we already see the explosion of growth. Brand new real estate developments are popping up all over the county from Bay Minette to Orange Beach. New highways are making life easier for the millions who visit our beaches every year. Big business is moving in. It surely is exciting to watch.
Baldwin County Growth
Here are some other facts from the Baldwin County Economic Development Alliance that you may haven't heard of:
Baldwin is tied for the 8th fastest growing Metropolitan Statistical Area in the country.
Fastest growing county in Alabama
51% growth since 2000
The population is over 212,000 with projected population of 265,000 by 2030
Regional labor force is over 500,000
Has 8 EDPA Advantage sites which is the most in Alabama
1 in 10 residents have a graduate degree
Listed in Forbes Magazine as one of the Top 50 Places to Grow a Business
The Alabama coast accounts for over 1/3 of the state's tourism revenue.
The Cost of Living Index is 89 compared to the national average of 100.
Quality of Life index of 178 which is over the national average of 100
More than 170 new businesses are started in Baldwin County each year.
According to Lagniappe Mobile, there weren't any mega business deals for 2018 but the county still lead the state for new business coming in. They also lead Alabama for workforce attraction and job growth for the year.
With signs of more incoming business and even a few mega deals entering the area, Baldwin is likely to continue breaking records for economic growth and population.
Growth in Real Estate
As a busy Baldwin Realtor, I see the growth first hand with new residents coming to live here from all over the country.
The little known gem of the south is not so little known anymore.
Real estate sales have grown by 51% since 2010.
New construction has grown 90% since 2010.
The county was named in the Top 10 Places Home Building Markets by Builder Magazine
Whether you're looking for a nicer quality of life or just looking for a better career, Baldwin County may just be a perfect fit for you and your family.
For more information about the area or if you need details about the real estate market, please contact me. I'd love the opportunity to help you transition into living in this great county we call "lower Alabama".