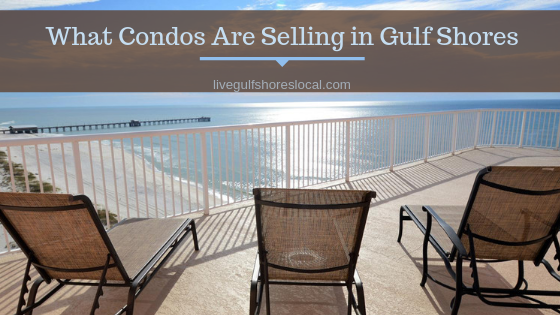 Beautiful Gulf Shores and Orange Beach attracts over 6 million visitors annually and they all need somewhere to stay! Most of them love to rent out one of the many condos that are available overlooking the gorgeous emerald waters of the Gulf. It's all about supply and demand......and demand is strong. For many years, investors and second home owners have been filling a need by purchasing Gulf Shores condos to not only have a place of their own but to also create a second income for themselves.
Each month you'll find all of the condos that have sold in Gulf Shores for the previous month here on this site. You'll see the address, the name of the building, square feet, price per square foot, and of course the selling price. This is great information to have should you decide to buy your first investment condo or add to the many you already have in your real estate portfolio.
So let's get to it. Here is....
What Condos Are Selling in Gulf Shores - April 2019

Not too bad for a small, coastal Alabama town, huh? Here are how the numbers work out for all of the condos sold last month in Gulf Shores.
64 condos sold
The biggest condo had 2,511 square feet and the smallest offered 420.
The average square feet was 1,099
The average selling price was $287,545
The most expensive condo was $899,000 and the least expensive was $120,000.
The average price per square foot was $271.
The listing to selling price ratio was 95%.
The average "days on the market" was 93.
If you've been thinking about buying or selling a condo in Gulf Shores, please reach out to me. I know this community and I know real estate. I can advise you on pricing in order to help you realize the best possible price for your condo and explain how our current market conditions are doing. Let's talk!