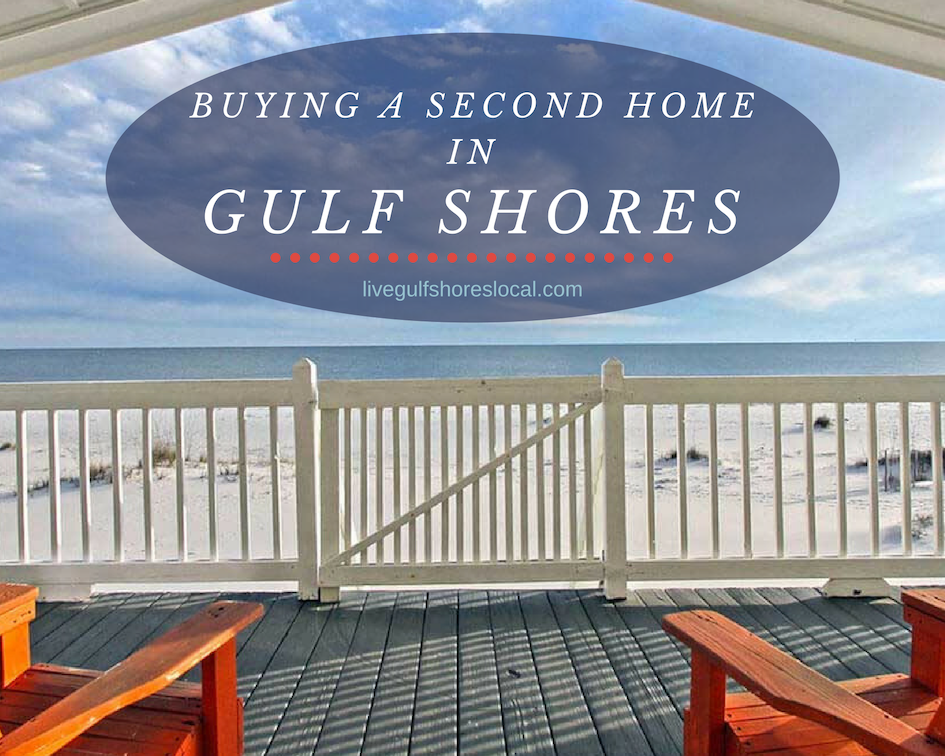 Ahhh, the thought of having your very own getaway retreat where you can forget about work and just relax is very tempting for most of us. Whether it's a cabin in the mountains, fish camp on the river, or a condo on the beach, owning a second home is not necessarily reserved for only the super rich. There are, however, some things to think about before taking the plunge.
As a Realtor in Gulf Shores I see buyers purchase property for 4 major purposes:
Full time residence
Second home only
Second home / investment property
Investment property only
With that being said, the purchase of a property in Gulf Shores can also evolve. For instance, you may buy a second home for investment purposes and then decide to move to Gulf Shores full time. We all have our own reasons but here we're going to delve into all the aspects of......
Buying a Second Home in Gulf Shores

The Benefits
If buying a second home will not put you in a bind financially, there are many benefits of purchasing in Gulf Shores.
You will own property on one of the most beautiful beaches in the country. The white sandy beaches of the Alabama Gulf Coast are wide and easy on the feet. I grew up in Virginia Beach and let me tell you, there is no comparison. The sand is super fine and invites you to take off your shoes. The Gulf of Mexico water is also enticingly gorgeous with its varying shades of emeralds and blues. While living here you'll find the urge to constantly whip out your Iphone to take yet another picture.
Gulf Shores has not only been labeled "paradise island" but it is also known as "the little known gem of south". Yes, the tourism market is huge down here but the Alabama Gulf Coast footprint is so large (with 32 miles of shoreline), there is plenty of room for folks to spread out.
Buying a second home in Gulf Shores can not only give you and your family a beautiful tropical retreat but you can also capitalize on the many visitors that love to come hear year after year. Over 6 million tourists flock to our beaches annually, giving property owners extra incentive to purchase here and make some extra rental income when they aren't using the property themselves.
Finally, Alabama has one of the lowest property tax rates in the country (if not the lowest). The overall cost involved in buying a second home in Gulf Shores should be far less than say in, Florida. Insurance also tends to be less expensive as well.
Running the Numbers
Is buying a second home in Gulf Shores just a fantasy or could it be a reality? You may be surprised how many home buyers pay cash for property here at the beach but for most of America, you'll need to get a mortgage loan. For second homes, you'll need to obtain a conventional loan since government loans will not apply to second home purchases.
Down Payment. The amount of your down payment can depend on a number of factors like your credit score, cash reserves, and overall financial stability. While I think that most lenders would like to see a 25% down payment, I work with a local lender who only requires 10% as long as the buyer is not relying on potential rental income to qualify for the property.
Contact me for recommendations on local lenders.
Debt to Income. To qualify for 2 mortgages (first and second home) you'll need to meet certain debt to income guidelines. Typically you'll need to make a strong enough income to cover both mortgage payments and not go over a debt to income ratio of 41%.
Credit Score. Obviously, the higher your credit score is, the lower interest rate you'll have to pay so be sure to stay on top of that score! Here are a few tips to help that score rise:
Resist the urge to open any new accounts. If you know that you may be purchasing a second home in the near future, keep the accounts that you have. New accounts or inquiries drop your score by 10% for each account.
Don't close old accounts. Believe it not, closing old accounts can actually drop your score since the average age of all of your accounts makes up 15% of your credit score.
Pay down balances. The amount of available credit that you have is your credit utilization ratio. Credit utilization accounts for 30% of your score. If you are able to get your credit card balances below 15%, you will see a huge jump in your credit score.
Pay on time. Well, this is obvious but it's important to know that your payment history makes up 35% of your score.
PITI. The four categories that make up your mortgage payment are principal, interest, taxes, and insurance. While there are a plethora of mortgage calculators online (which are very helpful), they only account for principal and interest. You'll have to get with your local real estate professional (that would be me for Gulf Shores) to find out what the property taxes are and what to expect for insurance costs.
Miscellaneous Costs. Be sure factor in everything before making the big move. You may have HOA fees for the new neighborhood. Moreover, you will have HOA fees should you decide to buy a condo instead of a single family home. Also, don't forget to factor in utility costs, trash, and internet/cable costs.
It's important to note that if your second home is going to be a condo, your HOA fee will include common area insurance (99% of the time). So, you will not have to purchase home owner's insurance for a condo. The only insurance that is recommended that you purchase for a condo is for contents and liability. This is called an HO-6 policy and it's relatively inexpensive.

Single Family Home or Condo
Most people associate real estate in Gulf Shores with condos but in reality there is a good mix of condos and single family homes. In fact, just last month there were 60 single family home closings for Gulf Shores. So, the question of which route to take really depends on your needs. Yes, there are pros and cons for each option so let's talk about a few.
Single Family Second Home. This option will likely give you more privacy and parking probably won't be an issue. Depending if the home is on the beach or not, you are likely to have more square feet with a single family home. On the other hand, if the property is directly on the beach, single family homes tend to be more expensive than a condo. Because you own the property in its entirety (structure and land) you can basically do what you want as long as you adhere to city codes and requirements.
Condo. One of the great benefits of buying a condo as a second home is the shear amount of options that you have. There are a ton of options in regard to price, location, and amenities. For example, you could easily find a beachfront condo with 3 bedrooms for under $400,000 but you would never find a single family home on the beach for that price. Yes, with the neighbors so close, privacy can be somewhat lacking but there is something else to consider. Condos tend to bring with them a sense of security. Not only will many of these condo communities have actual security but having close by neighbors keeping an eye on things can also make you feel more secure. Personally, I feel that a crook would more than likely break into a single family home rather than a condo any day.
Speaking of properties that are on the beach, both single family homes and condos will own a portion of the beach as well. The owner will actually own the beach up to the mean high tide line. So, the wider the footprint of the property, the more beach you own. With a condo, there will obviously be a wider footprint for the property and since condo owners share an equal ownership of the property, they all own a larger piece of the beach.
Final Thoughts
Owning a little piece of heaven on the Alabama Gulf Coast can be a dream come true but it comes with a price. However, if the numbers work out for you (especially if you decide to make some rental income on the side), you will always have your own getaway spot at one of the best resort towns in the south.
Weigh your options and if it feels right, give me a call. I can help you find the perfect Gulf Shores second home, advise you on pricing, and explain our current market conditions. I know the area and I know real estate. We are a perfect match!
ALL GULF SHORES CONDOS FOR SALE BY PRICE

$100,000 to $200,000 – $200,000 to $300,000 – $300,000 to $400,000
$400,000 to $500,000 – $500,000 to $600,000 – $600,000 to $1,000,000
ALL GULF SHORES SINGLE FAMILY HOMES FOR SALE BY PRICE

$100,000 to $200,000 – $200,000 to $300,000 – $300,000 to $400,000
$400,000 to $500,000 – $500,000 to $600,000 – $600,000 to $1,000,000