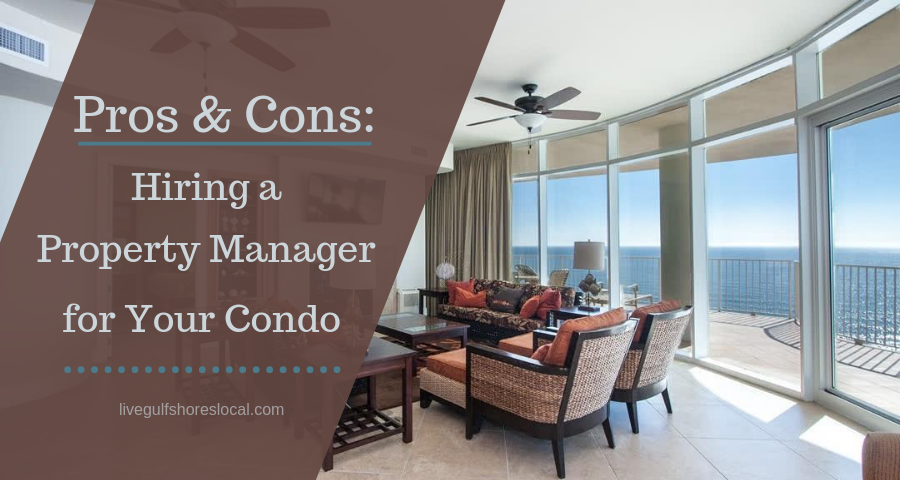 It doesn't take long to figure out that real estate investors for Gulf Shores and Orange Beach are purchasing condos every day here at the beach.
With over 6 million visitors flocking here every year, investors are well aware that demand is on point. Well, the next thing to consider would be the return on their investment. While it may be tempting to manage their property on their own, Liquid Life Vacation Rentals of Orange Beach says, "it really comes down to time and effort".
Now, I'm not a property manager but a busy Realtor in Gulf Shores and Orange Beach who works with them continually for my clients. Here are my thoughts on the subject.
Should You Hire a Property Manager for Your Investment Condo?
If you're in the market to purchase real estate in Gulf Shores and Orange Beach, here is your food for thought of the day. Take a look at these advantages and disadvantages in order to help you make a better financial decision.
Pros
Property managers are local and can be at your condo within minutes in case of an emergency. This is an obvious "plus" for out of town owners.
Exposure to the marketplace is crucial to having a strong bottom line. Properties managers employ marketing specialists who will write copy and assure that your condo can be seen on the web.
They already have relationships with local vendors who are great at what they do (like plumbers, electricians, painters, etc).
Property managers have a better chance at increasing your occupancy rate which in turn, improves your bottom line of course.
They are already experienced with local and state regulations concerning rentals including the responsibilities of the tenant and the landlord.
The property manager is the "go to" person when it comes to communication with the tenant. This is especially helpful when it comes to emergencies, general questions, and the dreaded complaints.
Your condo is regularly maintained and cleaned, saving you additional time and effort.
As with all real estate transactions, your prices must be competitive in order to be noticed by renters. Property managers are up to date on proper rental rates in Gulf Shores and Orange Beach, giving you an advantage in an ever changing marketplace.
Utilizing a property manager gives you peace of mind since you don't have to "touch anything". They do it all. You reap the benefits.
Cons
Well, this is the elephant in the room - how much do they charge? Everyone who performs a service deserves to get paid and property managers in Gulf Shores and Orange Beach charge anywhere from 15% to 32%. The rate really depends on the size of the company. There are a few extremely large companies that have big staff and overhead. There are mid-sized companies that do a great job. And, there are 1 person operations as well.
The cost for this service is really the only "Con" that I can think of but you are hiring someone to give you a "hands off" experience with your condo investment.
As mentioned above, hiring a property manager really comes down to time and effort. If you live nearby and have some time on your hands, you probably can manage your beach condo on your own. If not, you should join most other investors by contracting with a company that can take care of everything for you.
I definitely have some thoughts on this matter and know who to recommend. Some companies are great at attracting new renters. Some have better customer service. Some gouge you for every cent possible and others have great rates.
If you're in the market to purchase a condo in Gulf Shores or Orange Beach, reach out and put me to work!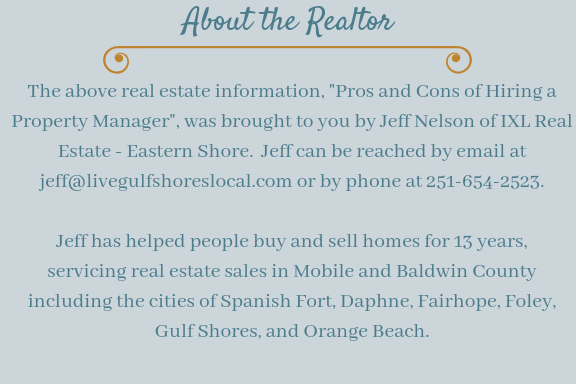 ALL GULF SHORES CONDOS FOR SALE BY PRICE

$100,000 to $200,000 – $200,000 to $300,000 – $300,000 to $400,000
$400,000 to $500,000 – $500,000 to $600,000 – $600,000 to $1,000,000
ALL ORANGE BEACH CONDOS FOR SALE BY PRICE

$100,000 to $200,000 – $200,000 to $300,000 – $300,000 to $400,000
$400,000 to $500,000 – $500,000 to $600,000 – $600,000 to $1,000,000