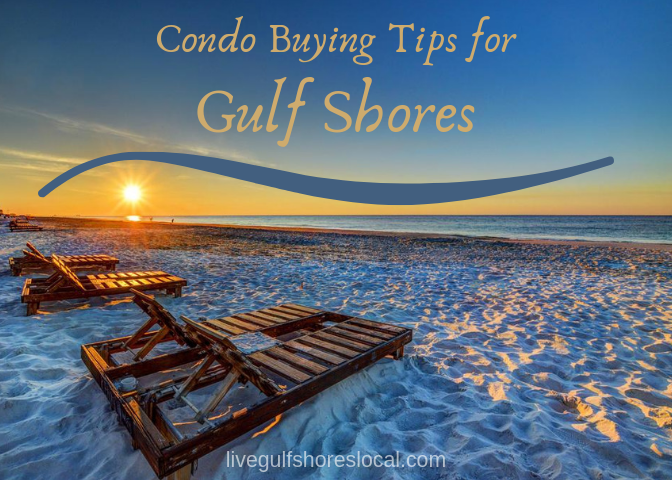 Gulf Shores attracts buyers from all over and many of them are looking into the condo real estate market. Here's a tip that most buyers don't think about at all, however, it's more important than you may think.
Condo Buying Tip #3 - Know How the Construction of a Condo Complex Can Effect You
As you can imagine, there are "at least" 80 condo communities in Gulf Shores of all shapes and sizes. With that being said, they are typically constructed in one of two ways: wood framed or pour in place concrete. Both get the job done and are safe but there are a few differences that you should be aware of.
Wood framed Condo Construction
In Gulf Shores, the only condo communities that you'll find that are wood framed (or stick built) will be complexes that have 4 stories or less. Sailboat Bay is a good example of this.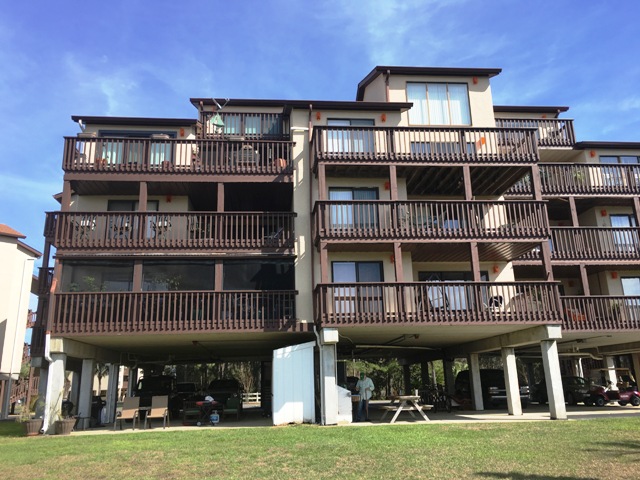 Sailboat Bay is a large complex of 184 units with many different buildings. Some buildings have 4 stories, some have 3, and some have 2. As you can see from the picture above, all of the parking is on the ground floor with 3 living floors above. There are pros and cons to living on each of the floors but a common complaint with living in a wood framed building is the noise from the surrounding units. Most of the time, the noise issue comes from people just walking around in their own unit.
In the example above, the top level obviously won't have to deal with this issue but the bottom two levels will. I actually have personal knowledge of this as I used to live in that middle row on the left. In our case, yes, you heard some noise from upstairs but you learn to live with it.
Other examples of noise with wood construction are:
Plumbing - toilets flushing for example
Doors slamming
People noise - talking loud or music
Creaky floors
Dogs barking
I lived in Sailboat Bay for 2 years and it wasn't that big of a deal. I also knew people who lived there for over 20 years and it wasn't a big deal for them either. Sometimes you have to weigh the good and the bad with any real estate purchase and this community has a lot of good.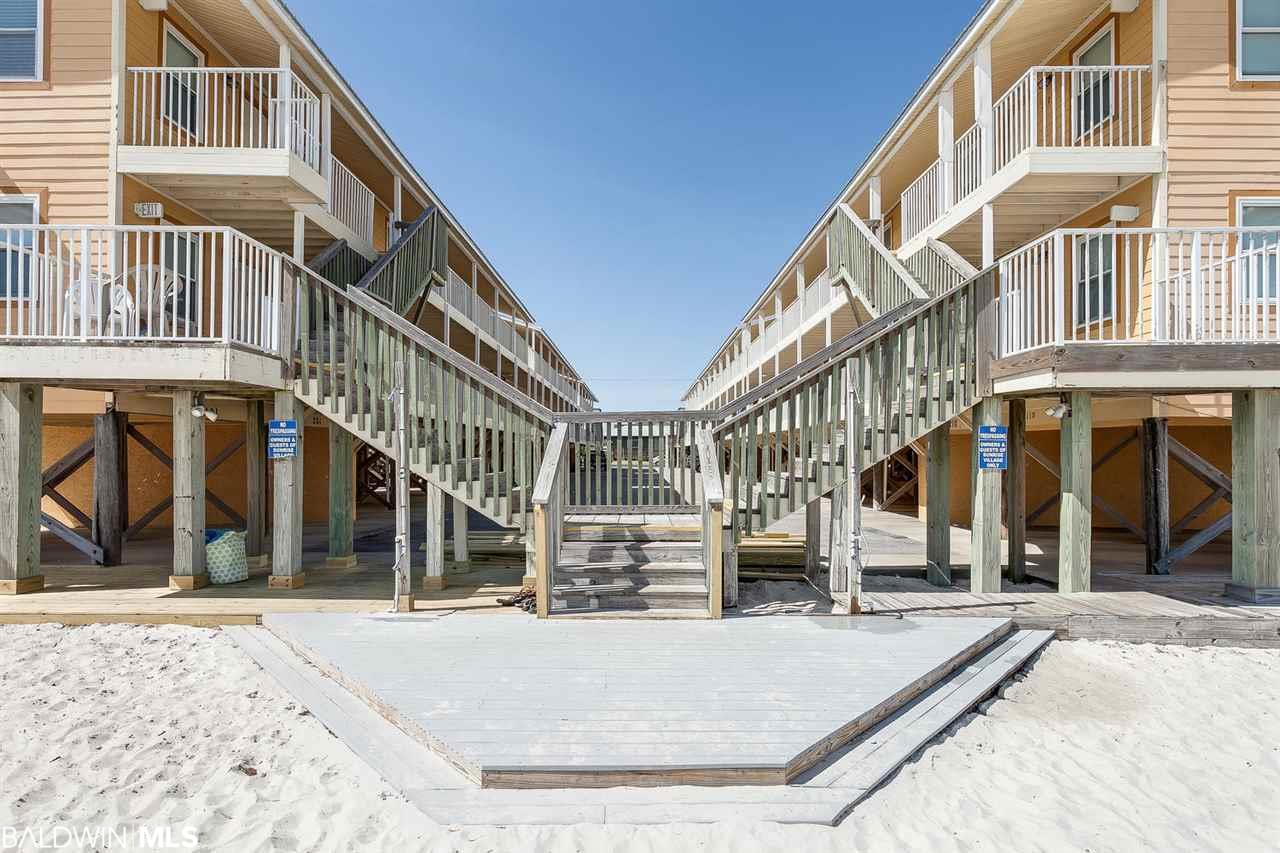 Sunrise Village is another good example of a wood framed condo community in Gulf Shores. Here you see a little different set up but the same construction.
Buying a wood frame condo will be no different than buying a wood framed single family home (which most of live in). The difference is that we can't yell at our neighbors to walk more softly like we could if we were in our own house. Another obvious point to consider with wood framed construction is that its flammable but that's why we have insurance....right?
Most of the benefits to wood framed construction seems to lean toward the builder:
Less expensive
More versatile
Easy to transport
I'm really not trying to discourage anyone from buying this type of construction for their next condo. Remember, you take the good with the bad and weigh your options.
Another plus to wood framed condos is that they tend to be less expensive to buy. I just searched the MLS for all condos for sale in Gulf Shores and there were 80 of these units for sale under $250,000.
Concrete Condo Construction
With this type of construction, you're either going to see concrete block or poured in place concrete condos in Gulf Shores. Poured in place concrete construction (or PiP) is vastly used, especially for the taller towers. If I had to guess, I would say that over 75% of Gulf Shores condos use PiP construction. All of the buildings that are over 4 stories will utilize concrete.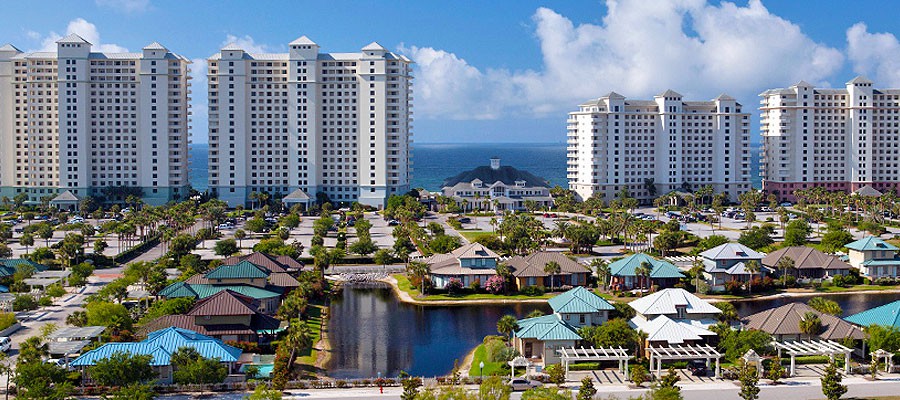 This picture will bring an element of familiarity to you for Gulf Shores condos. The Beach Club is isn't a typical community at all but its construction is for condo towers along the beach.
So, what are the "pros" to buying a condo with concrete construction?
Extremely durable
Low maintenance
Doesn't rust, rot or burn
Resistant to wind and water
Non-combustible
Energy efficient
Very effective soundproofing material
Since concrete construction usually lasts 2 to 3 times longer than other building materials, why is this important to the condo buyer? Every building will break down over time, just like your own personal home. With condos, you own the living space within the unit and the building itself is jointly owned by everyone. So, every once in awhile, there may be special assessments that the owners will have to pay to maintain the building. For example, the roof or windows may have to be replaced in 20 years. Concrete construction is more durable and should cost less to maintain over time.
Because concrete retains heat during the cooler months and reflects the sun during the hotter months, your HVAC costs should be less expensive as well.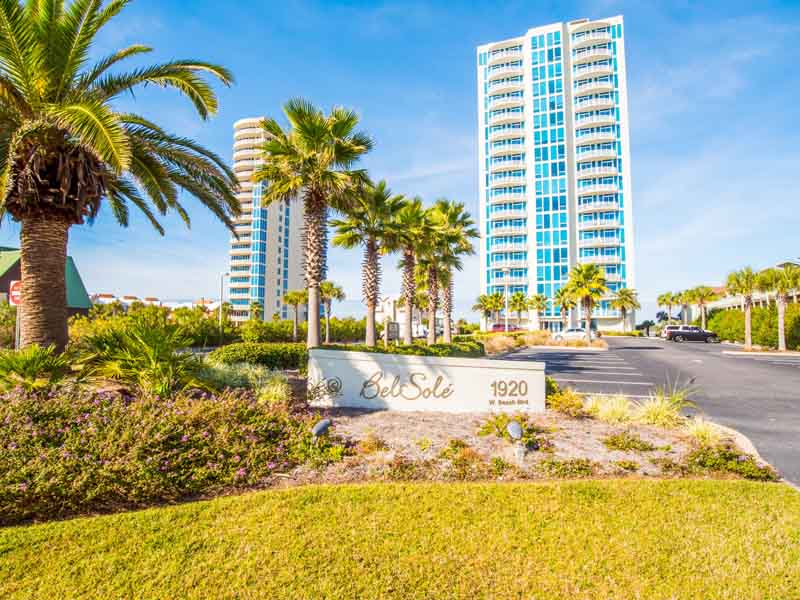 Bel Sole is another beautiful example of concrete construction for Gulf Shores condos.
The only real downside that I can see for the condo buyer is cost. Concrete buildings cost more to produce and that cost is passed on to the consumer. At the time of this writing, the average cost for a condo with PiP concrete construction was $458,616. The lowest priced condo was located in The Dunes and was priced at $214,900. The highest priced is in Oceania and had a price tag of $1,769,000.
When considering the construction of your next condo purchase, it really comes down to price, location, amenities, and your comfort level. Determine your priorities then contact me for assistance. I'll help you find the perfect place as well as advise you on pricing strategies and the current market conditions.
Call/Text/Email today for all of your real estate needs!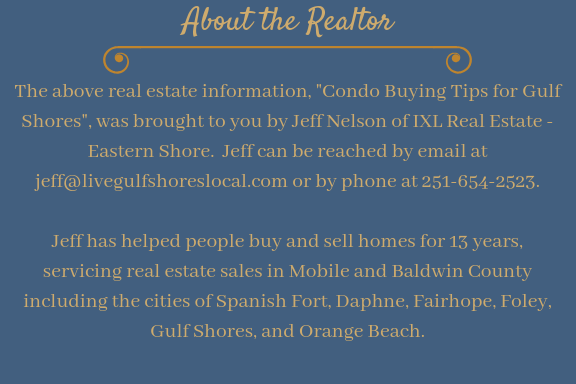 ALL GULF SHORES CONDOS FOR SALE BY PRICE

$100,000 to $200,000 – $200,000 to $300,000 – $300,000 to $400,000
$400,000 to $500,000 – $500,000 to $600,000 – $600,000 to $1,000,000