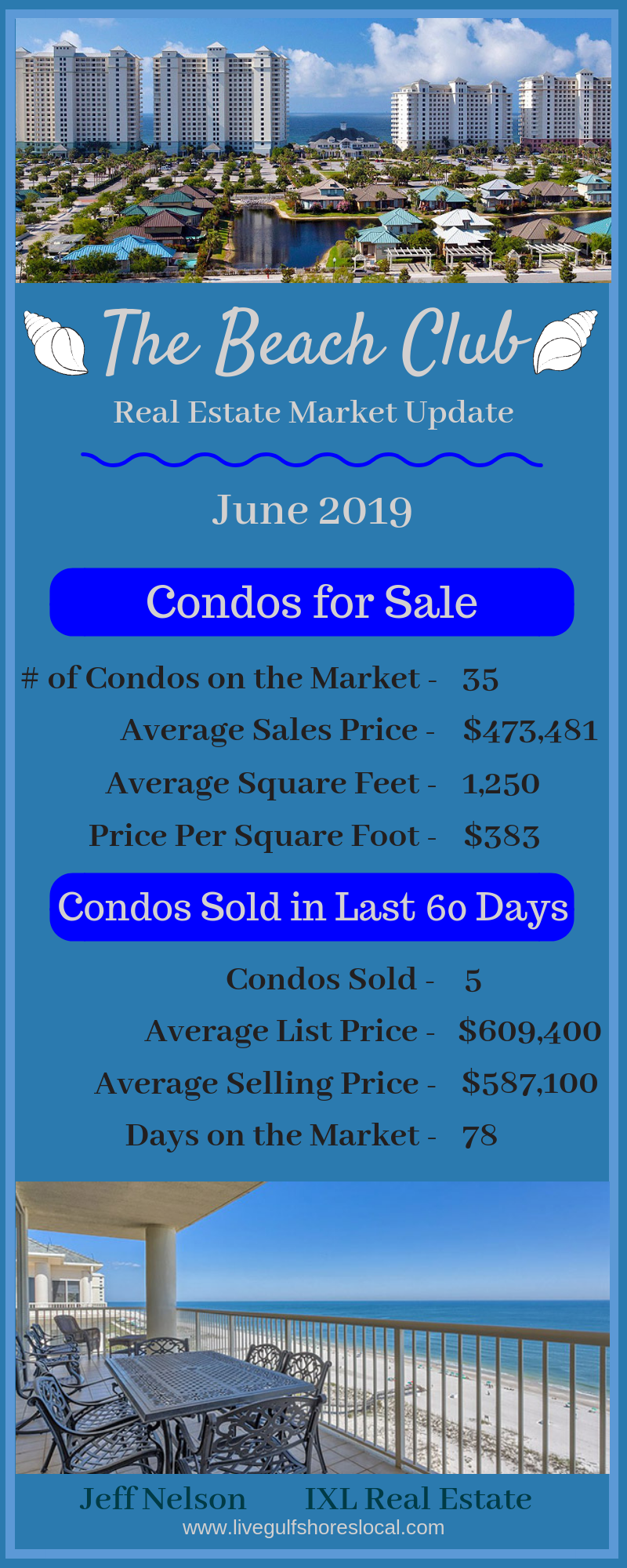 The Beach Club is located in the Fort Morgan section of Gulf Shores and is one of the most popular condo communities with new buyers and tourists. The real estate market at The Beach Club is always steady and it's not showing any signs of slowing down.
Buyers, owners, and renters love the idea of having everything you need to keep you busy all in one place. The Beach Club is one of 2 complexes on the Alabama coast that offers the most amenities to the folks who stay here. Be sure to check out the link at the end of this article to see more information about this awesome place and all condos that are currently on the market here.
Here are your current stats for June 2019
Condos For Sale in The Beach Club
Although there are 35 condos for sale in this community, don't let that bug you. This is a huge complex with 4 separate towers and 600 units so the amount of condos that are for sale only represents about 6% of the total.
There are a wide variety of floor plans in The Beach Club which offer buyers various options in price and layout. The lowest priced condo has 1 bedroom and is priced at $309,000. This unit has 694 square feet. The highest priced condo is selling for $799,000 with 4 bedrooms and 1,968 square feet. Most everyone who wants a second home, full time residence, or investment property here, should be able to find something they like.
At the time of this writing, the median number of days on the market is 85.
Condos Sold in The Beach Club in the Last 60 Days
There were 5 closings in the past couple of months at an average selling price of $587,100. That's not bad at all and it shows you that there are plenty of buyers who are willing to purchase beachfront properties in Gulf Shores. Of course, The Beach Club is just one of about 80 condo communities in the city.
The most expensive condo sold for $949,000. This unit offered 5 bedrooms, 5 baths, and 2,636 square feet. Wow! The least expensive condo sold for $479,500 and has 3 bedrooms, 3 baths, and 1,315 square feet.
All of the units will have full southern views of the Gulf and access to an incredible amount of amenities.
The average price per square foot was $382 and the average listing to selling price ratio was 96%. The Beach Club is still in a slight buyer's market.
You may be looking for something more for yourself or for investment but in either case, The Beach Club is a winner. For more information about this community and to see all of the units that are on the market, please visit Condos for Sale in The Beach Club.
If you need rental income history, more information, or an appointment to see any of these condos please contact me at:
Jeff Nelson
IXL Real Estate – Eastern Shore
251-654-2523
jeff@livegulfshoreslocal.com