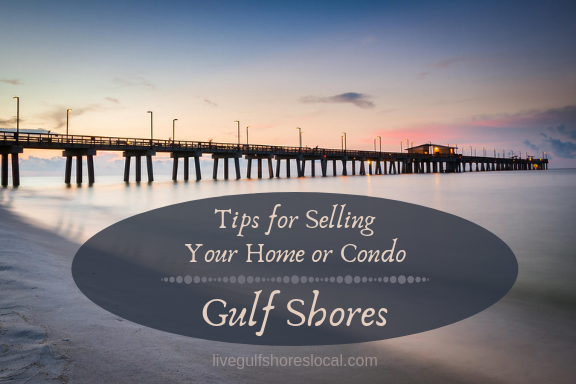 You've reached one of the largest, most comprehensive real estate sites in the region and this is the first installment for the many tips to selling your home or condo in Gulf Shores. Please check back often as this list will continue to grow.....
The real estate market is a fast paced business so if you've been thinking about selling your Gulf Shores home or condo, you should absolutely work with a Realtor (that would be me of course). There are many articles written about this subject but here are some of the key reasons why.
Home or Condo Selling Tip #1 - Work with an Experienced Realtor
Yes, I'm biased but you wouldn't ask your dentist to fix your back pain, right? It makes total sense to work with a professional who does this work every single day.

Pricing
An experienced Realtor will know how to properly price your home or condo to sell. If someone were to ask me what is the biggest tip for selling, coming up with the right price would be it.
There is so much more to figuring out the right sales price than just looking at comparable sales. A Realtor should be able to analyze real estate conditions to get the true pulse of the market. I do this constantly and relay this information monthly.
What does the listing to selling price ratio tell you?
How many home listings have expired? Why?
What are the growing trends in the market?
Why are some neighborhoods getting better prices than others?
These are all good questions to ask when determining the right price. If you price too high, your home will sit on the market and go stale. If you price too low, you leave money on the table.
Visibility and Exposure
Marketing real estate is so much more involved than just putting a sign in the front yard these days. In today's digital world, the vast majority of buyers are looking for homes and condos online so your listing needs to be seen. The key to getting maximum exposure for your listing is to work with a Realtor who is internet savvy.
Every agent in the country will probably have a website that their brokerage company gave them but will anyone know about it? How will people find it? If they can't find their site, how will they find your listing?
Social media is another important tool that so many home and condo buyers are utilizing nowadays. The bottom line is, you should work with a Realtor who is up with the times.
For instance, this site that you're on right now is one of the largest real estate sites in the area. There are over 1,200 pages here with well over 2 million words typed into it. Over 500 pages of this site show up on the 1st page of Google. What are the chances that your listing will reach more home buyers with this type of exposure?
Scheduling & Handling
When trying to sell your home, a Realtor will virtually do everything for you including:
Advice on preparing your home to sell
Staging advice to attract buyers
Getting feedback from showings
Negotiating offers
Working with inspections and more negotiation
Staying in constant communication with the buyer's lender and title company
and much more.
Realtors do get a fee for their expertise but in the end, your real estate experience with them should leave you with less stress and headache (and possibly more money).
Are you wanting to sell your Gulf Shores home or condo? Call/text/email today! Put me to work and let me show you what I can do for you.