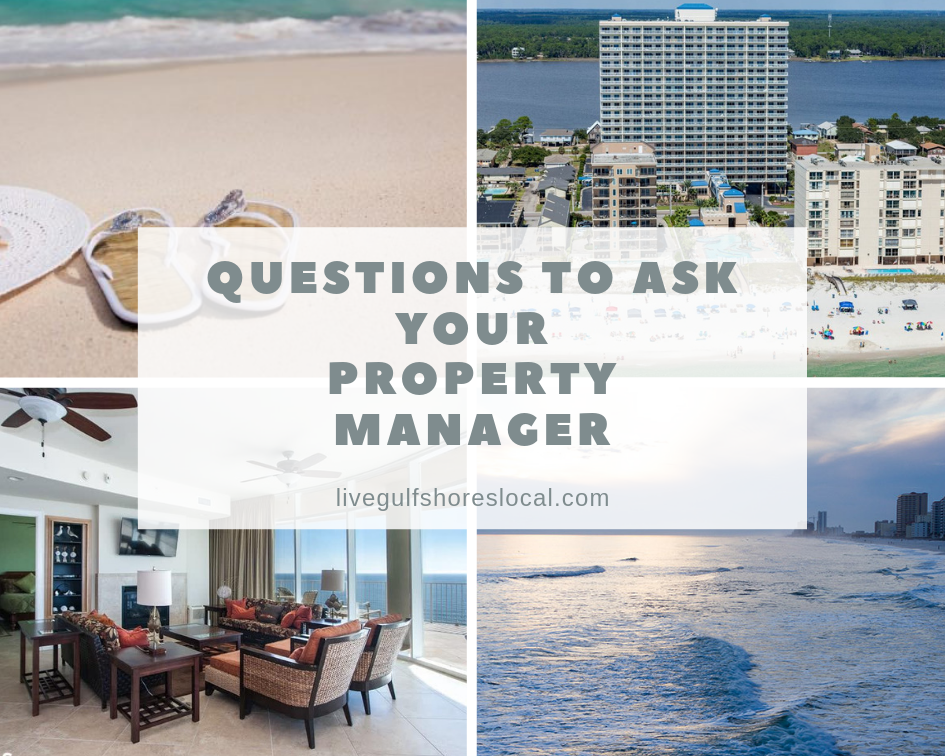 On the Alabama Gulf Coast, there were 1,477 condos that sold in Gulf Shores and Orange Beach for 2018. Plus, that doesn't even include single family vacation homes. The market is super hot here and it has been for a long time. Vacationers, second home owners, and full time investors have figured out that "lower Alabama" is the place to be for lower real estate prices and one great beach.
With over 6 million tourists flocking our area each year, they have to stay somewhere and most of them choose one of our Gulf front condo communities or beach homes. And, since there is so much demand for short term rentals, there is a great need for property management companies.
We have a few of them. Some are very large corporations and some are small "mom and pop" operations but all provide a needed service here at the beach.
Disclaimer: I sell these properties and don't manage them so I have no vested interest in any particular property management company. Through this article, I'll reference a few of the companies at our beach. While I'd be happy to refer you to one or two, you should always do your research.
For that reason you should consider these.......
Questions to Ask a Property Management Company for Your Vacation Home or Condo
How well is the vacation rental business doing in Gulf Shores and Orange Beach?
Well, I think we all know the general answer to this question but your property management company should have more details regarding our local market.
What are the peak months off-peak months?
How good is the "snowbird" market?
What types of properties do better than others?
Do people tend to prefer Gulf Shores over Orange Beach or vice versa?
Your property manager should have a good solid knowledge of the area and the local rental market.
For instance, here is an attractive performance report given to us by Evolve Vacation Rental Market....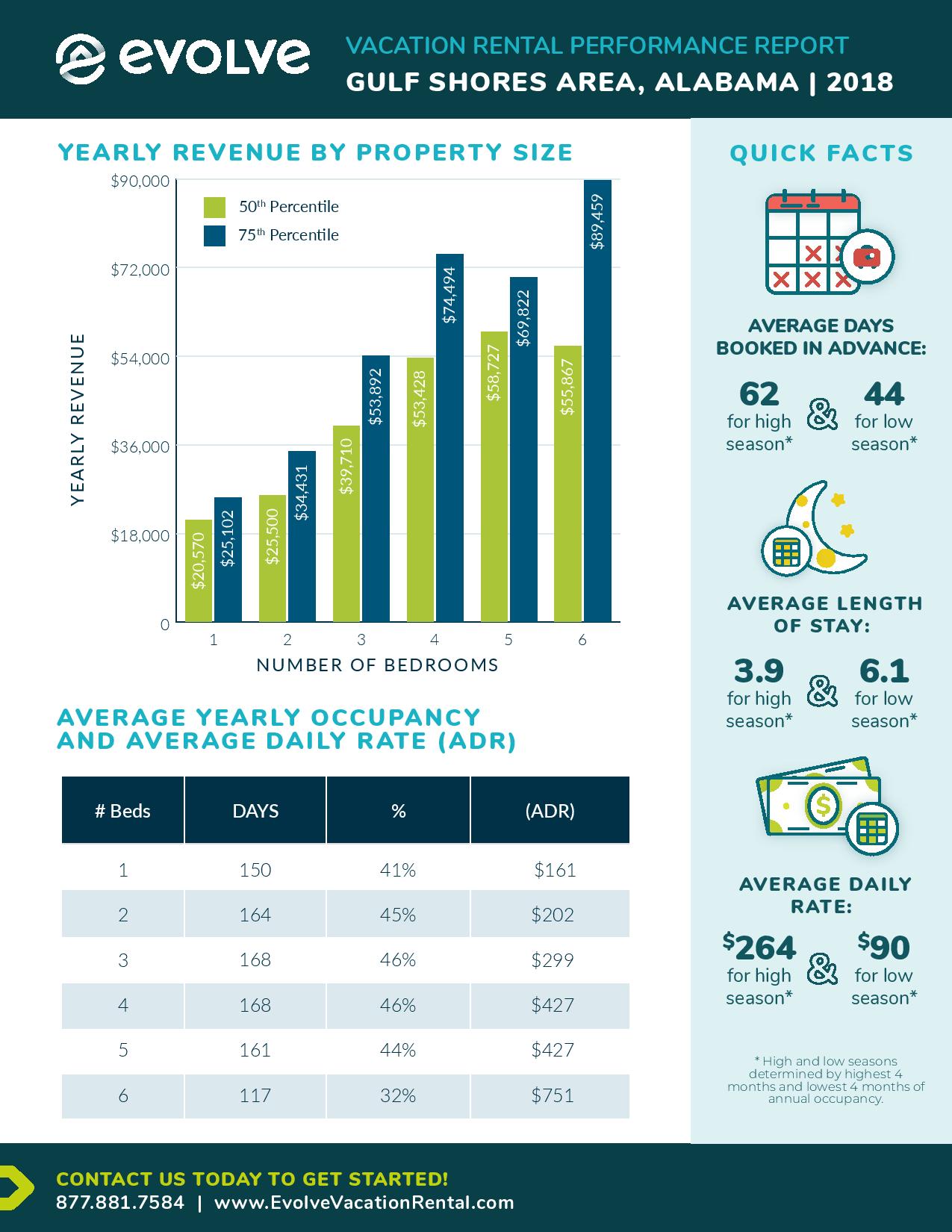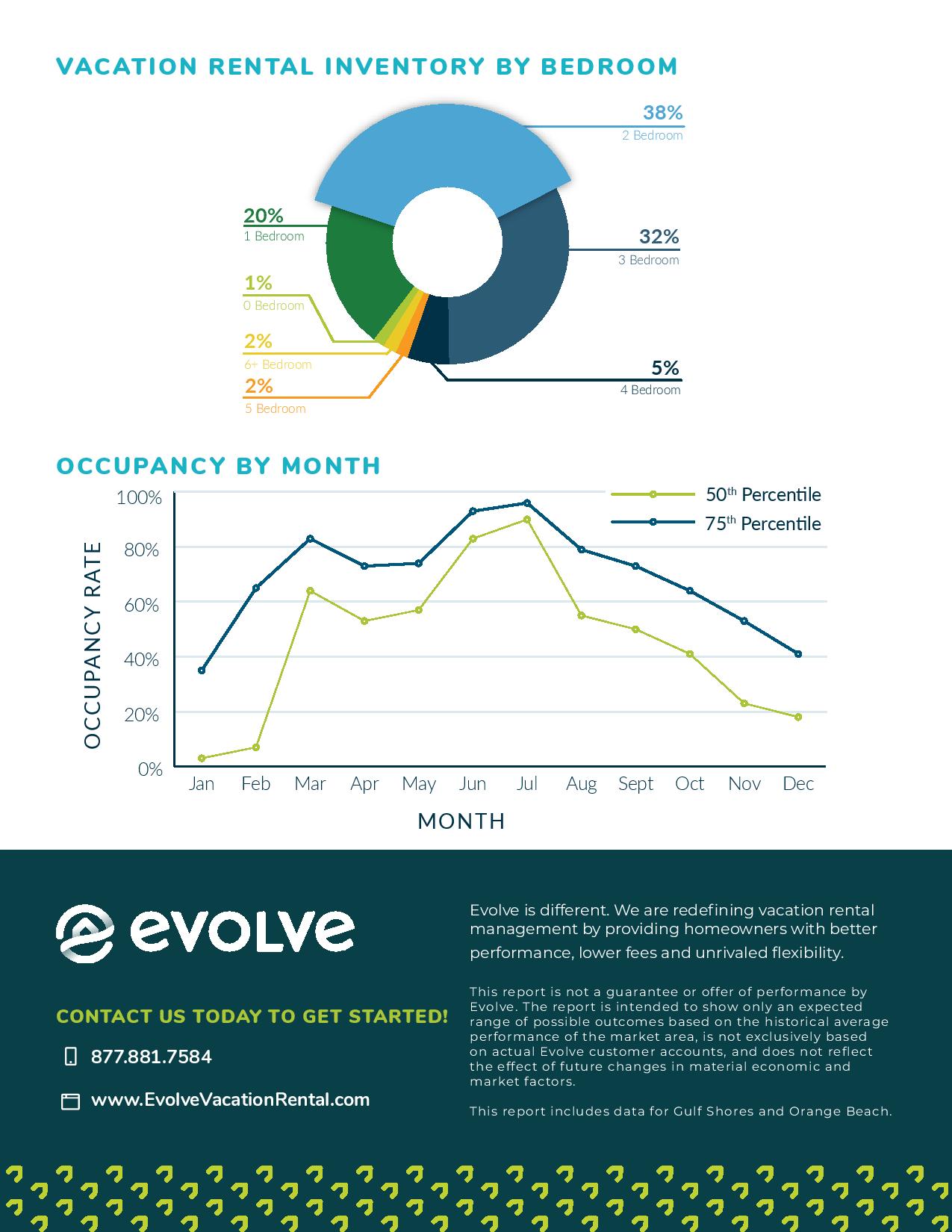 Your property manager should be able to give you data like this to help you make a better financial decision for your next vacation home or condo.
How are you going to market my property?
As someone who really understands online marketing, this is an extremely important question for you to ask. You might have the best looking condo on the beach but if no one knows about it, what's the use?
When you're talking to different property management companies (large and small) find out where your property will be seen. Nearly all of the potential tenants who come to Gulf Shores and Orange Beach are traveling here from out of the area and across the country. So, all of these folks will more than likely be searching online. Which means they will be Googling, Yahooing, and Binging beach properties. If your company doesn't show up with their own website, your property needs to be advertised on others that will be showing up. Make sure that your property manager will also be advertising your vacation property on their site of course but also the big boy sites like VRBO, Airbnb, and HomeAway.
Furthermore, since so many people will be searching online, your property manager will need to utilize high quality photography and consumer reviews.
After doing a search on Google for "Gulf Shores Vacation Rentals", these were the top 5 spots (non ads):
There are a myriad of search terms for rentals at the beach but this gives you a good idea of the importance of marketing.
What are your fees and the terms of your contract?
You expect a company to get paid for their services but fees do vary greatly from one property management company to the next. For Gulf Shores and Orange Beach properties, I see fees anywhere from 18% to 30% of the net rental income. You'll have to weigh out what they can do for you in terms of exposure and service. If a higher priced company will attract more tenants then the math may work for you.
Many of the companies down here already have clients in the condo buildings that you'll be interested in so they can give you a projection of rent based on their own history. If they don't already have clients in a community, they can base their projection off of similar complexes.
Contracts can be tricky. The only thing more worse than not getting any rent is to be stuck in a contract with a company that is under performing. Find out their terms to see if you are able to get out of an agreement if you're not liking their service.
Can I get in touch with any of your current clients?
You can predict how you will be treated by talking with someone who is already going through it. Contacting a reference is great for checking performance and customer service. So, be cautious of a manager who doesn't want you to speak to past or present clients. In real estate sales, happy clients are my best form of advertising and the same thing should work with property managers.
Also, other clients could give you pointers on how to improve your property that will draw in more tenants.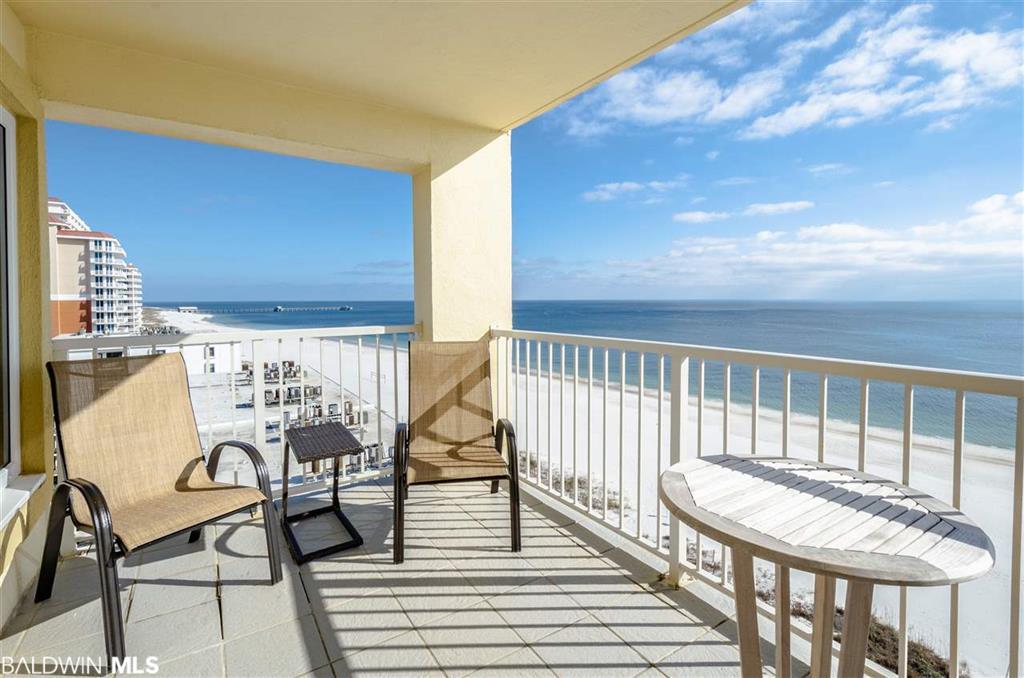 What services will your company perform?
You would expect that with the words management company in the name, they should perform many duties for you as an owner. Here are some of the services to ask about that is covered with their fee:
Promoting and marketing your property to their database and online
Create a professional listing with a descriptive write-up and high quality pictures
Respond to inquiries and schedule bookings
Communicate with the renters
Have a list of local vendors to work with for maintenance, cleaning, etc
Provide hands-free accounting for you plus send your checks on a monthly basis
On the other hand, you should ask what services they don't provide or are there extra costs for certain services? For instance, will you get charged if they have to send out a maintenance person to change a light bulb? Some companies charge extra for maintenance and some don't. Liquid Life in Orange Beach, for instance, offers free monthly maintenance for minor service calls.
How will I hear about my property's condition?
Whenever people are involved there will of course be issues and sometimes things just happen like a hole in the wall, broken dish, or stain on your carpet.
Find out how and when your property will be inspected and how often you'll be contacted with updates. Your manager should take pictures of any damage, report it to you, and take steps to get the property ready for the next tenants.
Turnkey Vacation Rentals is a good example of a company that updates their clients with pictures after every cleaning sent to the owner's online dashboard.
How will my guests book their stay?
Ideally, it would be great to be able speak to someone directly when booking a condo for a week in Gulf Shores but real life people may not be available 24/7. An important question to ask your property manager has to do with if guests are able to book their stay online with a credit card.
I think that most people would prefer booking online versus the alternative so make sure the company you choose offers this.
Buying a Vacation Home or Condo in Gulf Shores and Orange Beach
This is where I come in when you're ready. I'm committed to working with you to find the best investment property that fits your needs. Reach out to me for information about rental incomes at the beach and market conditions.
ALL GULF SHORES CONDOS FOR SALE BY PRICE

$100,000 to $200,000 - $200,000 to $300,000 - $300,000 to $400,000
$400,000 to $500,000 - $500,000 to $600,000 - $600,000 to $1,000,000
ALL ORANGE BEACH CONDOS FOR SALE BY PRICE

$100,000 to $200,000 - $200,000 to $300,000 - $300,000 to $400,000
$400,000 to $500,000 - $500,000 to $600,000 - $600,000 to $1,000,000