Real Estate Articles for Sellers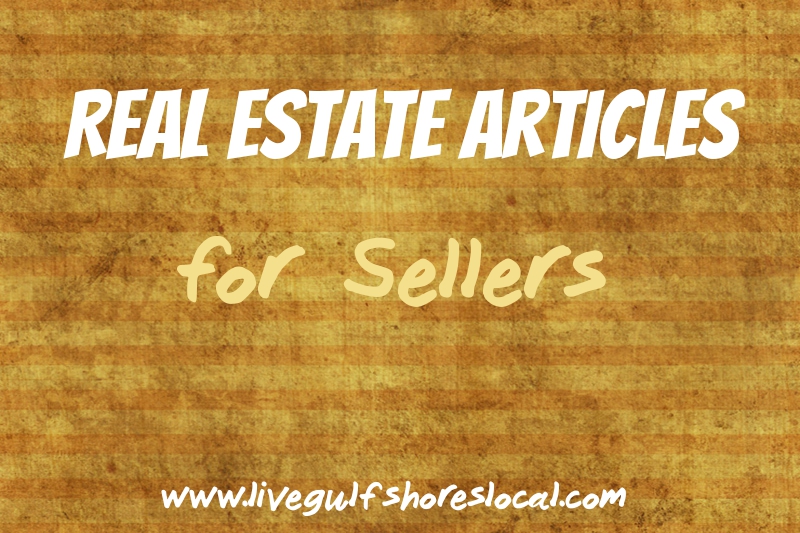 There's no shortage of available information for real estate and I try to do my part as well. Here are a number of real estate articles for sellers that I've written over the years. Many of these articles have been updated and will be updated in the future as I obtain additional information about the topic.
These articles for sellers were once scattered all over my site (which is currently around 1,000 pages) so I wanted to create one place to find them all.
See all Real Estate Articles for Buyers here.
My mission is to provide as much information possible for the buyers and sellers of real estate in Baldwin County so I hope you find this helpful. And, as always, please contact me for all of your real estate needs in lower Alabama.
Real Estate Articles for Sellers
Ultimate Guide to Selling Your Home in Baldwin County - Here you'll find a very comprehensive resource and "one stop shop" to learn everything about selling your home in our area. There's a ton of information in this article.
40 Tips to Selling Your Home This Spring - Check out this long list of ideas for selling this Spring that have to do with the inside and outside of your home, money, and real estate.
9 Steps to Selling Your Home - This is an index page for a large series on getting the most out of the sale of your home. You'll find a brief synopsis and links to each of the steps.
Step 1 - Deciding to Sell Your Home - If you're "on the fence" about selling, this step goes over questions to ask yourself and things to consider to make sure that making the big move is the right decision.
Step 2 - Prepare Your Home to Sell - There is so much more to selling than just putting a sign in the front yard. This step will go into detail on decluttering, deep cleaning, staging, and making repairs.
Step 3 - Hire a Realtor - Sure you could sell your home without the assistance of a Realtor but there's a reason why nearly 92% of sellers hire a Realtor. Check out this step to read about the benefits.
Step 4 - Determine a Price to Sell - Pricing your home correctly is critical to avoid your listing going stale on the market. Learn about market conditions, the comparative market analysis, and evaluating comps.
Step 5 - Marketing Your Home - Here's an insider look on giving your listing maximum exposure with a heavy emphasis on internet marketing. You'll learn about the importance of personal and large real estate websites, blogging, and social media.
Step 6 - Handling Showings - Find some thoughtful considerations along with the Do's and Don'ts of showing your home for sale.
Step 7 - Negotiating Offers on Your Home - Learn how to successfully negotiate a buyer's offer to get the best deal without turning them away.
Step 8 - Contract to Close - There's a lot of work that goes into closing your home after you have a ratified contract. This step talks about documents, earnest money, contingencies, repairs, and closing day.
Step 9 - Closing on Your Home - You'll find out what documents you'll be signing as well as what to bring to closing.
Sell Your Home Faster Than Your Neighbors - Is your home sitting on the market while you watch others go under contract and close? There are reasons for that. Check out ways you can speed things along for the sale of your home.
Reasons to Sell Your Home During the Holidays - A lot of people think the Christmas season is a horrible time to sell your home. Think again. Here's why.
Realtor vs FSBO - Selling Your Home - Here's an extensive article detailing the differences between using an agent and selling your home by yourself.
Strategies Used to Make Sellers More Money - Find the 9 ways that professional Realtors help their clients realize a bigger profit from the sale of their home.
Divorce and Real Estate in Baldwin County - Unfortunately, many of us have to deal with this issue. What about the home that is involved in the relationship? This article discusses what to do.
Winning Social Media Strategies for Selling Homes - These days it pays to use social media for selling anything, however, there are some do's and don'ts.
Dangers of Overpricing Your Home - Most people think their home is worth more than it is. This article discusses why you shouldn't go with that line of thought.
Understanding Real Estate Market Conditions - This is a breakdown of how to interpret the market in order to properly price your home. An experienced Realtor will be able to analyze this data to put you in the best position to win.
Pricing Your Home to Actually Sell - Always remember, when you list your home the goal is to actually sell it. If it's not selling, the problem probably has something to do with the price.
Guidelines for Pricing Your Home - There is a science to pricing your home correctly and it takes an experienced Realtor to get it right.
How Long Will It Take to Sell My Home - Here's a short post giving a sypnosis of what causes homes to sell quickly or stay on the market.
Ways to Smarten Up Every Room of Your House - Smart homes are all the rage. This article goes over ways to upgrade your home, room by room.
Energy Efficient Upgrades for Your Home - More and more people are becoming conscious about this topic. In this article you'll find a number of ways to make your home more energy efficient, saving you money and increasing your home value.
Selling Your Home in Fairhope - You'll find information about pricing, market conditions, and what to stay away from while selling your home in Fairhope.
Selling Your Home in Daphne - Here is what it takes to sell in Daphne and includes topics like condition, appearance, and pricing.
Selling Your Condo in Gulf Shores - An important article that talks about the dangers of overpricing your condo and what I will do to successfully close the sale.
Are You Selling Your Home in Baldwin County? - A short post that introduces the 33 page Pre-Listing Package that I created for sellers.
How access to Your Home Plays a Role in Selling - Buyers have to be able see your home in order to buy it. You may be surprised that this can be an issue with some sellers. Read on for more details.
Should Sellers Get a Pre-Listing Home Inspection - Is getting a home inspection a good idea "before" putting your home on the market? This article will give you the pros and cons.
20 Things That Turn Off Home Buyers - Here's a list of what not to do when trying to attract buyers.
Most Annoying Things When Selling a Home - Selling can be stressful enough without these things coming into play. Here you'll find everything from leaving the lights on to dealing with pets.
Investing in a Condo in Gulf Shores and Orange Beach - This is big business on our coast. You'll find a lot of information about questions to ask, property management companies, reasons to invest, and much more.
De-Clutter Before You Sell - Some sellers are minimalists and some have a ton of "stuff" in their homes. In order to attract the most potential buyers, you have to reduce the most amount of your personal belongings as possible. Buyers want to see themselves living in the home - not you.
What Makes a Bedroom a Bedroom? - There seems to be some discrepancy about this topic so here's a short post that gives the answer.
Why You Should Use a Realtor to Sell Your Home - Here you'll find a condensed version of what could be a very long article.
Why List Your Home for Sale with Jeff Nelson of IXL Real Estate? - Just a little about me and what I can do for you to sell your home.
Ways to Improve the Curb Appeal of Your Home - How does your home look from the road? The answer could effect how long your home sits on the market.
Should I Sell My Home Fully Furnished? - It's typical for condos at the beach to be sold furnished but what about the rest of the county? Here you'll find a big list of pros and cons.
Tips for Selling Your Home in the Fall - September, October, and November are great months to sell. Here are some tips to be successful.
Working with Multiple Offers - Being in a multiple offer situation can be good for the seller and not so good for the buyer. Here are some tips for both parties.
Home Seller's To-Do Checklist - This post covers just about everything you should do before listing your home.
27 Tips for Selling Your Home This Summer - Selling real estate is a little different during the certain times of year. Here are some tips for inside and outside the home.
20 Steps to Selling Your Home Fast - An extensive list to getting your home under contract quickly.
19 Ways Your Location Can Affect Your Home Value - Here's a big list of things to consider that could drastically effect the value of your home. This article covers everything from school systems to trees.
How Your Vacation Home Can Pay for Itself - Read on to find a comprehensive article giving advice to make the most out of your second home or investment property.
Tip of the Week - Depersonalize Your Home to Sell - Goes into to detail about taking "you" out of your home so a buyer can see themselves living there.
Tip of the Week - Seller Getting Pre-Appraisal - Most sellers don't even think about getting an appraisal before selling their home. Here are 2 reasons why they should.

All of these articles were written to serve the people of Baldwin County who are selling their homes. Please bookmark this page as there will be continual updates and contact me if you are thinking about selling your home.
Jeff Nelson
IXL Real Estate – Eastern Shore
251-654-2523
jeff@livegulfshoreslocal.com