Real Estate Articles for Buyers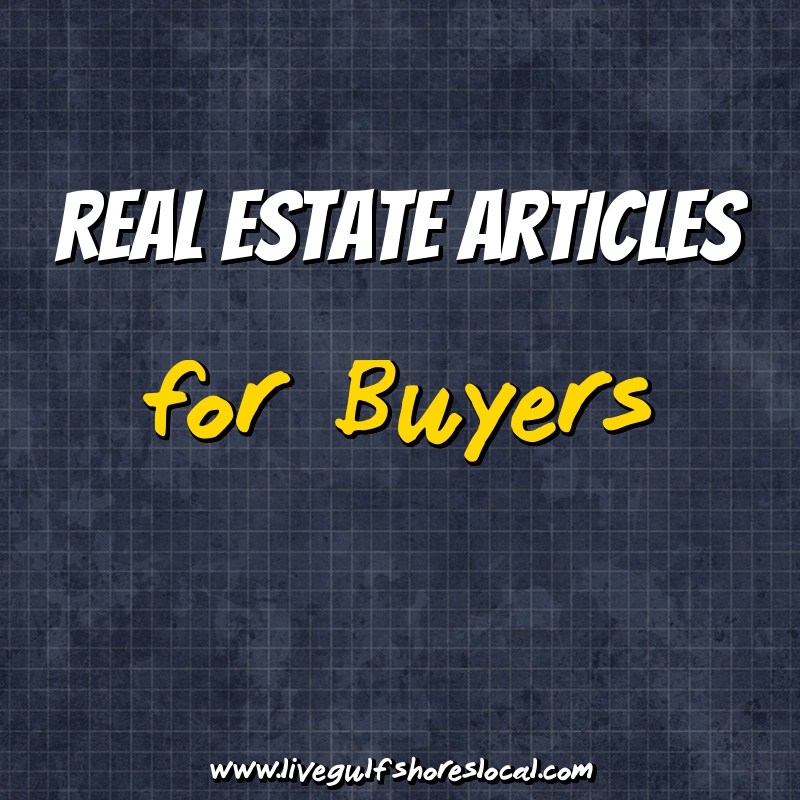 Over the years, I've written a number of articles about buying a home and when you have a real estate website that's over 1,000 pages they can sometimes get lost in the mix. So, I thought it would be great to have them all in one place. Nearly all of these articles are my own and never copied and pasted (there are a few articles from guest posters). They are based on 13 years of being a Realtor and a lot of research.
See all Real Estate Articles for Sellers here.
Admittedly, I'm not the best writer in town but I try to get my point across to help buyers in their move to purchase their next home. Also, these articles will get updated from time to time as I find new real estate information that needs to be expressed.

Real Estate Articles for Buyers
Buying a Home
Ultimate Home Buying Guide for Baldwin County - This is a huge resource for buying a home in our area. As the name implies, this article is the ultimate and most comprehensive guide that you'll need. Be sure to check this article out!
Real Estate and Millennials - Millennials (born in the early 2000's) are now the largest generational group of home buyers in the country. This is an in-depth article that covers statistics and how this group is changing the real estate industry.
Divorce and Real Estate in Baldwin County - Unfortunately divorce becomes a reality for nearly half of us and the idea of real estate is not usually a priority during this time. However, it's an enevitable issue that we'll have to face. Here is a comprehensive article that goes into much detail about how to handle real estate during a divorce.
Top 21 Things You Should Never Do When Buying a House - I'm not trying to order you around but don't do these things! Here's a lengthy article on what not to do when buying.

10 Common Questions Asked by Home Buyers - When buying a home it may seem like 1000's of questions are swimming around in your head. Here are ten of them that I hear a lot.
11 Steps to Buying a Home - This page is an index to a large series that I created detailing every step of the process of buying a home. From prioritizing your needs and wants to closing, you'll find a comprehensive guide to help with your purchase.
Step 1 - Determine How Much You Can Afford - There's a lot more to housing expenses than what you find through an online mortgage calculator. This article will help you understand what costs are involved in owning a home.
Step 2 - Choose a Realtor - Your real estate pro will be your confidant and advisor while buying a home. Here you will find all of the benefits of using a Realtor.
Step 3 - Get Pre-Approved for Your Mortgage - This is one of the first steps in buying a home because it's a necessity to to know how much you can afford before even looking for a home.
Step 4 - Establish Your Needs and Wants in a Home - This article has everything to do with prioritizing what you have to have versus what you want - musts vs lusts.
Step 5 - Time to Go House Hunting - House hunting is fun. Here are some tips to consider to make your life easier.
Step 6 - Make an Offer - You've found the house and it's time to write up the offer. There are many factors of an offer to purchase that you will go over with your Realtor. Here you'll find the main elements of a contract and things to consider when making an offer.
Step 7 - Get Final Approval for Your Loan - Once your offer is accepted, you need to make it a point to sure things up with your mortgage company immediately.
Step 8 - Contingencies, Appraisal, and Repairs - There are a number of items in an offer to purchase a home that need to be addressed. Here you'll find a lengthy articles detailing the most common elements.
Step 9 - Utilities and Insurance - Sometimes we get caught up with the other matters of our real estate contract that we forget about setting up our utilities and shopping for insurance.
Step 10 - The Final Walk Through - After everything has been completed with your offer to purchase, you have one more step before closing. Here you will find things to look for during your final walk through.
Step 11 - Closing Time - This covers what to expect on closing day, what to bring, and what you'll be signing.
Pros and Cons of Rural Living - In much of the country (including ours) buyers have an option to buy a house in the city or in a rural area. This article talks about the good and not so good factors that come into play.
Buying a Home As a Same Sex Couple - This is a very interesting article that is pertinent to many home buyers today. You'll read about choosing a neighborhood, schools, and how to take ownership.
19 Ways Your Location Can Effect Your Home Value - This article is not just for sellers. When you're looking to buy a home pay close attention to other factors as well, like the surrounding area. If you have any question in your mind now, buyers will probably have the same concerns in the future when you're trying to sell.
Why Use a Buyer's Agent When Purchasing a Home - This is a very important topic because it relates to the well-being of the buyer while buying a home. Sellers pay for the right for you to use a buyer's agent to look out for your best interests. Here are all the reasons why?
Buyer Etiquette When Looking at Homes - Here's a friendly reminder on things you shouldn't do when touring a seller's home.
Common Mistakes Home Buyers Make - There are so many facets to real estate and buying a home that it's easy to overlook something and make a mistake. Here's a reminder of things to do or not to do in order to have a smooth transaction.

What Makes a Bedroom a Bedroom - With some houses there's a discrepancy on whether a room is officially classified a bedroom or just another room. Here's how to tell.
Common Expenses When Buying a Home - Here's an article that lists most expenses that you could have when you buy a home including purchasing costs, mortgage costs, title company fees, and home owning expenses.
Buying a House in Gulf Shores - Most people associate real estate in Gulf Shore with just condos but there are quite a few single family home neighborhoods here too. Here are some considerations when buying a home in Gulf Shores.
Why Buying a Smaller Home May Be the Best Move - It really comes down to money and here you'll find all the ways to save it by buying a smaller home.
What Really Goes On Inside Bathrooms - Interesting article from guest poster, Andrew Ellis, on bathroom statistics.
The Good, the Bad, and The Ugly of Real Estate - A twisted take on the various characteristics of home buyers, sellers, and real estate agents.
Dual Agency: What is it? - Find out how Dual Agency can effect both home buyers and sellers during a real estate transaction.
New Construction
Home Buyers Should Not Work With the Model Home Agent - Most people will be scratching their heads after reading this short description of the article but do yourself a favor and read the article. It's in your best interests.
Ultimate Guide to New Construction Homes in Baldwin County - Our area is continuing to explode. This article goes into a lot of detail to assist those thinking about buying a brand new home. Highlights include how to choose a builder, a list of quality local builders, all neighborhoods with new construction homes, the contract, and new home orientation.
Home Styles of Baldwin County - Discover all of the many style of homes in our area including where you may find them.
Questions to Ask When Buying New Construction - Our area is exploding and we have a tremendous amount of new construction homes popping up all over the county. This article covers just about everything when you're ready to buy a brand new home.
Tips for Buying a New Construction Home - Here are some tips that could save you time, money, and frustration that include choosing a builder, floor plans, neighborhoods, financing, and inspections.
Why Are Buyers Preferring New Homes Versus Pre-Owned - Besides the obvious (being new) there are a number of reasons why buyers are leaning in the direction of new construction homes. Check them out.
Buying a Condo on the Gulf Coast
The Ultimate Condo Buying Guide for Gulf Shores and Orange Beach - Here you will find a very comprehensive guide to buying a condo at the beach. You'll read about questions to ask, considerations to think about, reasons to buy a condo, and much more.
Tips for Buying a Condo in Gulf Shores and Orange Beach - While living in a resort town, we literally have thousands of buyers that buy condos at the beach. This article covers a lot of ground for condo buying giving a lot tips and helpful hints.
How Your Vacation Home Can Pay for Itself - Do you have a second home that you also use as an investment property? Many do in our area. Here's an in-depth article for everything to look out when you want to at least break even on your investment.
Investing in a Condo - Gulf Shores and Orange Beach - Are you thinking about joining the 1,000's of people in lower Alabama who are capturing our huge tourism market? Here are some considerations for owning an investment property at the beach.
Pros & Cons of Hiring a Property Manager - So many thousands of owners have investment property here in Gulf Shores and Orange Beach. Here are some considerations for whether you should spend the money to have your property managed for you.
Is a Vacation Rental a Smart Investment? - I write nearly 100% of the articles on this site but from time to time, I'll permit guest posts. Here's one from Erin Reynolds on how to make the most out of your rental property.
Financing and Mortgages
What Credit Score You Need to Buy a Home - Not everyone has exemplary credit for the moment so many are curious to know what it takes to get a mortgage loan with a less than desirable score.
Mortgage Loan Types - A breakdown of the various options that home buyers have when borrowing money for real estate.
Tips to Protecting Your Finances to Get a Mortgage - There are a number of ways your finances can take a hit while buying a home. Here are some things to look out for.
How to Avoid Financial Stress When Buying a Home - You'll find a fairly lengthy article of things to consider to reduce stress during the home buying process. Life is stressful enough!
How Interest Rates Affect Your Home Buying Purchasing Power - Your credit score has a great impact on how much you'll pay per month for a mortgage. Here are some details.
VA Loans: What You Need to Know - Find out the details including qualifications, benefits, and steps to take.
USDA Loans for Alabama Real Estate - See the details for this great loan including the benefits to the borrower, the requirements, and who is eligible.
Relocating and Moving
Moving to Spanish Fort - Here you'll find a comprehensive guide to Spanish Fort including the natural beauty, things to do, the community, crime, jobs, etc.
Moving to Daphne - Your ultimate guide to life in Daphne.
Moving to Fairhope - Your ultimate guide to life in Fairhope.
Moving to Foley - Your ultimate guide to life in Foley.
Moving to Gulf Shores - Your ultimate guide to life in Gulf Shores.
Moving to Orange Beach - Your ultimate guide to life in Orange Beach.
Relocation Information for Baldwin County - This comprehensive article has a ton of content if you happen to be moving into the Baldwin County area. Lots of detail here.
First Things to Do When Moving Into Your New Home - Getting the keys to your new home is exciting but in the whirlwind of paperwork and boxes don't forget to take care of these things right away.
12 Reasons to Move or Relocate to Baldwin County - There are reasons why our area is growing so fast. Here are a few of them....
Inspections and Repairs
13 Tips to Negotiating Home Inspection Repairs - Everyone wants to get absolutely everything that they can when it comes to buying a home - understandably so. However, there are ways of going about it that may actually help you do just that without ruining the deal.
Reasons Why You Should Get a Home Inspection Before Buying - I always, always, advise my clients to get a home inspection when they purchase a home, no matter how old the home is. Here are all the reasons why.
Contracts and Market Conditions
Working with Multiple Offers - Being in a multiple offer situation can be good for the seller and not so good for the buyer. Here are some tips for both parties.
Closing Costs Explained - When you arrive at closing and see all of the paperwork to sign it can make your head spin especially when you see the closing statement. This article will break all of the costs down for you.
Understanding Real Estate Market Conditions - Both buyers and sellers need their Realtor to be able to explain the various market conditions for their area. Here you'll find an overall picture of real estate market conditions but your Realtor will need to analyze the data in your area.
Difference Between Joint Tenants and Tenants in Common - These are two legal terms found in real estate contracts and they important because they identify what type of ownership will be taking over the property.
Dual Agency: What is it? - You'll find a clear breakdown of how real agents represent clients in a transaction and why Dual Agency is not a good idea.
Common Contingencies in a Real Estate Contract - This defines a real estate contingency and lists all of the major contingencies in a Purchase Agreement.
Upgrades and Efficiency
Ways to Smarten Up Every Room of the House - Everything is getting smarter these days and sometimes it's hard to keep up with technology. Here are some smart ideas for your home.
Most Popular Renovations and What They Cost - Find out the latest on what projects rank at the top around the country.

Energy Efficient Upgrades for Your Home - More people are becoming aware of energy efficiency nowadays. Here is a list of upgrades that can save you energy costs now and later.
30 Ways to Go Green With Your Home - Here's an extensive list of ideas to make your more eco-friendly.
Top 5 Ways to Modernize Your Home on a Budget - Guest poster, Katie Mills, discusses ways to spruce up your house without breaking the bank.

All of these articles were written in order to assist buyers in the purchase of their next home. Check back often as this list will continue to grow. Please contact me if you are in the market to purchase a home or condo anywhere in Baldwin County. I'd love to work with you!
Jeff Nelson
IXL Real Estate – Eastern Shore
251-654-2523
jeff@livegulfshoreslocal.com