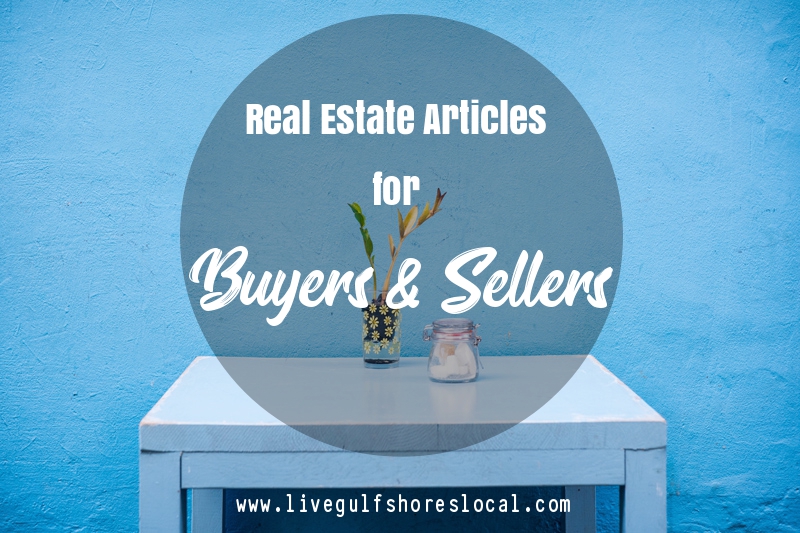 LiveGulfShoresLocal.com is rapidly growing and I was finding that the many real estate articles that I've written over the years were scattered all over the nearly 1,500 page site. All of these articles were designed to be helpful to both buyers and sellers in our area but they aren't any help if you can't find them.
So, I've created a couple of new pages making it very easy to find articles for buyers and sellers. Whether you're in the market to purchase a home or sell one, there's probably something here that will benefit you.
Real Estate Articles for Buyers
There's a ton of information here. Here's a small sampling of what you will find:
Ultimate Home Buying Guide
Tips for Buying a Condo in Gulf Shores and Orange Beach
11 Steps to Buying a Home
New Construction in Baldwin County
Energy Efficient Upgrades for Your Home
Relocation Information for Baldwin County
and about 35 more buying articles.....
Real Estate Articles for Sellers
The same goes for this page. Sellers will find a myriad of resources to help them get the most out of the sale of their home. Here are some of the topics you'll see:
Ultimate Home Selling Guide
Divorce and Real Estate
Sell Your Home Faster Than Your Neighbors
Realtor vs FSBO
Dangers of Overpricing Your Home
Selling Your Home in Daphne
and about 25 more selling articles
You may be entering the real estate market now or a year from now. Either way, you can come to this site at any time to more than likely find an answer to a question that you have. Also, I'm constantly updating and writing new articles all of the time so the information here will never go stale. Please bookmark these pages and reference them as much as you need.
Contact me for all of your real estate needs.
With 13 years of experience working with buyers and sellers, I can definitely help you reach your goals in real estate.
Jeff Nelson
eXp Realty Southern Branch
251-654-2523
jeff@livegulfshoreslocal.com