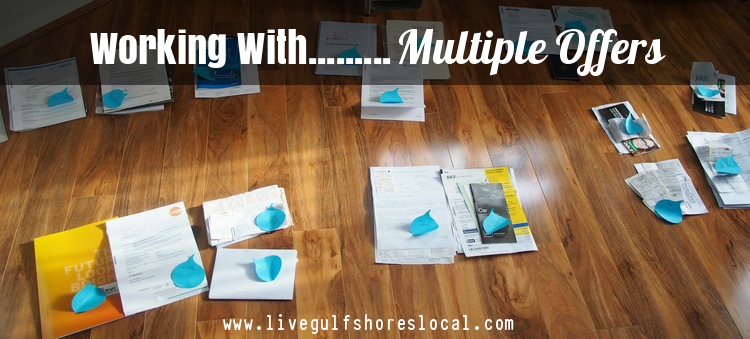 Competitive real estate markets are caused when inventory is low and there are more buyers than sellers. This is also called a "Seller's Market". If you're a buyer during this time you need to be ready to pounce when you find the right place so you're not wasting any time making an offer. As a seller, you probably won't experience a lot of time on the market and it's likely that you will get your asking price or even more.
What happens when there are two buyers who want the same house?
Well, the answer is mayhem and chaos. No, I'm just kidding. A multiple offer situation can get a little sketchy but the end goal is to put the perfect buyer with the seller in order to have a successful closing. Here are some tips for both parties to help multiple offers go more smooth.....
For Buyers
Be Prepared
When you know the market is hot and you come across a home that is clearly priced right and desirable, you need to have all of your ducks in a row. Make sure to have a pre-approval (not pre-qualification) letter ready to present along with your offer. Have all of your finances in order including money set aside for your down payment, closing costs, and earnest money deposit. You don't want to miss out of the perfect house because you weren't ready.
Enter the Arena Strong
When I'm working with a buyer who wants to write an offer, I always call the listing agent to see if they know of any other offers coming into play. If you know there are other offers, this isn't the time to low ball by no means. Your offer will quickly be put to the side.
Let's Talk Contingencies
When there are multiple offers, you need to appeal to the seller, bottom line. I know, it stinks for the buyer but if you want the house you need your offer to look better than your competition. There is NEVER a time when I don't recommend that my client get a home inspection but you can add that it's for "Informational Purposes Only". Just a thought. Other contingencies are unavoidable like for an appraisal or insurance but a "Home Sale Contingency" would be out of the question. You and your agent should sit down to figure out how to make your offer more attractive to the seller.
Offer More Good Faith
In every real estate transaction buyers will put up an earnest money deposit or good faith deposit. There is no official amount for this check but the higher the check, the more serious the buyer looks to the seller. The reason is this. The buyer is credited back the earnest money amount at closing unless they default on the contract. In this case the seller will receive it. If 3 of the offers come with a $1,000 earnest money check and you offer $5,000, the seller knows that you have more to lose.
Think About the Sellers Needs
This is often an overlooked thought in a hot market but it's pretty simple to find out what the seller wants. The buyer's agent can easily call the listing agent to find out what's important to the seller. Is it all about the price? Does the seller need to close at a particular time? I was involved in a transaction where the other offer was actually higher than my clients but my client was able to close when the seller wanted to close.
Make it Personal
If you have made your offer as attractive as you can but still think that it may not be enough, try writing a letter. Yes, this is "shmoozing" but it works in many cases. Tell the seller in a letter how well they have done with their home and how you feel that it will be a perfect match for you and your family. Tugging on the heart strings is not against the rules when dealing with mulitple offers.
The Dreaded Bidding War
If you're in a situation where you're bidding against 5 other buyers it can get stressful and nothing is more annoying than 5 people increasing their bid $100 at a time. In this scenario where there are multiple offers, I would advise my client to make one change to their offer - their best and final offer. Leave it at that and if doesn't work out, go on to the next one. There's no reason to work yourself up on something that you can't control anyway.
Escalate It
An advanced real estate technique that many agents aren't familiar with is an escalation clause. In your Purchase Agreement, you can write in a clause stating how much you are willing to pay over another offer and what would be your maximum price. For instance if the list price was $300,000, you could write in that you will escalate your bid by $1,000 over any other bids with a maximum sales price of $310,000. In this situation I would advise my client to get copies of the other offers that were received by the seller.
Be Second Place
If you can't be first, you might as well be second. This is called backup position. You may have just missed being the primary buyer by a little and the seller may accept yours as a backup offer. So, if something goes haywire with the first buyer, you're already in place. It happens.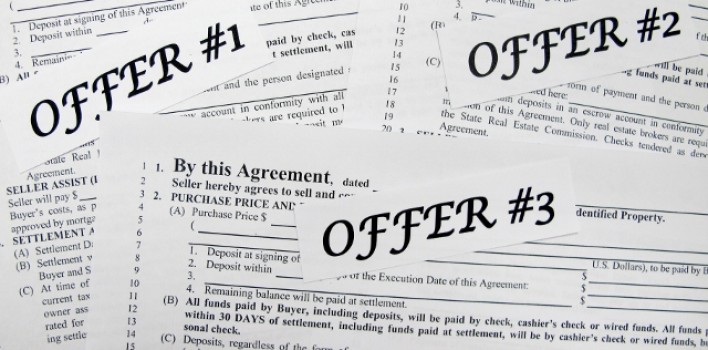 For Sellers
Keep Your Expectations Realistic
Sometimes when sellers know they're in a hot real estate market, they may feel that they can overprice their home which puts them in jeopardy of their property not being seen at all. Another problem I've seen is when they do get multiple offers, they automatically think that the highest offer will be $15,000 (or so) more than their list price. They may receive 3 offers that are all under their asking price. Don't stress yourself out! The market always dictates price (the market, meaning buyers). Be thankful that you have 3 people who are fighting for your home and choose the best from the pile.
Act on the Your Offers Efficiently
We Realtors have to present offers to the seller as we get them. We can't hold on to an offer. However, the seller shouldn't hold on to an offer either. You may know that other offers are coming in and you may want to compare (rightfully so). Just be careful to make sure that the buyer's offer that you have in hand doesn't have an expiration date on it. A prudent buyer's agent will advise this. Plus, you don't want the buyer waiting for days anyway. Understand that as the time passes everyone is getting more ansy. Use the Golden Rule and communicate.
Take Everything Into Consideration
As a seller I'm sure that you have already decided why you're selling and have a clear understanding of your needs in the sale. Sometimes it's not always "just" about the money. Everyone's situation is different. What closing dates best matche up to when you would like to close? How much are the different buyers spending as a down payment? What are the earnest deposit amounts? What about contingencies? You and your Realtor should identify the major factors in each contract to easily compare the results. I like to do this with good ole fashioned pen and paper. Then, use this information to see how it lines up with your needs.
Don't Kill the Messenger
Your Realtor will advise you based on years of experience but has no control over the buyers actions after going under contract. If they lose their job and their financing, it's not your Realtor's fault. The advise that I give is what I would do if I were in that situation. All you can do is look at the tangible material in front of you, then make the best decision. Ultimately, the decision is made by the seller.
The Ball Is in Your Court
Let's say that you receive 3 offers. You can accept one and reject the others. You can counter one and reject the others. You can communicate with all 3 that there are other offers present and they should change their offer to their best and final. You can reject all 3. I wrote an offer once for a client for a $500,000 condo and our offer was one of three. The seller accepted one of the others without giving my clients a chance to change their offer, which made them pretty upset. 2 weeks later we found out that the first offer fell apart and the seller wanted to work with my client. My clients (still ticked off) rejected their idea.
Appraisal!!!!
Please don't forget that it doesn't matter if you get 5 offers on your home that are all $50,000 over your asking price, if your home doesn't appraise for the final sales price, it could fall apart. In this case you would have to lower your sales price to meet the appraised value which means that you could have taken another offer that was better qualified. Another option is that the buyer could make up the difference with cash. Just keep in mind that the appraisal plays a big role when there are multiple buyers bidding up the price of your home.
Final Thoughts
A multiple offer situation can happen in any real estate market, whether it's hot or cold. I've always said that I don't believe that there is only one buyer for each house. Even in a slow market, if a home is priced right, looks great, and is in a desirable area, a seller should expect to have multiple offers.
Whether you're a buyer or a seller, it's always in your best interest to be working with a Realtor, especially in a multiple offer scenario.
Other Helpful Articles Regarding Multiple Offers
7 Things You Need to Know About Mulitple Offers - Joy Bender
Difference Between Mortgage Pre-Approval Versus a Pre-Qualification Letter - Bill Gassett
7 Tips to Help a Home Buyer Win In a Multiple Offer Situation - Kyle Hiscock
About the author: The above Real Estate information on Working With Multiple Offers was provided by Jeff Nelson of IXL Real Estate – Eastern Shore. Jeff can be reached via email at jeff@livegulfshoreslocal.com or by phone at 251-654-2523. Jeff has helped people move in and out of properties for nearly 12 years.
Thinking of selling your home? I have a passion for Real Estate and love to share my marketing expertise!
I service Real Estate sales in Baldwin County including the cities of Spanish Fort, Daphne, Fairhope, Foley, Gulf Shores, and Orange Beach.