How to determine if you're in a buyer's, seller's, or balanced market condition
Even if you're new to the home buying scene, you've probably heard of the term seller's market or buyer's market. Homes are purchased and sold in both markets, but it's important to realize the difference so you're prepared when you find that perfect home for you.
So what are the differences?
When there is a surplus of inventory, meaning when there are many more listings than there are buyers, you are in a buyer's market. Purchasing a home during this time gives the buyer much more negotiating power since there are so many listings to choose from in most scenarios. You'll find that prices tend to rise much slower or even drop in some cases.
On the other hand, when the amount of buyers far exceed the number of available listings, a seller's market goes into effect. Sellers usually win, because we often see multiple offer situations driving prices up due to competition. You'll also find that homes sell much quicker during this time.
A balanced market occurs when conditions do not necessarily favor the buyer or the seller. Market conditions are balanced when supply and demand are fairly equal and prices stabilize.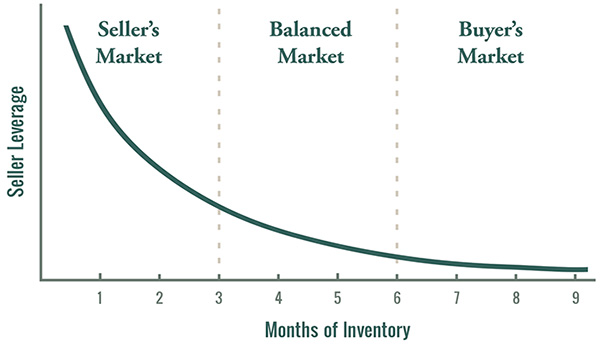 Two good indicators to determine if you're in a buyer's or seller's market is to figure out what the absorption rate is and what is the monthly inventory.
Absorption rate is calculated by dividing the total amount of available homes by the total number of home sales for the month.
Monthly inventory refers to how many months that it would take to sell all of the current amount of homes, given the current absorption rate.
Generally speaking, less than 3 months of inventory indicates seller's market and more than 6 months of inventory indicates a buyer's market. 3 to 6 months of inventory indicates a balanced market.
How do market conditions affect the buyer and seller?
If you happen to be buying a home in a seller's market, be prepared to enter into the lion's den, so to speak. This market is highly competitive, and homes go under contract quickly. To give you an extreme example, I remember taking my client to a home that was just listed the day before. When we pulled up to the property, there were at least 6 other Realtors with clients already touring the property. It is not uncommon to see multiple offers for homes in this market. Home prices take sharp rises due to buyers outbidding each other. We also see buyers doing other things to sweeten the deal like raising their earnest money deposit, shortening the closing period, removing contingencies, or even writing personal letters to the seller.
If you are selling a home during a seller's market, you have timed the market perfectly and will reap the rewards. You won't necessarily get more money than what you were asking for, but chances are you will get the best possible price of any other market condition.
On the other hand, should you be buying a home in a buyer's market, you have the opportunity to take your time in order to find the right home at the right price (in most cases). One of the biggest problems that I see with buyers in this market is that they tend to want to offer unrealistic prices for homes. There is a fine line between getting the best possible price and ticking off the seller to the point where they don't even want to deal with the buyer. I've had sellers rip up the offer without counter offering, because they felt that the buyer was trying to take advantage of them.
Selling a home in a buyer's market can be challenging, especially if you're in a situation where you have to close quickly. When there is a multitude of inventory compared to the amount of buyers, sellers should go above and beyond to make their home more appealing to the masses. Overpricing your home to sell in a buyer's market is a waste of time for all parties involved and just creates more frustration for the homeowner. When you do get an offer in this market, prepare yourself to not receive an offer that is ideal for you. Take a deep breath and realize that you may have to negotiate.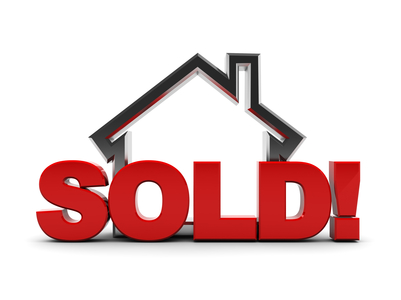 There are pros and cons for each side of the transaction during any real estate market that we happen to be in, so just relax and take the advise of your Realtor. They do this everyday and can be a huge asset for you to reduce stress and accomplish the goal.
About the author: The above Real Estate information on Understanding Real Estate Market Conditions was provided by Jeff Nelson of IXL Real Estate – Eastern Shore. Jeff can be reached via email at jeff@livegulfshoreslocal.com or by phone at 251-654-2523. Jeff has helped people move in and out of properties for nearly 12 years.
Thinking of selling your home? I have a passion for Real Estate and love to share my marketing expertise!
I service Real Estate sales in Baldwin County including the cities of Spanish Fort, Daphne, Fairhope, Foley, Gulf Shores, and Orange Beach.